Incubation period averages 7−14 days but can range from 5−21 days.
Prodrome/Invasion period (lasts between 0–5 days)
characterized by fever, headache, lymphadenopathy, back pain, myalgia, intense asthenia and possible sore throat
Lymphadenopathy is a distinctive feature of monkeypox compared to other diseases that may initially appear similar (chickenpox, measles, smallpox)

typically occurs with fever onset, 1–2 days before rash onset, or rarely with rash onset.
Lymph nodes may swell in the neck (submandibular & cervical), armpits (axillary), or groin (inguinal) and occur on both sides of the body or just one.
Rash/Skin Eruption
Usually begins within 1–3 days of appearance of fever.
Tends to be more concentrated on the face and extremities rather than on the trunk.
It affects the face (in 95% of cases), and palms of the hands and soles of the feet (in 75% of cases). Also affected are oral mucous membranes (in 70% of cases), genitalia (30%), and conjunctivae (20%), as well as the cornea.
Rash evolution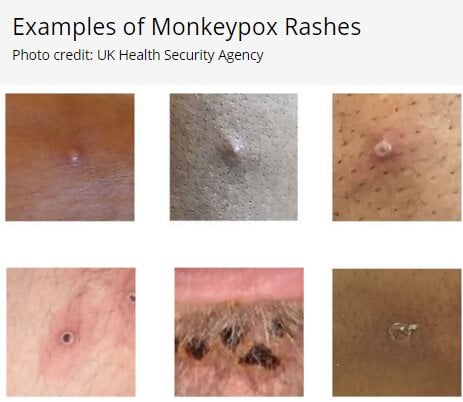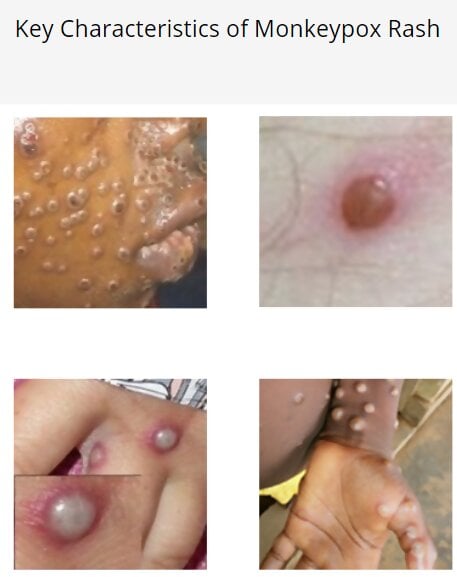 For additional information and answers to Frequently Asked Questions About Monkeypox for Healthcare Professionals see CDC Clinician FAQs.