The Council of Residency Directors in Emergency Medicine (CORD), in collaboration with ACEP, AAEM, ACOEP, EMRA, RSA, RSO, and SAEM have come together to annually dedicate September 17th as National Physician Suicide Awareness (NPSA) Day. The organizations issued Vision Zero, calling on "individuals, residency programs, health care organizations and national groups to make a commitment to break down stigma, increase awareness, open the conversation, decrease the fear of consequences, reach out to colleagues, recognize warning signs and learn to approach our colleagues who may be at risk."
2022
Legislative Progress: It's been an important year for physician mental health. In March 2022, after two years of tireless advocacy, the Dr. Lorna Breen Health Care Provider Protection Act was signed into law. This law is an important step to protect emergency physicians whose emotional health and wellbeing suffered even before this prolonged pandemic, and it helps preserve the memory and legacy of Dr. Breen and other health care workers who have suffered in silence. Key features of this bill include:
Major steps to reduce and prevent suicide and burnout by creating behavioral health and well-being training programs.
Support for a national campaign to encourage health care professionals to seek support and treatment.
A federal study into health care professional mental health and burnout.
Grants to establish and expand mental health support services.
Read more about how ACEP is supporting physician mental health.


Personal Perspectives: In 2021, Dr. Scott Pasichow wrote a personal essay for ACEP Now about his own mental health journey, including how he and his family dealt with his depression and suicidal thoughts during his residency. A year later, he's on the newest episode of ACEP Nowcast talking about his progress and how sharing his story has helped others. Dr. Pasichow talks about what he's still learning, how important it is to break down stigmas and his ongoing efforts to prioritize physician mental health on the local, state and federal level.
Recent Articles | Physician Mental Health
Get the Support You Need
2021
2020
We are 20 months into a global pandemic, and emergency physicians are exhausted. But you aren't in this alone. Your ACEP community is experiencing many of the same frustrations. In these videos, EM physicians talk about how they're feeling and what's helping them cope.
One of Us
Marking this moment in 2021 feels especially heavy as we continue to endure one of the most challenging eras in emergency medicine history.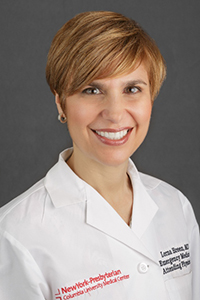 In April 2020, Lorna Breen, MD, FACEP, died by suicide after contracting COVID-19 and returning to work at one of the hospitals in New York City that was inundated with coronavirus patients. Her loss was felt around the country, but especially within the emergency medicine community where Dr. Breen was a standout colleague and contributor. Her family created the Dr. Lorna Breen Heroes' Foundation in her honor with a mission to improve mental health support for healthcare heroes. Learn more about her story and its ongoing impact:
"Speaking the Unspeakable" ACEP Now, September 2020
After Dr. Breen died by suicide in April, her family took up a cause they never wanted. Read their story of grief and persistence as it continues to unfold.
"The Pandemic's Toll: An Emergency Physician's Suicide" Annals of Emergency Medicine, September 2020
This article examines barriers that often prevent physicians from seeking support, along with ideas for what institutions can do to preserve and protect the health of emergency physicians.
Advance the Cause
The Dr. Lorna Breen Health Care Provider Protection Act, recently passed by the Senate, is focused on researching and developing policies preventing burnout and improving mental health among health care clinicians, along with removing barriers to accessing care and treatment (including consideration of stigma and licensing concerns). It now progresses to the House. Keep your eyes peeled for opportunities to join ACEP's advocacy efforts around the Breen bill this fall.
See the additional advocacy efforts and resources dedicated to supporting physician wellbeing in the ACEP Wellness Hub.
More Support & Resources
The Physician Wellness Hub is ACEP's one-stop-shop for physician mental health resources, including peer support options, free counseling or wellness coaching, advocacy updates and a library of tools and resources organized by source of stress and wellness topic.