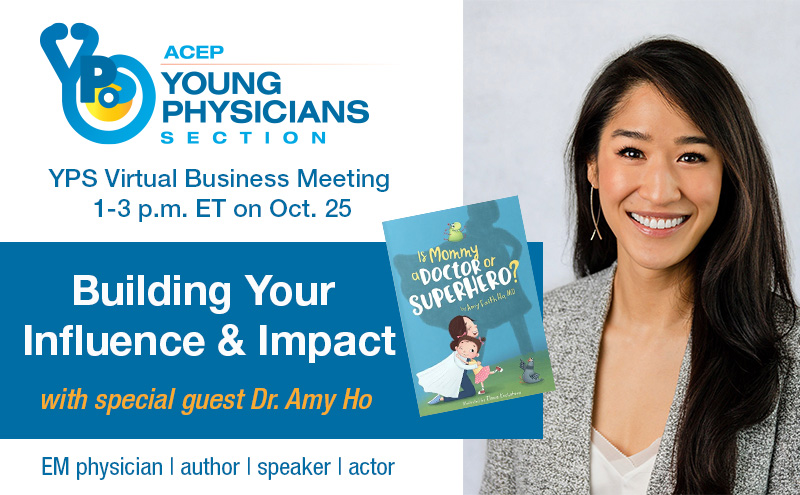 Building Your Influence and Impact:

YPS Virtual Business Meeting Featuring Special Guest Dr. Amy Ho
1-3 pm ET on Oct. 25 -- FULL RECAP & VIDEOS AVAILABLE HERE
Join the Young Physicians Section for a live chat with Amy Ho, MD, an emergency physician who wrote a children's book "Is Mommy a Doctor or a Superhero?" during the pandemic. We'll talk about the process of writing and publishing her book and how her other outlets – she's also public speaker and actor who has been featured on Untold Stories of the ER – have increased her impact and helped with life balance.
On the clinical side, Mark Christensen, MD, Regional Medical Director, Chair of Emergency Medicine, will deliver a 15-minute presentation entitled "Current Concepts in Concussion."
YPS will also recognize the first class of its Young Physician Leadership Society, a new award program honoring up-and-coming leaders from ACEP chapters.
The meeting will also include YPS updates: 2020-21 Impact Report, officer elections and what's next for our section!
YPS thanks Brainscope for its generous sponsorship of the 2021 YPS Meeting. Thanks to our sponsor, the first 50 attendees to sign on to the Zoom call will receive a $50 GrubHub gift card!
---