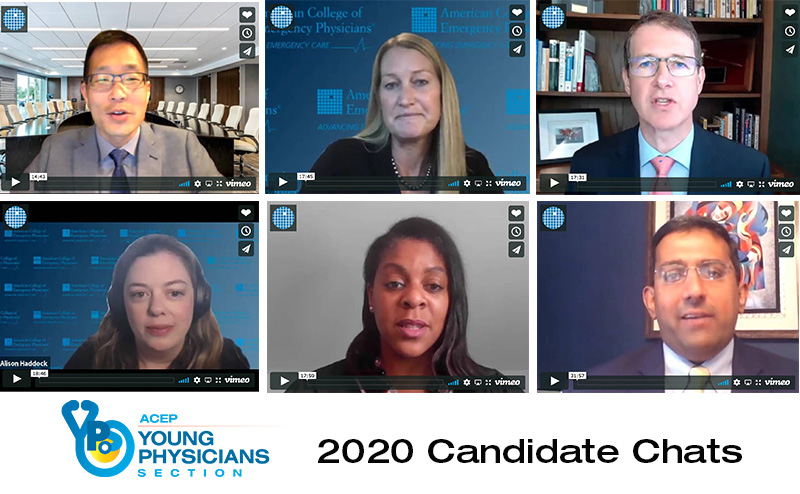 2020 Candidate Chats
As part of our mission to advocate for young physicians within emergency medicine, YPS officers conducted one-on-one candidate chats via Zoom with the physicians who are running for ACEP President-Elect and the ACEP Board of Directors. We asked them questions relevant to many young-physician concerns:
What approach do you recommend ACEP take toward APP scope of practice and its impact on EM job security?
What do you foresee being our biggest post-COVID job difficulties, and how would you address these if elected to the board?
What can ACEP do to get young physicians more involved in ACEP leadership?
With expanding residency programs, what are your plans for preserving emergency medicine practice?
What do you think ACEP can do to increase the public presence of our board-certified emergency physicians and show the value that these board-certified emergency physicians provide to the public?
Watch the full videos or view the show notes for a very high-level summary from each Candidate Chat. ACEP elections will be held during the 2020 ACEP Council Meeting Oct. 24-25.
Candidates for ACEP President-Elect
YPS Chair Michael Ruzek, DO, FACEP, interviews president-elect candidate Christopher Kang, MD, FACEP
YPS Chair-Elect John Corker, MD, interviews president-elect candidate Gillian Schmitz, MD, FACEP
Candidates for ACEP Board of Directors
YPS Immediate Past Chair Jessica Best, MD, interviews Board candidate Michael Baker, MD, FACEP
YPS Councillor Benjamin Karfunkle, MD, interviews Board candidate Alison Haddock, MD, FACEP
YPS Legislative Advisor Puneet Gupta, MD, FACEP, interviews Board candidate Jamie Shoemaker, Jr., MD, FACEP
YPS Alternate Councillor Nnenna Ejesieme, DO, interviews Board candidate Aisha Terry, MD, MPH, FACEP
YPS Secretary Whitney Faulconer, DO, interviews Board candidate Arvind Venkat, MD, FACEP