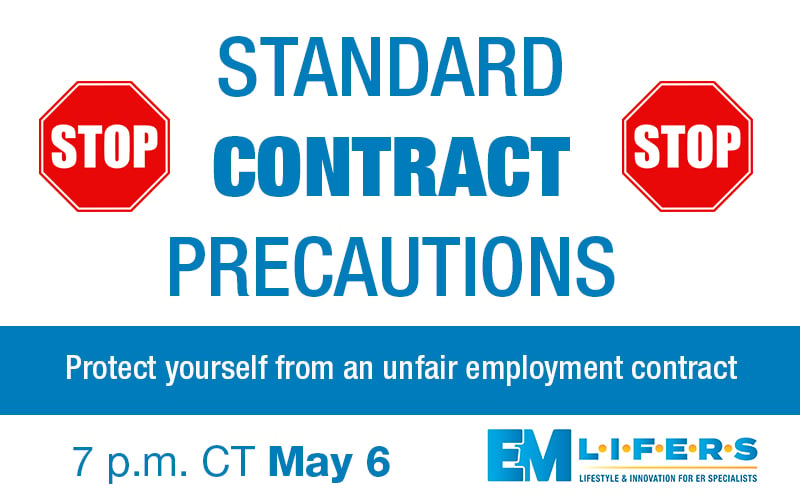 Standard CONTRACT Precautions: Identify Employment Contract Pitfalls
EM LIFERS Episode 2
Presented by the Young Physicians Section and Online Education Committee
7 pm CT May 6
Recording now available in the ACEP Online Learning Collaborative (free for all ACEP members)
Do you know how to diagnose an unfavorable employment contract? Can you confidently identify red flags and deal-breakers? In this episode of the EM L.I.F.E.R.S. series moderated by YPS Chair-Elect Puneet Gupta, MD, FACEP, experts R. Scott Altman, MD, MBA, FACEP, and Melinda Malecki, JD, MS, will go over the key components of an employment contract and explain principal employment and compensation models. They'll help attendees understand where they are most at risk within the contract and how to develop a plan for managing contract variables that are either non-negotiable or not in writing.
R. Scott Altman, MD, MPH, MBA, CPE, FACEP, has logged 27 years as a practicing EM attending at Christ Hospital in Oak Lawn, Illinois, and 18 years on faculty at Northwestern University in Chicago. Dr. Altman has taught contracting in a "Life After Residency" program, reviewed hundreds of agreements for senior residents, and guided graduates through subsequent employment and partnership complications. Dr. Altman has served as an ED Chair, VPMA for a 150 physician multi-specialty group practice, and hospital CMO. He has also provided international medical management and performance improvement consulting since 1992, working with over 80 hospitals, EMS systems, and Ministries of Health, in 23 countries.
Melinda Malecki, JD, MS, is a Health Law attorney with 25 years of corporate, regulatory, and risk management experience. As a Certified Professional in Healthcare Risk Management (CPHRM), she provides legal counsel, corporate compliance, and risk management services to physicians, safety net hospitals and healthcare organizations, including federally qualified health centers. Ms. Malecki has extensive experience in the area of physician representation, including sales and purchases of practices, contract negotiations and corporate disputes.