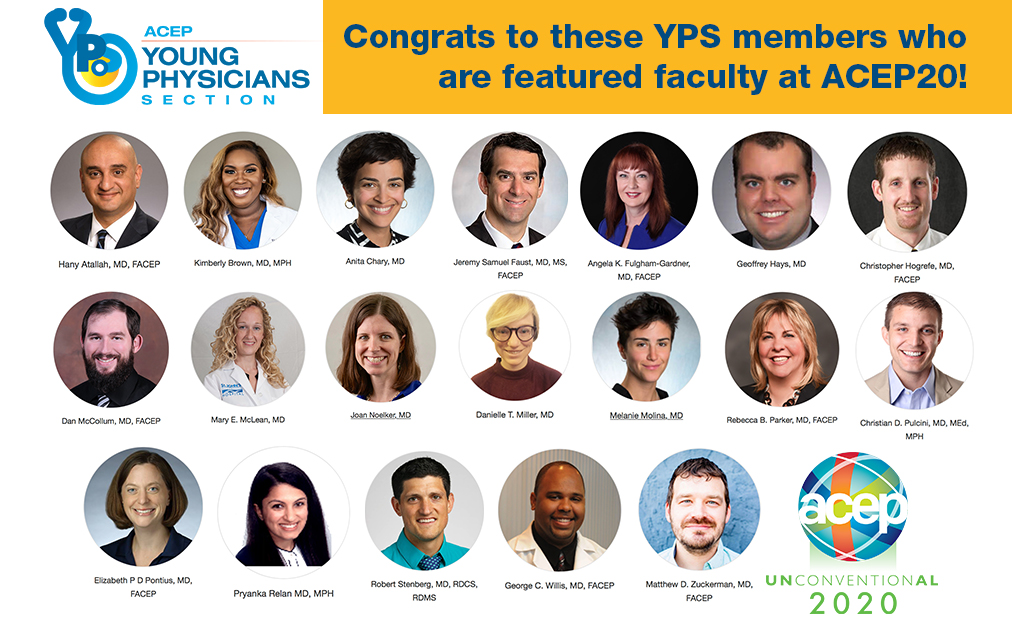 Support These YPS Faculty At ACEP20
Spotlighting Our YPS Faculty at ACEP20
A quick scan of the esteemed faculty lineup at the upcoming ACEP 2020 Scientific Assembly reveals that several members of our Young Physicians Section will be in the spotlight. Our members will be speaking on a huge range of topics: racial justice, burn management, sepsis, trauma, opioids, Medicare and more.
Let's support our fellow YPS community by marking these sessions as "must-see" as we plan our educational itineraries. Keep scrolling to see the full YPS course list with links to learn more.
PS. Don't forget about our YPS session! James Dahle, MD, FACEP, is our YPS keynote speaker for ACEP20! He'll be speaking during our YPS Leadership Summit, noon-2 p.m. on Oct. 26. Dr. Dahle will discuss the financial impact of COVID-19 on our finances, followed by a crowdsourced Q&A. Have some financial questions you'd like him to tackle during the session? Submit your questions through this online form.

View all our ACEP20 Speakers.
Hany Atallah, MD, FACEP
Basics in Burn Management
Kimberly M. Brown, MD, MPH
Inclusion, Racial Justice and Physician Well-Being: Panel Discussion with Physicians of Color
Anita Chary, MD
Communication: Responding to Microaggressions in the Workplace
Jeremy Samuel Faust, MD, MS, FACEP
Sepsis Metrics - Quality Care or Unproven Mandate?: ACEP Connect
Critical Appraisal and FOAMed: Is FOAMed the Problem or the Solution?
Imaging Over Testing and Overuse: Just How Dangerous Is It?
Angela F. Gardner, MD, FACEP
Ask the Experts: Ethical Dilemmas & Tough Decisions in the ED
Geoffrey Hays, MD
Thinking Twice: Resuscitating Special Populations
Christopher Hogrefe, MD, FACEP
Debunking Trauma Myths: It's Not Just Politics: ACEP Connect
Advanced Wound Closure in the ED: Putting the Pieces Back Together
Trauma STAT! Don't Miss This Visual Cue!
Mary McClean, MD
Kidney Krunch: Renal Issues That Matter
Daniel Jay McCollum, MD, FACEP
Emergency Care Research Scientist and Skeptic Debate: State of the Art of Emergency Care Research I
Danielle T. Miller, MD
Forgotten Infections in IV Drug Users
Melanie Molina, MD
Communication: Responding to Microaggressions in the Workplace
Joan Noelker, MD
Split Flow Success-Avoiding Pitfalls & Getting Up to Speed!: ACEP Connect
Managing Dental Emergencies Like a Pro
Infections in Small Places: Managing Mastoiditis, Orbital Cellulitis, & Neck Abscesses
Rebecca B. Parker, MD, FACEP
#ACEP 4U: Advocate for Change!
Great Debate: Is Medicare for All Ready for Prime Time?
Elizabeth P D Pontius, MD, FACEP
Nightmare ENT Emergencies: Sore Throats That Can Kill
Quick Tips: ENT Procedures in the ED
Christian D. Pulcini, MD, MEd, MPH
Keeping It Simple: Pearls and Pitfalls in the Emergency Care of Medically Complex Children
Kids Dropping Out: Pediatric ECG From Normal to Disaster
Pryanka Relan, MD, MPH
Who is the WHO? The World Health Organization and Its Role in Emergency Care
Robert T. Stenberg, MD, RDCS, RDMS
High Yield OB Ultrasound Pearls: Scanning the Bun in the Oven
Bent, Broken, & Backed Up-Male GU Emergencies: FAST FACTS
George C. Willis, MD, FACEP
Cruising the Cardiology Literature: 2020
Aortic Dissection: Are You Missing the Diagnosis?
New Cardiac Drugs: How, What, and When to Use Them in the ED
Matthew D. Zuckerman, MD, FACEP
Narcotics to Naloxone - Effective EM Responses to the Opioid Crisis: FAST FACTS