For this week's Regs and Eggs, I'm turning the reins over to Adam Krushinskie, ACEP's Reimbursement Manager. His name may sound familiar, as this is his second Regs and Eggs blog post. This week, he will focus on the extremely important issue of the Medicaid "unwinding" process—and what that means for you as emergency physicians and your patients. Without further ado, here's Adam!
Thanks, Jeffrey! In the new hit Netflix show Emergency NYC, Dr. Mirtha Macri and her team at Northwell Lenox Health Greenwich Village face unprecedented challenges to treat a diverse community during the COVID-19 pandemic. In the fourth episode of the series, Dr. Macri tries to find shelter for a man with a spinal cord injury. The ensuing half hour of the episode largely depicts the status of Medicaid in the US. The most basic form of health insurance can make it extremely difficult to provide personalized care to every patient that comes through the door, no matter what the circumstances are, 24/7/365.
COVID-19 left scars on our healthcare system in ways we could have never imagined. While some hospitals battled the surge of critically ill patients, others saw all-time low patient volumes. Burnout and layoffs made headlines. Emergency physicians were on the brink.
One saving grace has been the COVID-19 policies federal and state governments rolled out during the pandemic. The Paycheck Protection Program, provider relief funds, and telehealth expansion are just a few that made a big impact on our specialty. However, one that you may not have heard much about was continuous enrollment for Medicaid and Children's Health Insurance Program (CHIP) recipients. States were given additional match funds in exchange for keeping all current Medicaid recipients enrolled for the duration of the Public Health Emergency (PHE). In short, it worked. Nearly 91 million individuals were enrolled in health coverage through Medicaid and CHIP as of September 2022. That's a 29% increase since the beginning of the pandemic.
As the PHE comes to a close next month, many of the 20 million new enrollees will face open enrollment for the first time. States are responsible for contacting every Medicaid enrollee in their state to check their eligibility and assist with re-enrollment of transfers to Affordable Care Act (ACA) Marketplace Plans. Undoubtedly, many individuals will fall through the cracks. Every single Medicaid enrollee needs to fill out an application, have their income and work status checked, and then re-enroll in an appropriate Medicaid plan, which in most states is a Managed Care Plan with a major insurer such as Anthem, Centene, or Molina, etc.
So, let's breakdown how these renewals will work, what different states are doing, and what this all means for you.
How will renewals work?
States must begin the renewal process by first attempting to redetermine eligibility based on reliable information available to the agency without requiring information from the individual. This process is called ex parte renewal (auto-renewal). If the individual is ineligible for Medicaid, the state determines potential eligibility for other coverage like Marketplace plans and transfers the individual's account information for potential enrollment. The problems start when an individual has an outdated address or invalid email and cannot be reached to verify their eligibility.
The continuous enrollment condition ended on April 1, 2023, and states must complete renewals within 14 months. Many states have already begun this process in February, March, or April 2023 but could not terminate eligibility for most individuals in Medicaid prior to April 1, 2023. States also have 4 months to resume timely processing of all applications, including those received after April 1, 2023.
Anticipated 2023 State Timelines for Initiating Unwinding-Related Renewals
While some individuals who are disenrolled may be eligible for other insurance plans, such as through their employer or state marketplaces, many will become uninsured. Between April 1 and August 2023, some Medicaid enrollees may lose coverage entirely. As Medicaid Unwinding "unwinds" throughout the spring and summer months, many emergency departments (EDs) are likely to see an increase in the number of uninsured patients as well as those having trouble accessing primary and specialty care. The biggest threat to our patients is that states just do nothing and remove enrollees as quickly as possible to save money.
What have states done to prepare?
I have been watching this closely for the past 15 months. About a third have been proactive and have budgeted for hiring additional enrollment staff as well as increased advertising in print, online social media, and automated phone calls to current enrollees. The rest have largely done nothing. In their defense, the PHE has been continually extended for the past three years, while state budgets and staffing decisions tend to be made on an annual basis.
Georgetown University 50 State Unwinding Tracker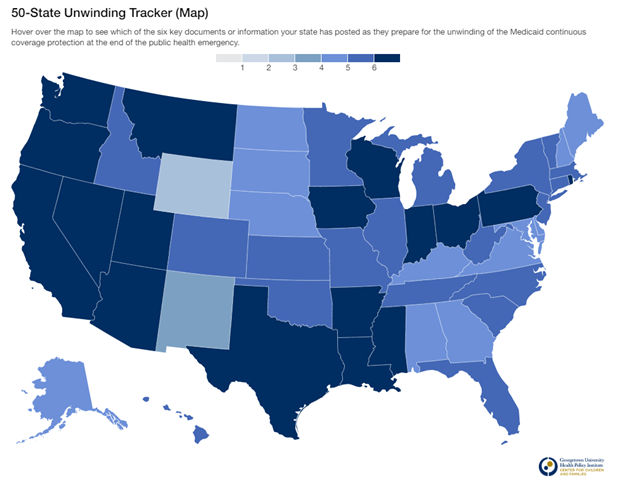 States with a darker shade have already completed a public summary of the unwinding process, sent alerts to Medicaid recipients to update their contact information, created an FAQ and communications toolkit, and provide a dashboard that is regularly updated with key renewal metrics.
The Centers for Medicare & Medicaid Services (CMS) required states to ensure eligible enrollees retain coverage by renewing their Medicaid or CHIP and to ensure those enrollees eligible for other sources of coverage, including through the Marketplace, smoothly transition. States are required to submit key data points on how the transition is going so CMS can monitor and adjust as appropriate, including the number and ages of enrollees no longer eligible, enrollment in Marketplace plans, and the number of enrollees that have been contacted but have not taken action. However, it's up to us to hold states accountable for their actions.
Medicaid makes up as much as 60% of the payor mix for many urban and rural EDs. Current projections show that at least 15 million people could lose their current Medicaid or CHIP coverage (75% of new individuals added during the pandemic). The potential loss of not only coverage for individuals but also ED revenues remind us of the dark days of the pandemic when ED volumes dropped along with revenues.
Emergency medicine is on the frontlines for treating Medicaid patients. We have a significant stake in the outcome of the Medicaid Unwinding process. While state Medicaid programs must follow particular rules in this process, such as making a good faith effort to contact enrollees, the likely success of the unwinding will depend on physicians and other health care professionals reminding patients about the changes.
How can we help our patients?
As individuals, we can remind our Medicaid patients of the return to normal in a few easy ways. First, we can post flyers and other communications CMS has approved for the unwinding in our EDs without fear of violating the Emergency Medical Treatment and Labor Act (EMTALA). ACEP specifically reached out to CMS on this issue and has received assurances from the agency that emergency physicians will not be targeted for communicating with patients about the Medicaid enrollment process. The best advice to give to patients: go online to Medicaid.gov/unwinding or call your state Medicaid assistance office directly and verify that your address and contact information is up-to-date.
CMS toolkit with flyers you can print or email
There are several ways that your group can help with the unwinding process as well. First, take a few minutes to educate all of your physicians about what is going on with Medicaid Unwinding and why it's important to both patients and your group. While this blog post is a good starting point, I would suggest checking out the CMS flyers, as they are what you can use to communicate with patients. Second, have a communication plan for Medicaid beneficiaries if the topic of coverage comes up in a patient encounter. This can be a shared responsibility with your hospital administration. Third, engage community partners, health plans, and the provider community to amplify key messages about Medicaid eligibility. The non-profits you work with to combat homelessness should be one of the organizations aware of this change, among others. Finally, you should encourage your state Medicaid office to develop an unwinding plan to prioritize and distribute renewals. This can be done at the state chapter level. Every state needs to have a plan in place to prevent a mass exodus of Medicaid enrollees.
Sharing your stories about the Medicaid unwinding process will also help spread the word. Some questions to consider are:
What are the challenges you are facing with Medicaid patients?
Are you seeing an increase in the amount of self-pay patients?
Most importantly, is your ED ready to talk to patients about the unwinding process with patients?
I would like to hear from you. CMS holds regular stakeholder calls that I participate in, and I would like to provide the most accurate account of what is happening on the ground.
Do you have a story to share? Contact Adam Krushinskie: akrushinskie@acep.org.
Until next week, this is Adam (and Jeffrey) stating, enjoy reading regs with your eggs.