COVID-19 Update

Thank you to the EMS professionals on the frontline of the COVID-19 crisis. We understand that the 2020 EMS Week is probably not a top priority as the COVID-19 crisis continues. We all recognize that EMS professionals are on the frontlines of the crisis everyday--planning, adapting and responding to take care of their citizens and communities. Because of the impact of COVID-19 on many EMS services across the nation it is unlikely that they will be able to celebrate and participate in EMS Week in the normal ways.

As a result, this year's campaign will focus on recognizing the selfless calling that makes EMS so vital. The 2020 EMS Week theme is Ready Today. Preparing for Tomorrow. This theme, which was developed long before the COVID-19 crisis, is particularly meaningful now as we see the EMS community rallying to continuing to support those affected by this crisis, all while still responding to the everyday emergencies that continue to occur in their communities. All while dealing with challenges such as the lack of access to appropriate PPE and fellow workers who are stricken with this virus. Now more than ever, it is important that we honor and celebrate our EMS professionals who are supporting the health and well-being of our nation. Especially those brave individuals who give the ultimate sacrifice with their lives.

We will continue to assess the implications of how EMS Week can be recognized this year, abiding by national and local guidelines. We will be sharing through the EMS Week/EMS Strong web pages information on ways to recognize our EMS heroes. There will also be information on personal safety and mental health to help protect our EMS personnel who are experiencing adverse effects of their experiences during this crisis. We will be planning a special EMS Strong celebration later in the year once the COVID-19 crisis is over and will be sharing more details once they are finalized. We will use this special celebration to honor and celebrate our EMS professionals who supported the health and well-being of our nation during the crisis.

We send our best wishes for the safety and health of all EMS personnel on the first lines.


National EMS Week - May 17 - 23, 2020
Presented by ACEP in partnership with the National Association of EMTs (NAEMT)
Emergency Medical Services for Children (EMSC) Day - May 20, 2020
2020 EMS STRONG theme - "Ready Today. Preparing For Tomorrow"
******************************************************
EMS is on the frontline for the response to the COVID-19 crisis and we are saddened for those who have died from COVID-19 related complications. Their names are listed In Memoriam.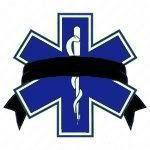 ******************************************************


Theme Days for 2020
Monday - Education
Tuesday - Safety Tuesday
Wednesday - EMSC Day
Thursday - Save-A-Life (CPR and Stop the Bleed Challenge) "National Stop the Bleed"
Friday - EMS Recognition Day
Future National EMS Week Dates
May 17 - 23, 2020 - EMSC Day is May 20
May 16 - 22, 2021 - EMSC Day is May 19
May 15 - 21, 2022 - EMSC Day is May 18
May 21 - 27, 2023 - EMSC Day is May 24
May 19 - 25, 2024 - EMSC Day is May 22
May 18 - 24, 2025 - EMSC Day is May 21
(EMS Week falls on the 3rd full week of every May)
National EMS Week Information
National Emergency Medical Services Week brings together local communities and medical personnel to publicize safety and honor the dedication of those who provide the day-to-day lifesaving services of medicine's "front line." This information can be used throughout the year for public education and safety programs. For additional information, contact us by email.
ACEP provides staff and financial support for the production and distribution of EMS Week promotional materials as a public education service. The generous support of our corporate sponsors also allows us to continue to develop and distribute the National EMS Week Planning Guides free of charge. Specialty items are marketed directly by Jim Coleman, Ltd. under license by ACEP. Royalties generated by this licensing agreement contribute to the funding of these planning materials as well as designing each year's logo.
ACEP permits promotional EMS Week logo use for items such as printed educational materials, signs, posters, articles, or similar for your local EMS Week events. We ask that you coordinate with our official EMS Week vendor, Jim Coleman, Ltd., for items such as t-shirts, caps, cups/mugs, or other similar promotional items featuring the EMS Week logo.
Visit or email Jim Coleman, Ltd. for EMS Week promotional materials.
Our History
ACEP was instrumental in establishing EMS Week when President Gerald Ford declared November 3 – 10, 1974 as the first "National Emergency Medical Services Week." This annual observance continued for four more years and was then reinstituted by ACEP in 1982. Around this time the observance of EMS Week was moved to September. In 1992 EMS Week was again moved to be the 3rd week in May. The move was made to separate EMS Week from Fire Prevention week in October. The rationale for the move was the majority of fire and EMS services felt having the two events back to back hurt the effectiveness of each program so EMS Week was moved to May.
ACEP began collecting and distributing ideas and information for EMS Week in the early 1980's. Professionally printed and prepared EMS Week Planning kits were developed starting in the late 1980's. Today 25,000 EMS Week Planning Guides are distributed free of charge to EMS services, fire departments, rescue squads, volunteer groups, and emergency departments across the country. The 48-page guide contains ideas for local EMS Week activities and highlights EMS Week programs held by EMS services during the previous year.