The New National EMS Week Website is Here: WWW.EMSWeek.ORG
You can find all the logos, materials, documents, and many more new and exciting items to share! Please join us at www.emsweek.org
This page will be available for a limited amount of time during this transition period. We thank each one of you for your continued support and wish you all a wonderful celebration for EMS Week.
May 15-21, 2022 is our 47th annual celebration for EMS Week

EMS Week is a perfect time to honor those frontline heroes dedicated to providing emergency medicine that saves so many lives every day. We understand that the 2020 EMS Week was probably not a top priority due to the COVID-19 crisis. This year's campaign will focus on What EMS is and what we do.
The 2022 EMS Week theme: "EMS: Rising to the Challenge." This theme is particularly meaningful now, to remind people that every day we are faced with so many new challenges in our lives and yet we still rise above them all and continue to respond, support, and care for the needs of our communities.
We send our best wishes for the constant safety and good health of all EMS personnel on the first lines who continue to take care of our communities.
National EMS Week - May 15 - 21, 2022
May 21 - 27, 2023 - EMSC Day is May 24
Presented by ACEP in partnership with the National Association of EMTs (NAEMT)
Emergency Medical Services for Children (EMSC) Day - May 18, 2022
2022 EMS STRONG theme - "EMS: Rising to the Challenge"
******************************************************
Our Continuation list of the frontline hero lost during the COVID-19 crisis. We are saddened for those who have died from COVID-19 related complications. Their names are listed In Memoriam.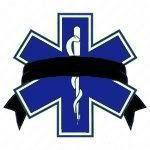 ******************************************************

National EMS Memorial Service and Weekend of Honor Scheduled for July 22-24, 2022 at the Hyatt Regency Crystal City at Regan National Airport in Arlington, Va.
National EMS Memorial Service and Weekend of Honor
******************************************************
Theme Days for 2022
Sunday - Mental Health
Monday - Education
Tuesday - Safety Tuesday
Wednesday - EMSC Day
Thursday - Save-A-Life (CPR and Stop the Bleed Challenge) "National Stop the Bleed"
Friday - EMS Recognition Day
Future National EMS Week Dates
May 15 - 21, 2022 - EMSC Day is May 18
May 21 - 27, 2023 - EMSC Day is May 24
May 19 - 25, 2024 - EMSC Day is May 22
May 18 - 24, 2025 - EMSC Day is May 21
(EMS Week falls on the 3rd full week of every May)
National EMS Week Information
National Emergency Medical Services Week brings together local communities and medical personnel to publicize safety and honor the dedication of those who provide the day-to-day lifesaving services of medicine's "front line." This information can be used throughout the year for public education and safety programs. For additional information, contact us by email.
ACEP provides staff and financial support for the production and distribution of EMS Week promotional materials as a public education service. The generous support of our corporate sponsors also allows us to continue to develop and distribute the National EMS Week Planning Guides free of charge. Specialty items are marketed directly by Jim Coleman, Ltd. under license by ACEP. Royalties generated by this licensing agreement contribute to the funding of these planning materials as well as designing each year's logo.
Download EMS Week /EMS Strong Logos
ACEP permits promotional EMS Week logo use for items such as printed educational materials, signs, posters, articles, or similar for your local EMS Week events. We ask that you coordinate with our official EMS Week vendor, Jim Coleman, Ltd., for items such as t-shirts, caps, cups/mugs, or other similar promotional items featuring the EMS Week logo.
Visit or email Jim Coleman, Ltd. for EMS Week promotional materials.
Our History
ACEP was instrumental in establishing EMS Week when President Gerald Ford declared November 3 – 10, 1974 as the first "National Emergency Medical Services Week." This annual observance continued for four more years and was then reinstituted by ACEP in 1982. Around this time the observance of EMS Week was moved to September. In 1992 EMS Week was again moved to be the 3rd week in May. The move was made to separate EMS Week from Fire Prevention week in October. The rationale for the move was the majority of fire and EMS services felt having the two events back to back hurt the effectiveness of each program so EMS Week was moved to May.
ACEP began collecting and distributing ideas and information for EMS Week in the early 1980's. Professionally printed and prepared EMS Week Planning kits were developed starting in the late 1980's. Today 25,000 EMS Week Planning Guides are distributed free of charge to EMS services, fire departments, rescue squads, volunteer groups, and emergency departments across the country. The 48-page guide contains ideas for local EMS Week activities and highlights EMS Week programs held by EMS services during the previous year.