Emergency Doctors and Nurses Team Up on No Silence on ED Violence Campaign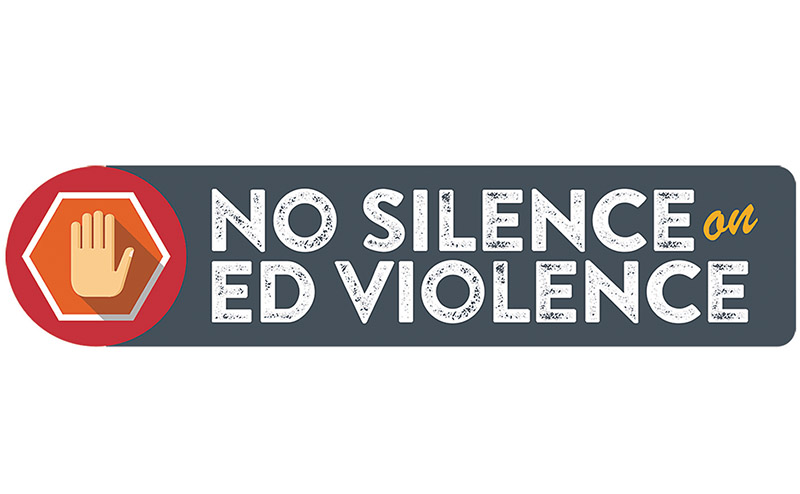 The statistics are staggering. According to surveys by the American College of Emergency Physicians (ACEP) and the Emergency Nurses Association (ENA), almost half of emergency physicians report being physically assaulted at work, while about 70 percent of emergency nurses report being hit and kicked while on the job. Furthermore, the vast majority (80 percent) of emergency physicians say violence in the emergency department harms patient care.
The frequency of violent attacks on nurses, physicians and patients in our nation's emergency departments is unconscionable and unacceptable. For medical professionals, being assaulted in the emergency department must no longer be tolerated as "part of the job."
In an effort to meaningfully minimize these attacks, ACEP and ENA launched an ongoing campaign in 2019 called "No Silence on ED Violence." This joint effort equips and empowers our respective members to effect needed safety improvements at their hospitals, while engaging state and federal policymakers, stakeholder organizations and the public at large to generate action to address this crisis. We invite and encourage you to join us in this vital effort. Go to www.stopEDviolence.org for resources to help and ways to get involved, and use #EndEDViolence to join the conversation on social media.
ACEP Supports Workplace Violence Legislation (June 2022)
ACEP knows violence in the ED is a serious and growing concern (see survey statistics below for details.) To that end, ACEP and ENA support the Workplace Violence Prevention for Health Care and Social Service Workers Act (H.R. 1195, S.4182) that passed the House of Representatives in April of 2021 and was introduced in the Senate in May of 2022. This bipartisan legislation directs the Occupational Safety and Health Administration (OSHA) to issue standards for employers to implement on workplace violence prevention plans to protect health care and social service workers from assaults.
ACEP also supports the Safety from Violence for Healthcare Employees (SAVE) Act, which was introduced in the House of Representatives in June of 2022. This bipartisan bill would help curb violence in the emergency department, and criminalize assault or intimidation against health workers.
There are some other promising developments in our effort to protect healthcare workers and patients. Read this Regs & Eggs blog post to find out more about ACEP's advocacy efforts as well as the recent developments that aim to address violence in the ED.
2018 Emergency Department Violence Survey Findings
Violence in Emergency Departments is Increasing, Harming Patients, New Research Finds
Nearly 7 in 10 emergency physicians say emergency department violence is increasing.
About 80 percent say violence in the emergency department harmed patient care.

Of those, more than half say patients have been physically harmed.

47 percent of emergency physicians have been physically assaulted at work.

Of those, more than 6 in 10 were assaulted in the past year.

Nearly 7 in 10 say their hospital reported the incident, yet only 3 percent pressed charges.
Nearly 1/2 say hospitals can do more by adding security, cameras, metal detectors, and increasing visitor screening, especially in the emergency department.
The Joint Commission Institutes Workplace Violence Standards Effective Jan. 1, 2022
On January 1, 2022, The Joint Commission (TJC) started enforcing new workplace violence prevention requirements to guide hospitals in developing strong workplace violence prevention programs. ACEP contributed to the development of these new requirements by participating in an expert workgroup and supplying comments. Read our Workplace Violence Standards Fact Sheet.pdf that provides an overview of the new standards.

Concerned about workplace violence protections at your hospital? Please reach out to ACEP to let us know. We can connect you with appropriate resources, and your story can help to inform and enhance ACEP's advocacy for stronger workplace protections.
Expert Opinion
Understanding Agitation: De-escalation
De-escalation is an effective technique that can help prevent attacks on emergency department staff and, in many cases, the need for restraint and sedation. In this video, Scott Zeller, MD, Vice President of Acute Psychiatric Medicine for CEP America, demonstrates a verbal de-escalation technique that can be used to calm an agitated patient. Dr. Zeller presented his approach to de-escalation live at innovatED during ACEP17.
Design Considerations for a Safer Emergency Department (PDF)
Jon Huddy, MArch, BA, AIA, NCARB, helps you identify the best possible design solutions to make your department safer for staff, patients, visitors, physicians, and all other providers.
Hostile Workplace: Emergency Management of the Agitated Patient (PDF)
Around-the-clock open access makes the emergency department a haven for patients at risk for agitated and aggressive behavior. The best strategy for managing these dangerous and unpredictable situations is to diffuse them before they escalate to violence. Clinicians must be prepared to address the myriad underlying factors that can cause agitation, many of which can be life-threatening if left untreated.
Your Experiences
What You've Done to Make Your Department Safer (PDF)
ACEP members responded to a survey on the violent incidents they've experienced, best practices to deal with them, and safety tips and other suggestions to prevent them in the first place. Read the results.
James J. Sullivan, Jr., MD
Dr. Sullivan is Chief of Emergency Medicine at Harrington HealthCare System in Southbridge, Massachusetts. He recently shared his thoughts on the attack in his emergency care center, in which a nurse was stabbed 11 times by a former patient.
CME Lectures
The Shooter is in Your ED: Practical Guidance to Maximize Survival
Your ED is full, you're boarding critical and psychiatric patients, and now, all lives are threatened by an active shooter, including your own. What do you do? The speaker will describe workplace response approaches with a special focus on the hospital and emergency department environments.
Cool, Calm and Collected in Chaos: How Learned Psychological Skills Enhance Performance Under Pressure
Many professional athletes, business executives, and elite military special operations teams use comprehensive psychological skills and techniques that allow them to remain calm, think clearly, and stay focused in very challenging and stressful situations. Data from psychology, cognitive science, and human factors analysis will be utilized to present novel performance enhancing psychological skills that can aid the emergency physician in optimizing cognitive function and in the retention of fine motor skills during both typical and the most extraordinary and uncommon stressful ED situations.
Physician, Heal Thyself: The Importance of Creating Resilience
Emergency medicine can be extremely rewarding but it can also be extremely draining. Longevity in the specialty are tied to the emergency physician's ability to be both emotionally and physically resilient. These traits are partially inborn, but can be learned and developed. The speaker will define "resiliency" with respect to emergency medicine, review the research behind the benefits of developing resiliency, and provide ways for the practicing emergency physician to foster and maintain a resilient mindset that can improve your life and the care you give to your patients.
Podcasts
ACEP Frontline: Dealing with the Agitated Patient
Ryan Stanton, MD, FACEP talks to Reuben Strayer, MD on dealing with agitated patients in the ED and strategies to implement best practice for patient care in these difficult situations.
ACEP Now Articles
A Safe Space: Violence Toward Emergency Department Providers Isn't Just Part of the Job – June 2016
James P. Phillips, MD, defines workplace violence and discusses both criminal and non-criminal offenses. He shares insights about reporting barriers and gives suggestions for improving the awareness of Work Place Violence (WPV) in emergency medicine.
Run, Hide, Fight: How to React When There's Gunfire in the Emergency Department – June 2016
Howard K. Mell, MD, MPH, CPE, FACEP discusses weapons in the ED and looks at the reality of facing an active shooter.
Workplace Violence Remains a Part of the Emergency Department – June 2012
Workplace violence isn't always an individual with a weapon. Physical assault is all too common in the ED. In this article, the authors explore why assault might not be reported in the emergency department and suggests solutions to help providers who suffer assault on the job. Note: Survey link at the end of the article is no longer active.
Annals and Other Articles
Hospital-Based Shootings in the United States: 2000 to 2011 (PDF)
Workplace violence is a frequent occurrence in health care settings, but how often is gunfire involved? This article looks at reports of hospital-based shootings with at least one injured victim from 2000-2011.
Protection from Violence in the Emergency Department (PDF)
The American College of Emergency Physicians (ACEP) believes that workplace violence is a preventable and significant public health problem and that optimal patient care can be achieved only when patients, health care workers, and all other persons in the emergency department (ED) are protected against violent acts occurring within the department.
161 Design Interventions for Preventing Workplace Violence in the Emergency Department: A Systematic Review Leading to a Checklist of Deployed Interventions (PDF)
Members of ACEP's Public Health and Injury Prevention Committee provided a useful resource in April 2011 for WPV prevention based on the guidelines recommended by National Institute of Occupational Safety and Health (NIOSH).
A Survey of Emergency Physicians in the State of Michigan (PDF)
Seeking to determine the amount and type of work-related violence experienced by Michigan attending emergency physicians.
Risk Assessment and Tools for Identifying Patients at High Risk for Violence and Self-Harm in the Emergency Department (PDF)
The Public Health and Injury Prevention Committee reviewed resources for identifying and risk stratifying patients at risk for violence, mitigating patient risk from self-directed or interpersonal harm and sharing patient information and compiled its findings in this information paper.
ACEP Policies
Protection from Violence in the Emergency Department
The American College of Emergency Physicians (ACEP) believes that workplace violence is a preventable and significant public health problem and that optimal patient care can be achieved only when patients, health care workers, and all other persons in the emergency department are protected against violent acts occurring within the department. Learn More