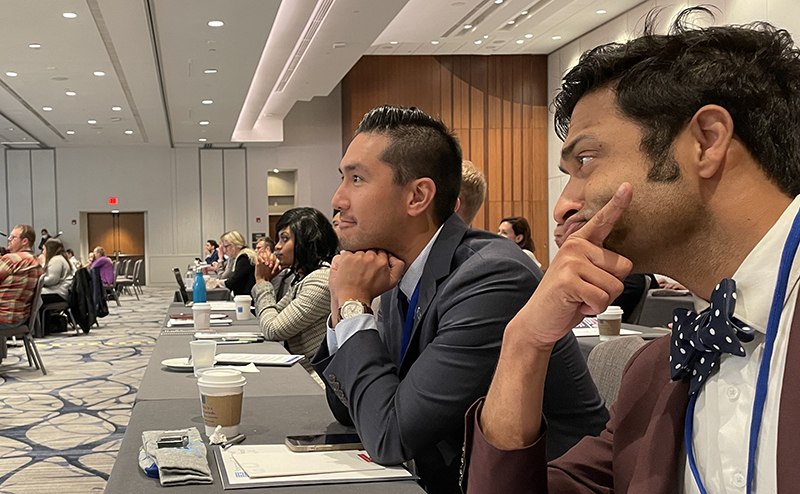 My First Time at the ACEP Leadership & Advocacy Conference
By Ed Descallar, MD, FACEP, YPS Chair Elect
Photo caption: Dr. Descallar, center, and YPS Chair Puneet Gupta, MD, FACEP, listen to sessions during the YPS and EMRA Health Policy Primer on May 1, 2022 in Washington, DC.
"So, do we actually accomplish anything at these meetings?"
That question was something I asked when sitting at dinner with Dr. Mike Lozano, who at that time I had no idea was a past-president of my own chapter, the Florida College of Emergency Physicians (FCEP). This would be a common theme for me during my first time attending ACEP's Leadership & Advocacy Conference in early May.
As a first-time attendee, I thought I would feel like a fish out of water - and that's exactly what happened. But this shouldn't discourage anyone from attending! In fact, the first day of the meeting, our very own Young Physicians Section and EMRA sponsored and cohosted a Health Policy Primer that was designed for people like me who were new to the emergency medicine advocacy world. The Primer was full of helpful sessions with content that was easily digestible even if you're not a health policy nut.
The next few days followed with amazing speakers and topics (you can see highlights in ACEP's live blog) that all led up to the visits with legislators and their staffers on Capitol Hill. The opportunity to meet face-to-face with policymakers who shape major decisions in our country is not something to take lightly and is an excellent opportunity brought to us by ACEP.
One unanticipated benefit of this conference is the ability to network. I found myself sharing golf tips with past ACEP presidents and hearing stories from the ER from upcoming leaders from multiple state chapters.
But let's go back to my dinner with Dr. Lozano:
"So, do we actually accomplish anything at these meetings?" I asked him.
"Yes, we do," Mike said. "But you can't expect to make a massive change in just one meeting. It's about small incremental changes over time. The key is to keep advocating for our specialty. Every year".
These words resonated with me throughout the rest of the conference and helped frame my perspective and expectations. As emergency medicine physicians, we have a real ability to make a difference in the future of our field. A sustainable and fulfilling career for ourselves, as well as ensuring better care for our patients, is attainable.
I hope this makes you consider coming to LAC23 -- I'll be there!
In the meantime, we can stay updated and involved in ACEP's advocacy efforts by joining the 911 Grassroots Network. It's the only dedicated grassroots advocacy action network that speaks on behalf of the specialty of emergency medicine and patients seeking emergency care. Joining is free, and you'll receive weekly updates on what's happening with health policy that affects EM. You'll be in the know about legislation we're supporting, regulations we're weighing in on and any other state or federal advocacy efforts that affect our future.
Related: ACEP recently released its new Strategic Plan, and advocacy is one of the five core pillars. The Advocacy pillar is especially relevant to us as young physicians who will feel the effects of these efforts for many years to come. Here are the key areas of focus:
- Expand and strengthen the role and impact of state-level advocacy.
- Standardize advocacy strategies and approach at the federal, state and workplace level.
- Streamline advocacy content development and delivery.
- Identify, test, and adopt new fundraising strategies to support advocacy initiatives.
- Create awareness around the business of emergency medicine and have difficult discussions about possibilities and protections.
Read more: Two of our Young Physicians Section leaders are sharing what it was like to be on the strategic planning team that helped develop the path forward for the College.