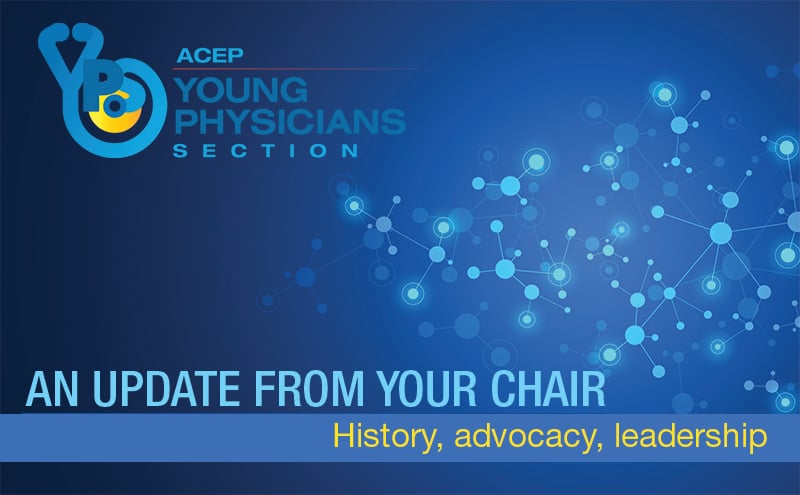 Advocacy: It Takes All of Us
Friends and Colleagues,
As we move into summer and our lives begin to reflect the light at the end of the tunnel that we've believed in and anticipated for more than 15 months, I wanted to take this opportunity to thank each and every one of you. ACEP President-Elect Dr. Gillian Schmitz joined us for our Ohio ACEP Annual Meeting this past week, and she gave an inspiring presentation highlighting how far we've come in only 50 years as a specialty. Similarly, it's remarkable to look back to the beginning of 2020 -- I marvel at how far we've come in since then.
I've always said that in emergency medicine, "While we may not always be at work, we are never off duty." We offer uniquely broad and useful skill sets, and each of you has exhibited that during a time of national crisis. You have served as official (and unofficial) health care correspondents for our patients and our families, through news outlets, social media and sometimes difficult conversations. You have organized national, state and local coalitions and task forces to ensure coordinated procedures and protocols during a time of exponential knowledge-acquisition. Your voices were heard by our hospital leadership and legislators in demanding safe workplaces, physician-led care, and fair insurance practices. In summary, you have transcended political division in the interest of the greater good, and you have cemented our unique position of benevolence and trust in society; all while caring for yourselves and your families amid dynamic uncertainty.
It's been a year where we had to come together. And if you or your colleagues have ever doubted the power of ACEP and organized medicine, I would point you to four actions just in the past year that are both symbolic and concrete in their impact:
LA HB495 and others like it
During the early stages of the pandemic, without notice, my hospital system tried to sell my small democratic ER group's contract to a private equity-backed national staffing firm. With the help of our county medical society, within days, I was able to secure the support of hundreds of local doctors – across specialties – to push back against this hostile effort and demand meaningful negotiation on behalf of our local group. With relentless advocacy and political pressure, two weeks after our surprise notice of termination, the hospital system agreed to negotiate. Our jobs were saved.
Even with all of these many successes, I know that I don't need to remind you that significant challenges remain. United Health Care and other insurance companies continue to sidestep the Prudent Layperson Standard in an attempt to boost their record profits at the expense of fearful, at-risk patients. States across the country continue to explore short-sighted legislation that would sever patients from their physicians and create a two-tiered "separate but equal" health care system in the name of expanded "access." And, of course, too many of our new and transitioning colleagues are struggling to find jobs that are meaningful and sustaining.
That is why, now more than ever, it is critical that we stick together and recruit more of our colleagues to get involved. It's going to take all of us. Please consider joining us in Washington, DC July 25-28 for our Leadership and Advocacy Conference, where you'll have an opportunity to advocate for these and many other important topics. We are excited to help support the YPS & EMRA Policy Primer and Drop the Mic competition and we hope to see you there!
And begin making plans to attend our YPS Business Meeting in October at ACEP21 in Boston, where we'll:
Elect new YPS leadership - our chair-elect, secretary and alternate councilor roles are up for grabs. Contact us if interested!
Recognize our inaugural cohort of the YPS Leadership Society, our new awards program recognizing up and coming leaders in EM. Contact your chapter leaders if you're interested in being nominated.
Conduct a live EM LIFERS panel discussion about how to build your brand as a recognized speaker / influencer in EM.
For both LAC and ACEP21, don't forget to bring your friends! In the meantime, please don't ever hesitate to reach out to me with questions or comments regarding how we can better support you and your career.
Onward,
John R. Corker, MD, FACEP
YPS Chair