As opioid overdoses continue to reach epidemic proportions, the laws and regulations involving the opioid antagonist have also become a key topic at both a state and national level. Naloxone is an opioid receptor antagonist that provides rapid reversal of respiratory depression as a result of an opioid overdose. The CDC estimates that naloxone reversed over 10,000 opioid overdoses between 1996-2010. It can be administered intravenously, subcutaneously, intramuscularly, or intranasally. The medication also can be manufactured in combination with analgesic medication in an effort to decrease prescription drug abuse.
Naloxone Access State by State
Currently the Food and Drug Administration classify naloxone as prescription medication however individual states control how the drug is prescribed and who has access. Some states and pharmacies have permit over-the-counter naloxone.
Prescriptions allowed to third parties (i.e. families, friends) also varies by state.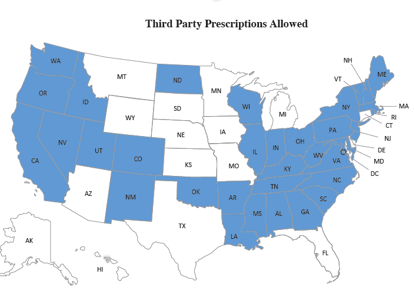 Naloxone 3rd Party Prescriptions
Liability
Questions regarding legal liability are raised with both the administration and prescription of naloxone. States vary on protection regarding civil, professional, and criminal liabilities. ACEP supports legislation making health care providers and lay users of naloxone immune from civil, professional, and criminal liability for failure or misuse of bystander naloxone.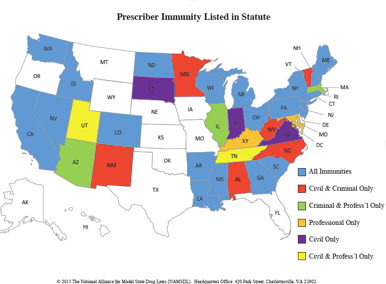 Please see the document published by the National Alliance for Model State Drug Laws for details regarding state specific liability protections concerning naloxone administration.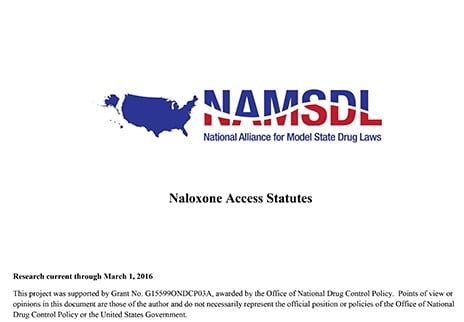 ACEP Policy Statements Concerning Naloxone