Overview
Feel overcrowded? Need more inpatient beds, nurses? Do you realize you may be hemorrhaging millions because of FIXABLE problems with flow and length of stay? Don't add a single bed or staff member until attending this conference. Maybe you won't need any.
There are 100's of process improvements for flow, but only a handful actually work to FIX problems associated with an apparent lack of sufficient inpatient beds. Before you launch another initiative or hire another consultant, learn about the key processes that work (and ones that don't), with practical advice from hospital experts with first-hand experience.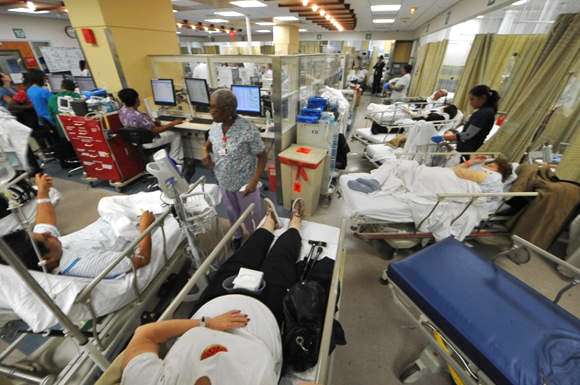 Join the leaders in hospital flow at the Innovation Leadership Challenge: Collaborating to Improve Hospital Flow, Save Lives and Reduce Costs pre-conference which offers battle-tested solutions so you can:
Improve efficiency in the ED, the hospital, and the OR
Reduce PACU boarding and bumping of surgical cases
Improve ICU bed access
Reduce or eliminate boarding of admitted patients in the ED
Improve safety measures such as hospital acquired infection, mortality, re-admissions, and other core measures
Reduce costs associated with inpatient care
Improve patient satisfaction with overall hospital care
Dramatically increase revenue by improving flow through the hospital
Decrease length of stay for inpatients and emergency patients
Reduce nursing burnout
Enjoy these improvements without any increase in staff or resources
Don't waste your time with ineffective solutions. This conference focuses on the true "home runs" of flow improvement, with real life examples and practical advice. Adopting the practices described in this conference will reduce or entirely eliminate boarding, free up beds and staff, improve throughput, enhance patient satisfaction and safety, and sharply reduce costs.
Make plans to join us, so you can begin to make dramatic improvements in capacity and patient safety, all with decreased costs to your hospital. Included in this activity are practical workshops that will help the participants move from "what" to "how to make it happen".
Registration Fees: $375 or a $100 discount is available to participants who register for both the Innovation Leadership Challenge and the Leadership Summit.
The Innovation Leadership Challenge: Collaborating to Improve Hospital Flow, Save Lives and Reduce Costs is a pre-conference event at the American Hospital Association Leadership Summit.
Co-Sponsored by: