Conversation with Industry: BrainScope
This content is written by the company and does not represent the opinions of ACEP.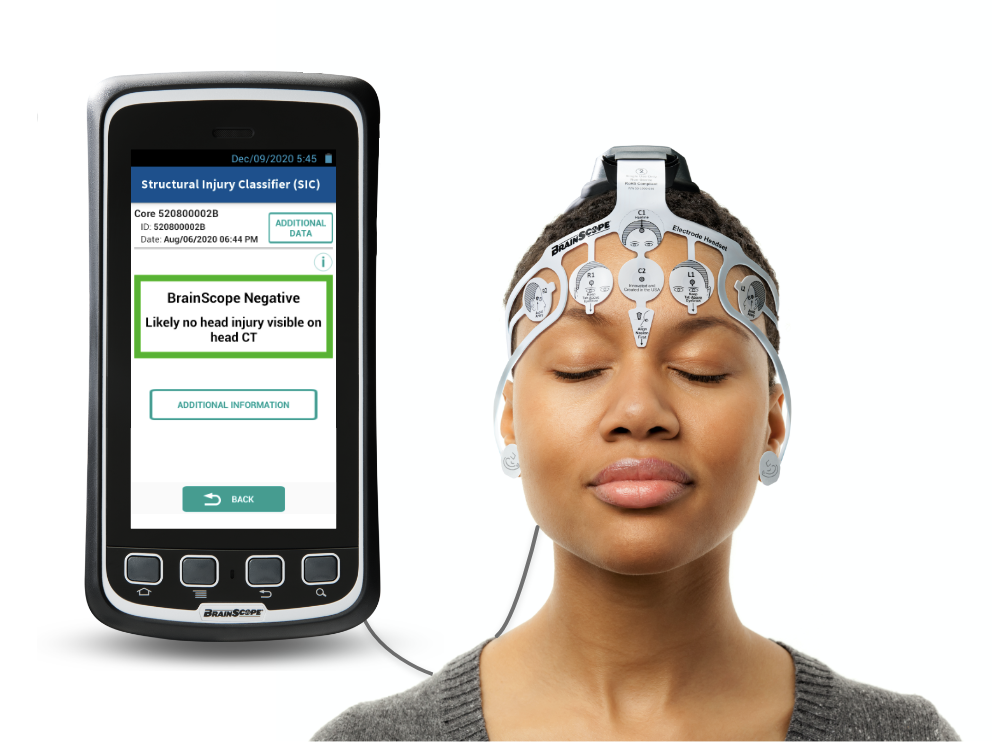 Rapid, Accurate Assessment of mTBI Patients at Point of Care
Perspective
BrainScope's advanced digital signal processing of EEG data and AI, machine learning derived algorithms empower physicians to objectively assess head injured patients for both structural and functional mild traumatic brain injuries (mTBI) in under 20 minutes. BrainScope enables emergency physicians to triage mTBI at the point of care without radiation and with a 31% demonstrated potential reduction in unnecessary head CTs. The device is the only FDA-cleared, comprehensive, rapid, and radiation-free assessment of brain bleed and concussion.
The BrainScope Structural Injury Classifier (SIC) indicates the likelihood that the patient would be CT-negative or CT-positive. Sensitivity to even the smallest amount of detectable blood (≥1 mL) is 99%, with a negative predictive value (NPV) of 98%. False negatives in the FDA validation study were 2%, none of which were clinically significant, required neurosurgery, or returned to the hospital within 96 hours, and all were GCS 15. In a recent publication using the SIC in the emergency department, there was 100% sensitivity, and no false negatives were reported.
The BrainScope Brain Function Index (BFI) provides an objective marker of brain function impairment that enables timely informed referrals and continuity of care and may lead to improved patient outcome, satisfaction, MIPS compliance, and HCAHP survey results.
The BrainScope Concussion Index provides an objective measure to aid in the evaluation of concussion and can be used to assess patients over time—at baseline, time of injury, and recovery time points to aid the physician to make decisions about the patient's readiness to return to activity.
Intended patient population
Structural Injury Classifier and Brain Function Index:
Ages 18 – 85 years
Glasgow Coma Scale (GCS) 13 – 15
Within 72 hours of injury.
Suitable for alcohol/drug impaired & patients on blood thinners
Digitized PECARN CT Decision Rule:
GCS 14-15, 2-17 years of age, within 24 hours
Concussion Index:
Ages 13-25 years
GCS 15
Can be used at baseline, within 72 hours of injury, and throughout time of recovery.
For a complete list of indications, please visit BrainScope website.
ED Throughput and Efficiency with BrainScope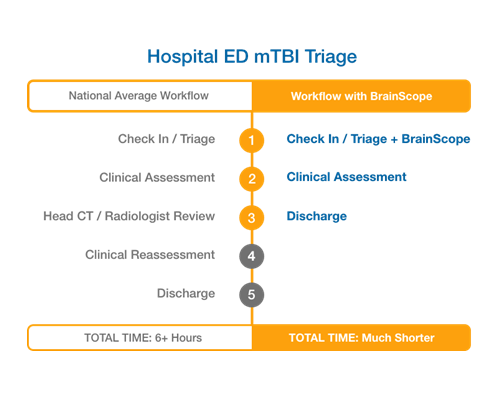 Video: Brain Bleed, Concussion, or Both?
BrainScope's superior sensitivity provides the confidence to diagnose at point of care and fits into any clinical workflow.
FAQ: BrainScope in the ED
How does BrainScope work?
Combining real time handheld technology and advances in EEG signal processing, BrainScope uses machine learning algorithm methodologies to derive physiological biomarkers of brain injury at the point of care.
The handheld medical device rapidly collects high quality EEG data using a disposable electrode headset from forehead locations and limited related symptoms, and then processes the data using the previously derived FDA cleared algorithms.
Device outputs aid clinicians to objectively rule out brain bleed and determine concussion status quickly and accurately.
BrainScope can be administered by anyone on the healthcare team, under physician order.
What value does BrainScope deliver to the emergency department?
Head Injury Triage
Using the handheld device assists clinicians to rule out a brain bleed at the point of care and potentially reduce unnecessary head CT scans and associated radiation exposure. It has been clinically demonstrated and reported that when using BrainScope in the ED, 31% of head CTs could be avoided in patients ages 18-85 presenting with a head injury, with 100% sensitivity.

BrainScope's rapid structural and functional assessments can result in improvements in ED throughput from reduced patient wait-times. (Modeling indicates 50-80% total time saved compared to national averages for throughput when a head CT is performed.) The digitized PECARN capability provides convenient access to the current gold standard in pediatric head injury assessment for referral to CT.

Importantly, for the first-time clinicians have a powerful, objective tool that provides significant insight into both structural and concussion status, enabling better and more informed follow up care and management for concussed patients. In-device and PDF reports can be provided to the patient prior to discharge and can lead to higher overall patient satisfaction and confidence in their treatment.

Concussion Management
BrainScope's Concussion Index (CI) and Brain Function Index (BFI) are FDA cleared objective markers that identify the likelihood of concussion, with brain electrical activity at the core. The BFI provides an objective marker of brain function impairment and scales with clinical severity.
The CI provides a stable measure from which change can be interpreted reliably over time, enabling a number of use cases: for baselining (particularly with athletes and military recruits), at time of injury, and to aid in return to activity decisions in both civilian and military settings. The CI provides an objective assessment, reflects severity at time of injury, and can be used to monitor and track recovery over time.
Digitized SCAT, MACE 2, and neurocognitive performance tests complement BrainScope's algorithms for structural and functional injury assessments and can be added as desired by the clinician to aid in making a clinical diagnosis. Pdf reports include all assessments in one report.
What value does BrainScope deliver to the patient?
BrainScope's rapid structural and functional brain injury assessments aid in providing the answers patients need when faced with a head injury—Is there a brain bleed? Am I concussed? BrainScope is the first and only cleared medical device that provides an objective and accurate assessment for both brain bleed and concussion.

BrainScope can potentially result in avoidance of unnecessary radiation exposure associated with the use of CT, is performed at the point of care reducing hours of wait time and can help get concussed patients referred for appropriate care. With BrainScope, patients get the answers they need in a fraction of the time and often with less out of pocket expense.
Want to start a conversation with us? We'd love to hear from you.