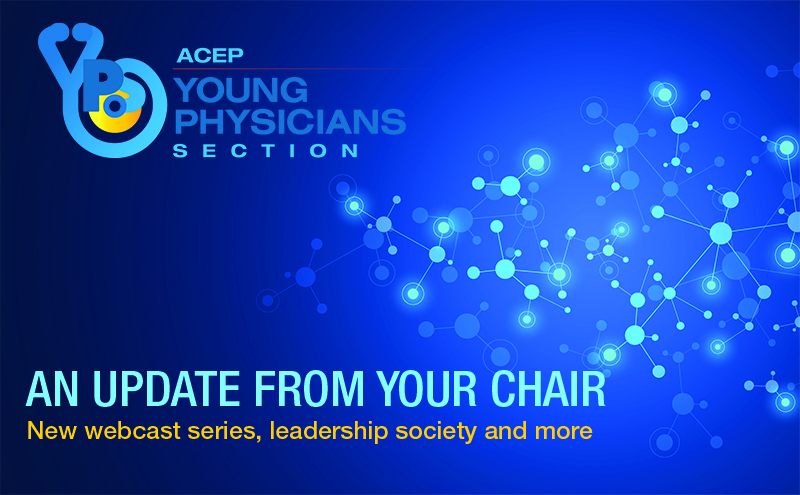 Update: New Webcast Series, Leadership Society and More
Friends and Colleagues,
We sincerely hope this issue finds each of you healthy and well. All of us have sacrificed a great deal in the past year, personally and professionally. Some of us have lost loved ones to this terrible pandemic. And as we transition into a new year, a decline in COVID-19 cases and continued expansion of vaccination efforts highlights a light at the end of the tunnel. As we continue our daily work to ensure the health and safety of our nation's most vulnerable, your ACEP Young Physicians Section has new initiatives to announce that highlight and celebrate your great work.
We are excited to announce the establishment of a new YPS Leadership Society. We have begun working with your state chapter leadership to identify rising stars within our section, and wish to create a pipeline for leadership development, networking and mentorship opportunities through this initiative. If you're interested in learning more, please contact your state chapter leadership for more information. We hope to induct our inaugural class at ACEP 2021.
In addition, we want to highlight our many qualified candidates for several Council Awards, most notably the Horizon and Policy Pioneer awards. If you meet these criteria or know someone who does, please send me a message! YPS can assist with the nomination process, and the March 1 submission deadline is coming up quickly.
Finally, your YPS is partnering with the ACEP Education Committee to launch a new webcast series, entitled EM L.I.F.E.R.S. (Lifestyles and Innovations for ER Specialists). We wish to create an interactive and informative cache of podcasts, panel discussions, and rapid-fire Q/A with colleagues and experts alike to discuss a variety of "extracurricular" topics we hope will empower each of us with the personal and professional satisfaction required to become an EM L.I.F.E.R. We need on-air talent and creative support, so please reach out if you have ideas or want to get more involved with this exciting project.
Our first installment, a live panel discussion focused on job searching during a pandemic, will air on Wednesday, March 24 at 7 p.m. CT. We will have recruiters and hiring coordinators, Locums and academics, and even a few who have endured their own career change during the pandemic. After the panel discussion, we'll have an interactive Q/A with the panelists, so mark your calendars today!
Please reach out, engage, and help us highlight the great work that each of you do every single day:
Contact your state leaders to suggest young physicians for the inaugural YPS Leader Society.
Get involved with our new webcast focused on EM physician lifestyle topics or send us your ideas for topics!
Mark your calendars for the first panel discussion in our EM L.I.F.E.R.S. webcast series: "Job Searching During a Pandemic" at 7 p.m. CT on March 24.
Onward,
John R. Corker, MD
YPS Chair