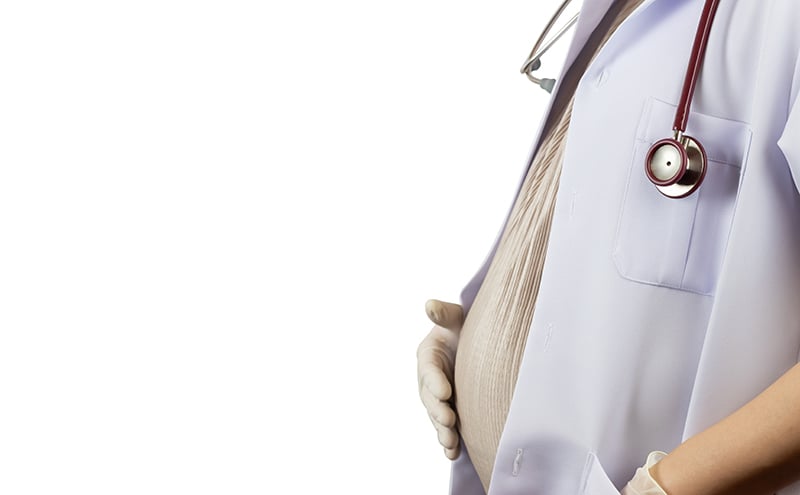 Pregnant in a Pandemic: The Vaccine Question
By Alison Haddock, MD, FACEP, Young Physician and Vice President of the ACEP Board of Directors and Board Liaison to the Young Physicians Section, and Jessica Best, MD, Young Physician and former chair of the Young Physicians Section
Being pregnant in a pandemic has definitely had its challenges, as both of us have experienced and many of you and your partners have likely experienced as well. As the pandemic has gone on, another challenging question has arisen: Should we be vaccinated for COVID-19?
We have been working, as many of you do, in emergency departments where we see PUIs and COVID patients every shift, in addition to patients for various other complaints who may also have COVID. We diligently wear our PPE on shift, but we know nothing is perfect. We also recognize there is still a risk for COVID transmission in other life activities, whether a trip to pick up takeout or a visit to the OBGYN office.
A medical decision like this should be based on evidence. We do our best to practice evidence-based medicine for our patients in the emergency department, and why shouldn't we expect the same for ourselves as patients? Unfortunately, pregnant women and women hoping to become pregnant were intentionally excluded from all studies thus far of COVID vaccination. Only limited animal studies are available, and mRNA vaccines are a new technology. So the level of evidence available to us is considerably less than what we might hope for. What do we know?
The COVID Risk
If we were to contract COVID while pregnant, we are at higher risk for being hospitalized, being intubated or dying than our non-pregnant peers. Research suggests that having COVID-19 might increase risk for preterm birth and pregnancy loss, particularly for those with severe illness. So far, studies have not identified any birth defects associated with COVID-19, but the virus is so new that it's difficult to be certain about the potential risk. As with any teratogen, it could be years before any consequences for our future children are identified. While vertical transmission of the virus from mother to baby during pregnancy is possible, it appears to be a rare event.
The Vaccine Risk
Without studies of the vaccine in pregnant people, the true risk of the vaccine is challenging to assess. Decision tools can help, but can only offer what evidence exists. The technology of the mRNA vaccines is new, but we do know that the body eliminates the mRNA particles rapidly and the mRNA likely does not cross the placenta. Early studies of the Moderna vaccine in rats did not demonstrate any impact of the vaccine on fetal/embryonal development or post-natal development. The vaccines are highly effective, and there is no reason to believe they would be significantly less effective in pregnancy. Common side effects of arm pain and fatigue would pose no risk to the pregnancy, and even the less common side effect of fever could be safely managed with acetaminophen.
So, how to decide? Both of us spoke to trusted friends - from ACEP, as well as friends who trained as OB-GYN and MFMs. We spoke to our own physicians. We reviewed available recommendations from the American College of Obstetrics and Gynecology (ACOG), and the Society for Maternal-Fetal Medicine, and Centers for Disease Control and Prevention (CDC). None of them go so far as to recommend the vaccine without evidence, but all agree that the new mRNA COVID-19 vaccines should be offered to pregnant and breastfeeding individuals who are eligible for vaccination.
The Decision
Eventually, both of us made the decision to get vaccinated. We both experienced arm pain after our vaccinations, but no other significant side effects. Our great hope is that both of us and our future children will experience no significant side effects from the vaccines, and that our future infants may even have some degree of protection from antibodies that we pass down to them.
Pregnant women would have an easier time making the decision to vaccinate if there was more research about the effects of the vaccine on pregnant women. The practice of excluding pregnant women from vaccine and drug trials is longstanding and incredibly outdated. After thalidomide and diethylstilbestrol were found to cause unanticipated complications in the 1960s and '70s, policies enacted by the FDA and IRBs led to the exclusion of "women of childbearing potential" from most clinical trials of pharmaceuticals and vaccines. While regulations were modified to be more inclusive in the 1990s, pregnant women are still routinely excluded from studies. Approximately 75 percent of the drugs approved by the FDA since 2000 do not have data associated with the use in pregnant women, and the majority of trials of therapeutics for COVID-19 have excluded pregnant women.
As emergency physicians, we must join the call for women of childbearing age, breastfeeding women and pregnant people to be included in research. It's impossible to make a fully informed decision when the information and research simply doesn't exist, and our colleagues must not be in the same position when the next pandemic arises.