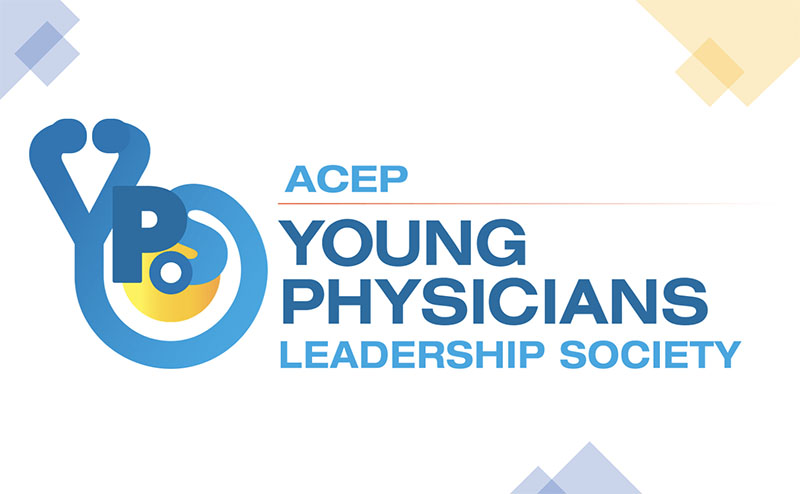 Meet the Young Physician Leadership Society, Class of 2021
The ACEP Young Physicians Section is very excited to recognize the inaugural class of the Young Physicians Leadership Society! These inductees were nominated by their chapters to recognize their exceptional leadership within the emergency medicine specialty.
Our new award program aims to create a supportive network of young physicians who are working to improve patient care, public health and the future of the EM profession.
If you know any of these physicians, please take a minute to congratulate them for going above and beyond the call of duty.
ARIZONA
Nicole Hodgson, MD, FACEP
Mayo Clinic | Phoenix, Arizona
"Dr. Hodgson was elected to the AzCEP Board in May 2018, Secretary in May 2019, President-elect in May 2020 and just started as our President May 1, 2021… She has chaired our Legislative committee and she continues to help us expand our membership numbers. We truly believe that she is the reason that our residency relationships are as strong as they are now and look forward to ways that she can energize other ED physicians in our state."
CALIFORNIA
Omar Guzman, MD, MPP
Kaweah Delta Medical Center | Visalia, California
"Dr. Omar Guzman is a California ACEP board member and leader in his community. He is the creator and director of the Kaweah Health Street Medicine program, the first of its kind in the California Central Valley… They serve the people with little to no access to health care: undocumented workers, uninsured individuals, and the homeless population. All care is provided free of charge and delivered on-site."
Jessica Mason, MD
University of California, San Francisco – Fresno | Fresno, California
"Her leadership has been critical to the success of our chapter conference and extends far beyond the chapter. Dr. Mason is part of medical podcasts, EM:RAP C3 and This Won't Hurt a Bit. EM:RAP… Both [podcasts] highlight patients describing their experiences dealing with medical conditions and going through treatments…The educational content she creates is so engaging and creative, it is influencing people far-and-wide. Her educational impact on the specialty deserves recognition."
DELAWARE
Kathryn Groner, MD
Christiana Hospital | Newark, Delaware
"Dr. Groner is both a past president and the current president-elect of our chapter and regularly represents Delaware both at LAC and ACEP Council meetings. She has been involved in numerous committees on the state level advocating for emergency physicians and our patients. For example, she is heavily involved in the state's multidisciplinary opioid response committee… Her impressive accomplishments in the short time since provides inspiration for all of our members, both those in similar roles and those who aspire to be."
GOVERNMENT SERVICES

Roderick Fontenette, MD, FACEP
UC Davis Medical Center & Uniformed Services University | Sacramento, California
"Dr. Fontenette is a dynamo within GSACEP. He executed an incredibly successful virtual Sim Wars for our 2021 conference and has consistently stepped up to help with board projects. He has organized events with his residents, as well as coordinated efforts with multiple military residencies."
IDAHO
Jonathan Miller, MD
Saint Alphonsus Medical Center | Boise, Idaho
"Dr. Miller graduated from residency in 2014 and since then has been a great leader in his community. Quickly he became Director of Allied Services for his group, overseeing midlevels and students. He was Vice President of the Idaho chapter for the last four years. As VP he planned the first annual regional conference up in Sun Valley Idaho for the Idaho chapter. He has also served in the National Guard for 12 years. He has really proven to be a valuable leader both in his hospital, community and ACEP."
IOWA
Nicholas Holden Kluesner, MD, FACEP
UnityPoint Health – Iowa Methodist medical Center | Des Moines, Iowa
"Dr. Kluesner has been an active leader in the Iowa-ACEP state chapter, serving a full term on the Board of Directors, alternate councilor, and now as President-Elect. He continues to be actively involved on the ACEP Ethics Committee at a national level since residency, contributing to multiple policy recommendations and informational papers for the college. He has served on the Iowa Medical Society's Law and Ethics committee, currently as its Vice Chair."
Stacey M. Marlow, MD, JA, FACEP
UnityPoint at Allen Hospital | Waterloo, Iowa
"Dr. Marlow has been active at both the chapter and national levels throughout her career, attending LAC and Scientific Assembly many times… She has hosted Congressmen and Congresswomen in her ED to discuss firsthand the issues facing EM… She has been a point person for Iowa Representatives for years to discuss policy issues. She has been a member of the Iowa Chapter board since graduating residency in 2014, and currently serves as the President of the Iowa ACEP chapter."
KANSAS
John Gallagher, MD
Wichita, Kansas
"Dr. Gallagher has served as a KsACEP Councilor, has helped on the national ACEP Resolution Committee, is active with NAEMSP and swerves as a Board member. Dr. Gallagher is also active with the ACEP Leadership & Advocacy Conference. He has helped to shape and improve EM reimbursement in our state."
Matthew Sinnwell, MD
Ascension Via Christi St. Francis | Wichita, KS
"Dr. Sinnwell has served as KsACEP President for three years, Vice-President for one year, and Secretary/Treasurer for one year. He has been active with the ACEP Leadership & Advocacy Conference. He has helped shape and improve EM reimbursement in our state."
KENTUCKY
Isaac Shaw, MD
University of Louisville Hospital | Louisville, KY
"Dr. Shaw joined our chapter as the Education Committee Chair. He brought excellent ideas to increase the education offerings in the state and bring the medical schools and residencies together for educational activities. He has organized our first ever medical student poster presentation and jeopardy games at our upcoming 2021 Annual Meeting… He has accomplished so much in his short tenure on the KACEP Board of Directors. He is a mentor to the young physicians in the state and works with the Young Physicians Committee for these state endeavors."
MASSACHUSETTS

Ashley Foster, MD
Massachusetts General for Children | Boylston, Massachusetts
"For the past four years, Dr. Foster has been the co-chair of MACEP's Pediatric Committee. In 2017, this committee started the initiative to identify a pediatric emergency care coordinator (PECC) in every MA ED who would champion for enhanced pediatric emergency care. In 2018, MA because the first state in the country to have at least one PECC within every ED statewide. Dr. Foster was instrumental in achieving this success. She received the MACEP Distinguished Service Award, and on a national level, Dr. Foster was selected as an EIIC EMSC Scholar. This program supports early-career clinicians and health system professionals to become future leaders in the EMSC space."
Michele Schroeder, MD
Baystate Medical Center | Boylston, Massachusetts
"She was elected to the MACEP Board of Directors upon completion of the MACEP Leadership & Advocacy Fellowship. Since 2014, she has also been a member of MACEP's Education Committee which plans all our CME courses and annual meeting. In 2019 she became Chair of the Education committee. She has also been the Co-Director of our Annual Ultrasound course for the past four years… She received the MACEP Distinguished Service Award, given to an individual who has provided outstanding service to our chapter."


MAINE
Laurel Parker, MD
MaineGeneral Medical Center | Manchester, Maine
"Dr. Laurel Parker was nominated and elected by her peers to serve on the Maine Chapter Executive Committee in 2020. She's been a regular contributor at meetings and shows great insight, intelligence, and empathy… During the COVID pandemic, Dr. Parker participated in weekly MEACEP meetings with other Maine Emergency Directors, sharing learned skills, struggles and victories with others. She is well respected and always thoughtful about finding solutions. Dr. Parker is a hard worker, carefully balancing contributions to MEACEP, her work in the emergency department, and family life."
Brandon E. Giberson, DO
Mid Coast Hospital | Portland, Maine
"Dr. Giberson was nominated and elected by his peers to serve on the chapter's Executive Committee earlier this year. Since his election, he has been active in chapter leadership meetings and displays a keen understanding of the social and political nuances impacting emergency physicians in Maine. We enjoy working with Dr. Giberson and find his contributions to be thoughtful, focused, and timely. He is respected by others in EM and demonstrates leadership qualities and enthusiasm for participating in chapter activities and on the leadership team."
MICHIGAN
Nicholas Dyc, MD
Ascension Providence Hospital | Plymouth, Michigan
"He has been a champion for the profession, committing his time to local, regional, and national causes to improve emergency medicine, patient satisfaction and physician wellness. Dr. Dyc served as President of MCEP from 2020-2021. He led the organization during the COVID-19 pandemic… He was a steadfast leader and champion for physicians, while honing his Zoom skills as he communicated remotely during the state's lockdown to mitigate the spread of COVID. He took part in a vaccination campaign of the first healthcare workers receiving the COVID-19 vaccine to demonstrate vaccine safety and encourage public vaccination."
Zachary Joseph Jarou, MD, MBA
St. Joseph Mercy Health System | Brighton, Michigan
"Dr. Jarou continues to contribute to the growth of the ACEP Council and to the growth of all facets of the specialty. Dr. Jarou served as a member of EMRA's board for six years and served as an EMRA Councillor to the ACEP Council for four years. He was an alternate councillor for MCEP last year in 2020. His commitment to leadership and advocacy in emergency medicine is exemplary. He was a recipient of the ACEP 2019 Horizon Award, the ACEP President's Award for Outstanding Service in 2018 and was one of five students selected in 2014 for ACEP's National Outstanding Medical Student Award."
OHIO
Nicole Veitinger, DO
Mid-Ohio Emergency Services | Columbus, OH
"Dr. Nicole Veitinger recently assumed her role as president of the Ohio Chapter of ACEP. Dr. Veitinger has served on the Ohio ACEP Board of Directors since 2015 and also served in the capacity of Secretary to the Board for multiple years. She is a member of the Government Affairs Committee and also served as Co-Chair of the Leadership Committee for several years. She is also involved at the national level of ACEP, serving on the Membership Committee and has also served as a Councillor and Alternate Councillor for the chapter. Dr. Veitinger is a graduate of the Ohio ACEP Leadership Development Academy and our chapter is lucky to have her as active leader of our organization."
Bryan Graham, DO, FACEP
Cleveland Clinic | Hudson, OH
"Dr. Graham is a remarkable advocate for Emergency Medicine serving as an expert on multiple issues. He is a past recipient of the Ohio ACEP Emergency Physician Advocacy Award to recognize his leadership in legislative advocacy efforts on behalf of emergency medicine. He serves on the Ohio ACEP Board of Directors and was recently elected to serve the role of President-elect having previously served as Secretary. Dr. Graham has served as a Councillor and Alternate Councillor for the chapter. He is also a graduate of the Ohio ACEP Leadership Development Academy and continues to set an example for the rising leaders in EM."
PENNSYLVANIA


Dhimitri A. Nikolla, DO
Allegheny Health Network Saint Vincent Hospital | Erie, Pennsylvania
"Dr. Nikolla has been involved in leadership roles at the residency, state, and national levels. He took on several leadership roles during residency by coordinating journal club, at the state level by serving as the resident representative on the PACEP board of directors, and nationally as the president of the Resident Service Organization…He was honored in 2019 as Resident of the year for PACEP. Dr. Nikolla has served the last two years as the co-chair for PACEP's Wellness/Young Physician Committee and has organized the Pennsylvania Residency Fair for the past two years. He is always willing to step up and is eager to assist medical students and residents with his knowledge and insight."
Thomas Douglas Sallade, DO
Geisinger Lewistown Hospital | Danville, Pennsylvania
"Dr. Sallade served as Chief Resident in his final year of training. At the state and national level, Dr. Sallade has been active as a member of two PACEP Council delegations to Washington, DC for the Leadership Advocacy Conference, and as both a Councillor and Alternate Councillor to the ACEP Council. This year, he is serving as a leadership fellow for PACEP. He has also begun exploring organized academic medicine as part of the ACEP Ethics Committee and the Society for Academic Emergency Medicine Faculty Development and Education Committees."
TEXAS
Gerad Troutman, MD
Texas Tech University Health Sciences Center | Lubbock, Texas
"Dr. Troutman has become a trusted leader within the medical community in Texas due to his many accomplishments, and he has done this within a very short amount of time. He was elected to the TCEP Board of Directors in 2013 and very quickly rose through the officer positions to become President in 2018. This was a time of turmoil for TCEP as they had had no association office staff for over a year…His leadership and communication to the members about all these challenges and successes lead TCEP to solid ground and a strong membership."
VIRGINIA
Joran Sequeira, MD, FACEP
Bon Secours Memorial Medical Center | Glen Allen, Virginia
"Dr. Sequeira has been a fierce advocate for emergency physicians since day one. Her volunteer work has centered around improving psychiatric care in Virginia. In 2018 she helped lead a multi-stakeholder workgroup to create guidelines for medical clearance of the acute psychiatric patient. This work has helped to reduce unnecessary testing for patients who present with acute psychiatric needs, with Virginia being one of the few states to have such explicit guidelines… She not only served in the first class of VACEP's Leadership and Advocacy (L&A) Fellowship, but she now serves as its program leader."
WISCONSIN
Bradley Burmeister, MD
Bellin Health Oconto & Bellin Memorial | Green Bay, Wisconsin
"Since joining the WACEP Board two years ago, Dr. Burmeister has been incredibly active, taking the reins of the Membership Committee and going above and beyond in recruiting new members to ACEP around the state, and improving our retention numbers with personal outreach… As the current president of our chapter, he continues to grow diversify our board beyond the Madison/Milwaukee area and has been a great proponent of rural outreach, helping our rural colleagues get education focused on the care of the patients that they see in resource-limited settings."