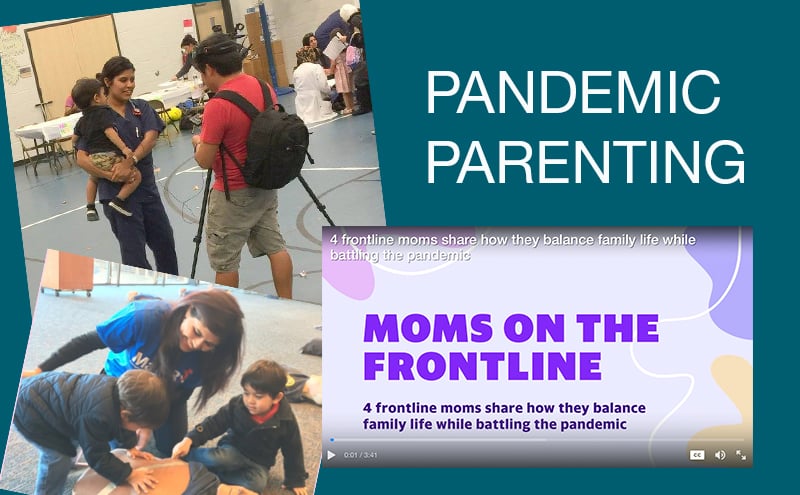 Pandemic Parenting
By Sara Andrabi, MD
This year has been the year of many firsts and unprecedented times. For me, that has included parenting in the middle of a global pandemic. We are a dual physician household with three children – ages seven, six and two years old. Normal routines changed. Schools were closed. Facemasks were the new fashion statement. Having two working parents and doing virtual schooling added another layer of complexity to the already complicated experience we call parenting.
My husband and I sat down with our kids to discuss what was going on. With schools closing, people wearing masks, etc., they knew something was up. You have to meet kids where they are, and our approach to each child was very different. For my oldest, that meant answering questions about what a virus is, why is this virus different than others, and him repeatedly asking (to this day), why can't he just stomp on COVID-19 to make it go away?
My middle child was more worried about safety. He wondered why Mommy was going to work even though many other parents were working from home. He wants to know when I go to work, how long I will be there, and if I'm doing "patient work" or "office work." He has always been concerned about everyone's health and worries about whether any of us could get sick because of this pandemic. My husband and I have shared that it is our duty and privilege to take care of others, especially when they are sick and at their most vulnerable.
For my youngest, the hardest part has been not being able to hug her when I get home. I have a strict process when I get home to go straight to the shower before I hug or interact with any of my family. My older two get this, and it has become their new normal. For my youngest, she still cries every time I come in and can't hug her right away. I don't think hearing her cry for that reason will ever get easier for me.
One of the benefits of working in emergency medicine is that your hours are not "normal business hours." The emergency department is always open. For that reason, some of my days off may not be like most people's typical weekend off. In pre-pandemic times, my kids would be at school during some of those times. During virtual schooling, I was able to hang out with them during their "recess" and "lunch" times. My youngest, who is not school age yet, loved having her older siblings around as well. My family lives in the same city we grew up, and we are blessed to have extended family and friends we have gotten to know over the years. Between this and my variable schedule, Saturdays and Sundays were usually very busy and "go-go-go" for us. This pandemic has really helped us slow down because we don't have the same social activities as before. We've really been able to spend more quality time together. Fridays have now become stay-in movie and pizza nights that we look forward to every week. Saturdays and Sundays were to see grandparents for a short while, outdoors only. Now, with everyone in our family being vaccinated, we are able to see them more often.
I have to keep my mental health in check as well. I try to focus on the positives. I am thankful to have a job when many people don't. I am thankful to have an amazing husband who works in medicine and "gets it." He is someone I can always talk to after I've had a stressful day. He's an early riser and texts me from work every day to say, "Good Morning" and ask how my day is going. There is really a give and take with our marriage and parenting. When I'm the busier one, he works on the kids' homework with them. When he has longer clinic days, I take on more responsibility with the kids.
I'm also mindful of how I am behaving. Kids emulate what they see – we have seen this in the literature, that children pick up and mirror behaviors they witness. If I am calm, the kids will be calm.
We have to acknowledge we come from a place of privilege, financial or otherwise, that many of our patients and community members do not get to enjoy. It's important for us to admit and understand that up front. I am thankful to have a job when many people don't. I'm thankful to have a support system and backup childcare options if need arises. This has been a time of many changes and the year of flexibility and I think that mantra is going to apply for some time forward.
Related Reading:

EM Physician Parents Share How They Are Managing the COVID-19 Crisis - and How They Are Talking to Their Kids About the Pandemic (via ACEP Now)
'Schedules are out the window': How frontline moms have coped with parenting during a pandemic (via YahooLife)