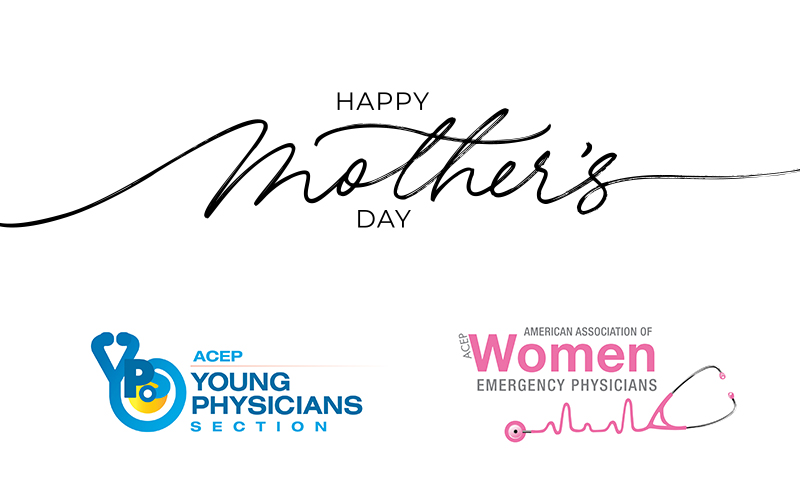 Mother's Day | It's Beautifully Complicated
Happy Mother's Day! Like all holidays, this one is deeply personal. Our feelings depend on our individual circumstances. Today and every day, we want to support all our members: those who are mothers, who want to be mothers, and those who don't want to be mothers. We lift up those who have lost their mothers and those with precious, complicated, and/or challenging relationships with their mothers. And we happily celebrate with the new moms who are experiencing this holiday with fresh (and maybe sleepy?) eyes.

YPS has partnered with the American Association of Women Emergency Physicians to curate this special edition of our newsletter with articles written by fellow emergency physicians about pregnancy, infertility, breastfeeding, childcare, mourning loss and more. They say it takes a village, and we are grateful to be part of yours.
On Infertility
"Make You"
Alecia Gende, DO, CAQ-SM
I thought if everyone can make you, I can too
I thought I was a healthy one, a woman fertile and able
I thought if everyone can make you, I can too
I thought I was a capable one, a mother who's stable… Read more.
Infertility "In Practice": When the Path to Motherhood Comes with Personal and Professional Challenges
When the road to pregnancy doesn't come easily, what do you do? How do you manage the logistics and finances? How do you get through it emotionally? How do you help others handle the roller coaster? It's a lot. Drs. Jessica Best, Kathleen Bryant and Natasha Demehri Kathuri discuss their personal experiences and lessons learned. Read more.
A Family of My Own
Shana Kusin, MD
Anyone who has experienced infertility knows the singular nature of the pain that accompanies this condition. It's a constant, smoldering pit of coals that glows red every time a pregnant woman crosses your line of sight or yet another friend posts a baby announcement on Facebook. A film descends over your life, quietly isolating you, changing the color of light, dampening everything. The isolation is magnified when you're a single woman. Read more.
On Pregnancy
Tips for Pregnant Emergency Physicians
Sandra Williams, DO
Being pregnant is hard. I mean, we are creating an entirely new human being after all! But being pregnant while working in the emergency department can bring its own set of challenges. And a lot of that will vary based on where you work and who you work with – academic, community, rural, single vs. double coverage. I worked single coverage at a community and rural site during my pregnancy. Read more.
Best Practice Recommendations for Clinical Scheduling During Pregnancy
Larisa Coldebella, MD; and Alicia Pilarski, DO, for ACEP Now
As a specialty, emergency medicine attracts physicians who run on variety and adrenaline. Of course, there are downsides, specifically related to the cumulative burdens of shift work and working nights. These risks are amplified for emergency physicians who become pregnant and continue to work clinically. Read more.
The Pregnant Intern
Brittany Philpot, MD
Then it set in. I'm a brand-new resident. I know nothing. I'm going through one of the biggest career transitions in my life and now I'm going to be a mom? And my husband is a resident too? And our WHOLE family is halfway across the country? We knew we were in for quite an adventure. Read more.
On Breastfeeding and Pumping
Another Full Time Job: Pumping at Work
Sara Andrabi, MD
Breastfeeding equates to approximately 1,800 hours of a mother's time. A full-time job with 40-hour work weeks and vacation factored in adds up to 1,960 hours. So, it is no surprise that 79 percent of women start breastfeeding, but only 27 percent continue at 12 months. Keep in mind that there are various reasons why mothers may be unable to or choose not to breastfeed or pump, and this does not make anyone less of a mother. This article is not meant to stigmatize anyone who does not breastfeed; this is merely meant to discuss how one can support breastfeeding and pumping in the workplace. Read more.
Related ACEP Policy Statements:
On Childcare & Work/Life Balance
Balance is a Myth: Integrating Life as a Mother, Wife and Physician
Hilary E. Fairbrother, MD
Balance. The very idea I could "balance" my roles as a full-time emergency medicine physician, wife to another full-time professional and mother of a 16-month-old is somewhat insane. Rather than the word balance, I use the word "integration." It is a more meaningful concept for me. I am always a wife, a mother and a physician; I have just integrated these very important roles so that, hopefully, I am doing a good job at all three. Read more.
Finding Childcare Solutions that Work for EM Physicians

In this episode of EM LIFERS, we dive deep into the complicated world of childcare. We've convened a panel of young physicians with different family structures who utilize a variety of childcare options, including au pairs, nannies, at-home daycare and more. Read more.
Challenges in Childcare
Anna Wright, MD, CAQ-SM
During residency I had a solid childcare combination of a full-time nanny, a partner with regular hours, and family who lived locally. Since then, finding safe, reliable, and nurturing childcare for my three children has been a priority and a huge challenge. Like many women, I sometimes worked fewer hours and took lower paying jobs to spend more time caring for my children. Five years ago, I became an only parent, and I had to become even more creative with childcare arrangements. I have utilized part-time and full-time preschools, nanny services, babysitting apps, word of mouth, family, neighbors, friends of friends of friends, and government agencies to find childcare. Sometimes it has worked well, and at other times, it has not. Read more.
On Mourning and Loss
Home: How Returning to My Childhood Home Provided Unexpected Healing
Tracy Sanson, MD
Last spring, I was mourning the loss of my mother. As I was learning to navigate the depth of my sorrow, I was also tending to my mother's end-of-life affairs alongside my siblings. The thing I was least prepared for, once the funeral had come and gone, was the shock of losing my childhood home where my parents had lived together in Belleville, Illinois until my father's death in 2015 and my mother's death in 2019. The house was filled with memories, the prime example being the stairwell to the basement, which was wallpapered with photographs. Read more.
A Mother's Love
Annabella Salvador-Kelly MD, FACEP
I turned to the mother, pleading that we needed to work fast to resuscitate him. She lifted her own hand. "No," she gestured, and then the words came out calmly. She had thought about this moment for thousands of days. Her voice was soft and compassionate, "Hasn't he suffered enough? This is his wish. We have had this discussion many times. We knew this day would come, and he is ready." Read more.