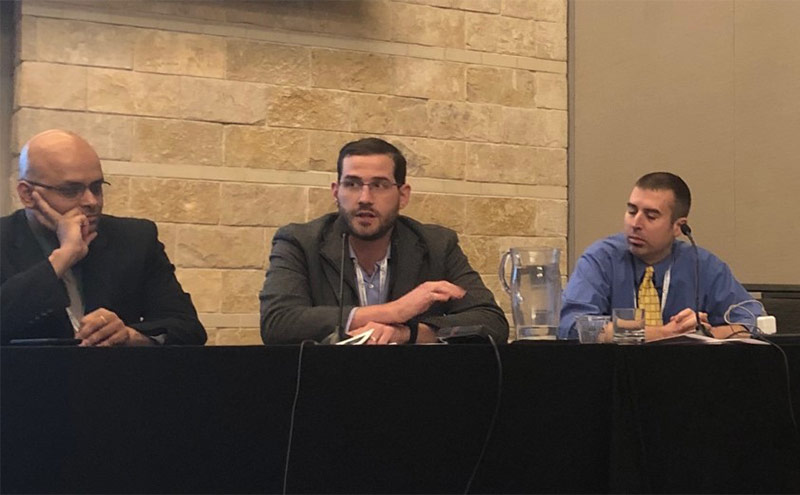 ACEP19 Career Panel
The ACEP Critical Care Medicine (CCM) Section was very fortunate this year to host an excellent Career Development Panel. Dr. Samantha Strickler served as the moderator of the discussion. Dr. Strickler served as the chairperson of the ACEP EM/CCM Employment Task this past year and is an assistant professor practicing emergency medicine and critical care at Emory University. Panelists included Dr. Brian Wessman, who reviewed the basics of finding a job, Dr. Fraser Mackay, who discussed contract negotiations, and Dr. Ayan Sen, who spoke about the role of the chairperson in employment.
Dr. Brian Wessman is an associate professor of anesthesia and emergency medicine at Washington University School of Medicine in St. Louis, and the director of the anesthesia-critical care fellowship at the same institution. Dr. Wessman started off by recommending that each provider review his or her own goals for the next 5-10 years, both personal and professional, to help dictate what one looks for in a job. He reviewed the recent literature in the academic and community setting, noting that emergency medicine chairpersons are seeking dual-trained providers. While most were looking for EM-ultrasound trained physicians, Dr. Wessman postulated that the pendulum has swung in recent years toward EM-CCM providers as well. Dr. Wessman also noted that, based on his literature search, physicians in academic settings are hired based on their interviews and the feedback from their fellowship program director. In the community setting, he noted physicians who are "team-players" often fared well in the hiring process.
Moreover, Dr. Wessman noted that there are three factors that are important to consider during a job hunt: timing, location, and the "ideal job." While all factors might not align, he recommended setting priorities amongst these factors in choosing a job. He recommended casting a wide net and networking at national meetings to learn about job opportunities. However, Dr. Wessman cautioned against "turning over every stone," and instead suggested setting a list of priorities, as ~ 50% of providers change jobs within their first five years of employment. Finally, he recommended advocating for oneself with a personal dossier and conveying your strengths and potential to employers.
Following, Dr. Fraser Mackay discussed the pearls and pitfalls of contract negations as a dually-trained physician. Dr. Mackay is an assistant professor of emergency medicine and pulmonary critical care medicine at Tufts School of Medicine and practices at Lahey Hospital. He began by recommending that it is important to review what you are looking for in a job and the expectations of that position. He noted that once you are shown a contract, that signals that an employer is interested in you as a candidate. Dr. Mackay commented that a contract is an enforceable legal document, which will be carried out as written, unless you take the time to review the material and advocate for yourself.
During his discussion, he reviewed several key points identified in a research project that a subgroup of the EM-CCM Task Force conducted. He noted that it is important to understand who will be enforcing the document before signing a contract, specifically, identifying who are the stakeholders. Next, he reviewed the "four corners doctrine," which means that if it not in the contract, it is not enforceable. He discussed that vague language often appears in contacts, as well as the importance of clarifying the parts that are essential to your career. He emphasized that is important to be flexible, but also strategic when negotiating.
Finally, he focused on understanding how a contract outlines the end of the employer and employee relationship. He explained that "at will employment" defines when one can quit or be fired. He discussed that in many contracts, there will be an "indemnity clause," which requires the employee to pay costs associated with termination to the employer if they incur. This part of the contract may also include a "non-compete cause," which defines the locations one can work after termination (certain regions, hospital, or health care system). These "non-compete clauses" can be enforceable for a specific timeframe.
Dr. Mackay concluded by discussing "waiver of right in medical staff bylaws" and "waiver of a jury trial." He explained that these terms state that, upon termination, you may forfeit your rights as delineated in the medical staff bylaws and possibly your right to trial by jury. If these terms are included in the contract, he suggested reviewing whether these clauses are truly enforceable in the state in which you choose to practice. In many states, these are not supported, however, an employer may still include and try to enforce them. In summary, Dr. Mackay recommended consulting with a professional to review these contracts, especially for the first job.
The final panelist was Dr. Ayan Sen, chairperson of the Department of Critical Care at the Mayo Clinic in Phoenix, Arizona. He provided a unique perspective about what employers search for amongst potential candidates. Dr. Sen noted that it is important to know the mission and vision of the employer, as these will dictate the work environment and expectations. Specifically, he commented on an institution's "three shields" (education, clinical care, research) and the influence these values have on hiring potential providers. Dr. Sen went on to note that it is also important to understand the hiring process within the institution – does the chairperson hire or is there a hiring committee? He also discussed the importance of understanding the dynamics of your split and the dynamics of the hiring departments.
Dr. Sen went on to discuss that that new-hires are essentially defined by clinical skills, but other proficiencies also influence hiring decisions. Specifically, these may include research skills, mentorship ability, social visibility, a person's ability to work in a team setting, and negotiation skills. He further explained that an employer considers short-term and long-term employment goals, which help to assess fit and additional departmental support/resources. Dr. Sen commented on the importance of references. In addition to the list provided, the chairperson may reach out to personal contacts of those with whom you might have interacted with previously, based on your portfolio. Dr. Sen closed by stating that chairpersons are ultimately looking for those who will be a great fit and help to grow the department.
During the career development panel, we were very lucky to have Dr. Wessman, Dr. Mackay, and Dr. Sen share their unique perspectives about the employment process. As you consider potential new job opportunities, remember: 1) Three factors are important - timing, location, and the "ideal job." However, these rarely align. 2) The "four corners doctrine" - if it not in the contract, it is not enforceable. 3) Know the mission and vision of the employer - these will dictate the work environment and expectations. And lastly, 4) remember to advocate for yourself – you have an incredible potential to improve the delivery of emergency care and critical care to patients wherever you decide to practice.
Ani Aydin, MD