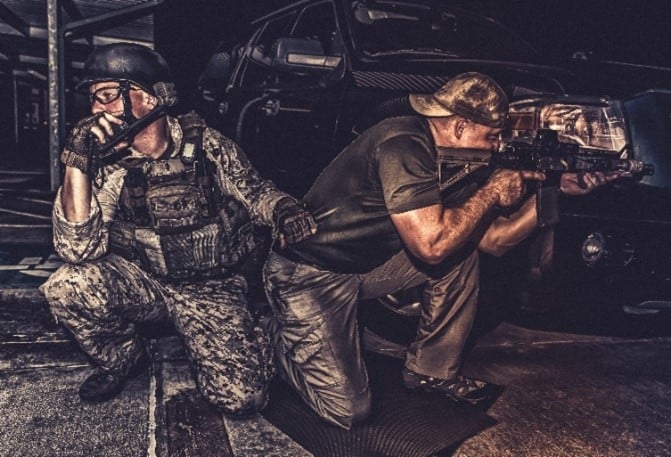 The Cypress Creek EMS (CCEMS) Basic Tactical Operational Medical Support (BTOMS) Course
This is an International, 80+ hour, 6-day total immersion course in Basic Tactical Operational Medical Support. It is open to personnel with a medical background to educate, train and prepare them to operate within a tactical law enforcement environment. This course provides certification in the NAEMT's Tactical Combat Casualty Care (TCCC), as well as 81+ hours of CE/CHE credit in the three disciplines of EMS, Fire, and Law Enforcement.
The BTOMS Course is held twice a year and has drawn law enforcement and medical professionals from around the country, and all over the world including Germany, Italy, Spain, England, Mexico, Brazil, New Zealand, and Canada. It is the only Tactical EMS Training that is officially approved by the Canadian government. Through a partnership with U.S. military's EMS and Disaster Medicine Fellowship and San Antonio Uniformed Services Health Education Consortium (SAUSHEC), fellows must successfully complete BTOMS in order to graduate that challenging program.
This is a program to teach medics how to operate in the tactical operations medical support role. All Instructors are currently operational – not "former" in any way – in public safety or military service or both. BTOMS is an evidenced-based course. More than just training, it is an educational product accepted for Continuing Education credits in EMS, Fire (Firefighter I and II), and law enforcement (TCOLE/P.O.S. T).
The skills and scenarios in the course are Recent, Realistic, and Relevant. Participants are not placed in unrealistic situations in an effort simply to stress them. Threat Stress is induced in a realistic form and the participant receives education and techniques to recognize and mitigate the effects of Threat Stress. Armed and Unarmed Medic training and scenarios are used to expose the participants to both sides of this controversial topic.
Total "immersion" during the course is achieved by having all lodging, food, and local transportation included in the tuition – teams travel together and live together. Training is also comprehensive in that it accommodates different levels of medical training – from minimal (i.e. pure law enforcement or fire with limited medicine) all the way to physicians (i.e. surgeons and EM doctors).
Spring 2022 Course – March 27th – April 2nd
Registration - https://cvent.me/ZbRoRr