International Ultrasound: Opportunities and challenges for the use of handheld ultrasound devices in rural Kenya
Background
The use of point-of-care ultrasound is key to the practice of emergency medicine, particularly in low resource areas where other radiology modalities are not readily available. In 2013, a program was developed to train rural health care providers in Kenya on PoCUS applications including the E-FAST, thoracic ultrasound, basic echocardiography and focused obstetric ultrasonography.1 So far, 150 providers from 60 facilities across the country have been trained. (Figure 1)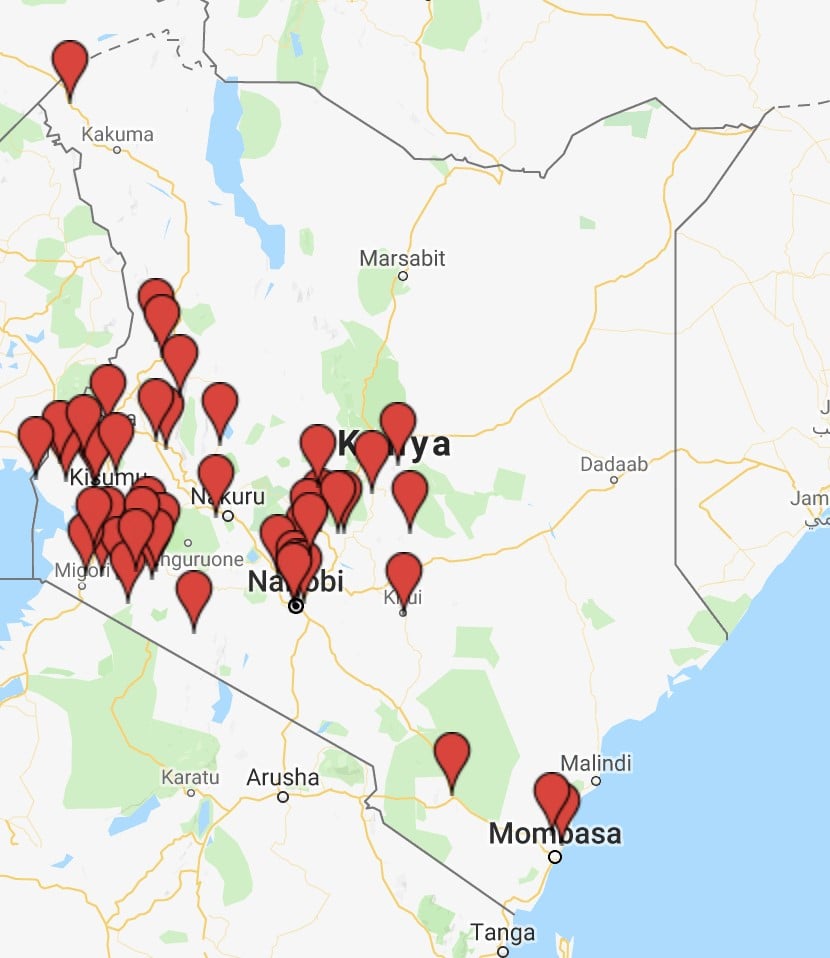 Figure 1: Network of healthcare facilities whose healthcare providers have gone through the rural PoCUS training program
Lack of affordable ultrasound machines with good quality images and inability to transmit images for remote review due to machine limitations or internet connectivity problems are significant barriers to routine POCUS use. Trainees struggle to arrange time away from their clinical responsibilities to attend POCUS courses, and opportunities for longitudinal training and oversight are limited.
Handheld ultrasound machines provide an opportunity to improve access as an affordable option for full body imaging and may incorporate either tele-ultrasound capability and/ or secure cloud storage systems facilitating remote image review, feedback and associated support. In April 2018, we trialled a handheld ultrasound device among Kenyan POCUS trainees at several rural facilities, as well as during a routine refresher training session in Nairobi. During the refresher course, providers were trained and then had an OSCE to compare their skills in the E-FAST and focused obstetric exams while using the handheld device versus their standard ultrasound machine. We considered usability, image acquisition, interpretation and ability for remote image review and cost.
Usability
Overall, rural providers enjoyed the ease with which they could carry the ultrasound while seeing patients within their facilities, and when going out into the community for medical outreach programs. Most users found the device and the associated software application very easy to use and intuitive.
Image Acquisition and Interpretation
After a 2-hour introduction to handheld ultrasound, trainees attained sufficient confidence with the system. Image acquisition and interpretation for the E-FAST exam was equivalent between the newly introduced ultrasound model and a model that the trainees had used for several months at their own facilities. Trainees underperformed slightly when acquiring and interpreting focused obstetric images using the handheld ultrasound, and struggled with obstetric calculations and the smartphone sized screen.
Remote Image Review
Images and short clips obtained using the handheld device were uploaded to the associated cloud storage using a local 3G-cell phone network, which is the primary mode of internet access in Kenya. Upload times were 2-3 minutes per study. This provides an attractive option for quality assurance and trainee support in rural settings.
Cost
The cost of the handheld probes is significantly lower than a non-handheld machine. However, handhelds may need to be connected to specific smart devices such as a tablet or smartphone, which may not be readily available in a rural setting. They may also incur fees for associated cloud storage. Nevertheless, most handheld devices are significantly less expensive than traditional cart-based ultrasound machines.
Conclusion
Handheld ultrasound machines are likely to be used significantly more often in the near future. Lower cost and portability are enormously advantageous features, especially in developing settings with fewer resources. Availability of secure cloud storage facilitates ongoing QA and support for longitudinal training programs in the setting of good internet capacity. Focused obstetrics is the most frequently performed PoCUS modality in most of sub-Saharan Africa.2,3 Therefore, the ability to use a larger screen and presence of in-built fetal biometry calculators are important considerations for this setting.
References
Wanjiku G, Bell G, Wachira B. Assessing a novel Point-of-care ultrasound training program for rural healthcare providers in Kenya. BMC Health Services Research. 2018 18: 607
Kotlyar S, Moore CL. Assessing the Utility of Ultrasound in Liberia. J Emerg, Trauma Shock. 2008;1(1):10-4.
Sachita SP, Epino H, Bukhman G, et al. Impact of the Introduction of Ultrasound Services in a Limited Resource Setting: Rural Rwanda 2008. BMC International Health and Human Rights. 2009;9:4.
Grace Wanjiku, MD, MPH1
Shirley Wu, MD1
Kristen Dwyer, MD, MPH1;
Patricia Henwood MD, FACEP2
1Department of Emergency Medicine, Brown University
2Department of Emergency Medicine, Brigham and Women's Hospital