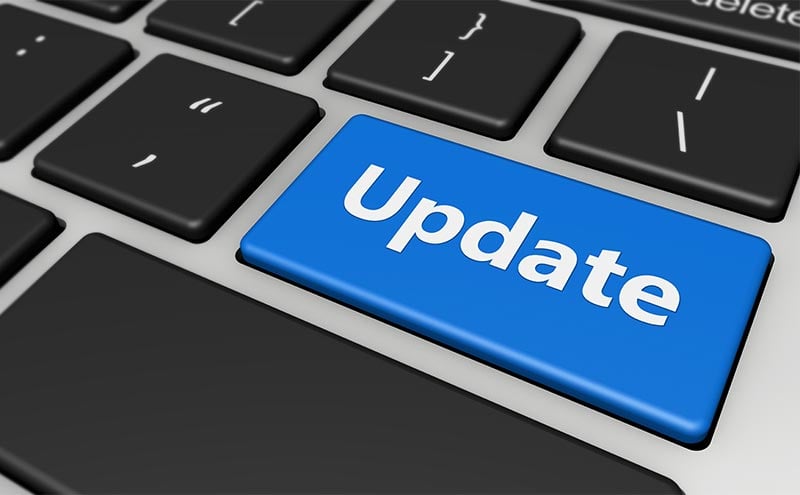 Tech Update: Stick it To Me Straight Doc
Recently, the ultrasound community has seen a great debate spanning across various social media outlets, email, and academic arenas about the use of Tegaderm and its potential for damaging and degrading the rubber surface of the ultrasound probe over time. For many of us, we can remember our early days of residency when ultrasound-guided IVs first came into practice. Many people may not have even used a Tegaderm when first learning how to do this technique. Later, they discovered that covering the probe surface with a tegaderm or using sterile/nitrile gloves as a probe cover provided a cleaner surface than doing the IV line with just gel and the probe alone.1,2 This cleaner method was also more cost-effective than using the more commercially-available sterile probe covers. However, in the last year, there has been increasing concern regarding the potential risks associated with using a Tegaderm.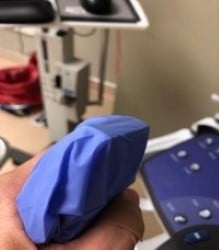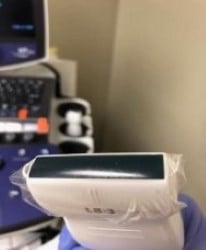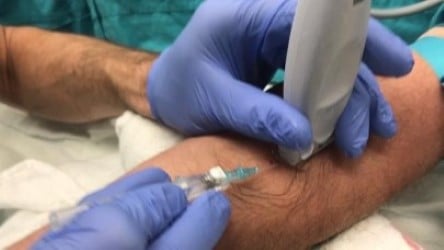 As the number of ultrasound-guided IVs being performed across the nation's emergency departments have exponentially increased, a new niche was being formed, showcasing products for peripheral IV placement that many of us may not know about. These may be just as cost effective, less cumbersome, and less messy than the use of gloves or tegaderm. In addition, these new products supposedly do not damage the rubber surface of the ultrasound probe and many have been endorsed by the ultrasound companies themselves.
This month's article reviews the importance of proper aseptic technique and highlights these new products in the hopes of sparking some more interesting debate and ideas.
Despite having many benefits, when compared to a central line insertion on patients with poor vascular access, UGPIV (ultrasound-guided peripheral IV) insertion is not without its own risks. Aside from thrombosis, research has shown that both ultrasound probes and gels may be contaminated with bacteria, posing a serious risk of transmission to patients. In one study, environmental organisms were found in 65 percent of samples taken from ultrasound equipment, nearly 8 percent of samples included microorganisms that commonly cause infection.3 Ohara et al, found that 60 percent of samples tested positive for MRSA.4
The use of ultrasound transmission gel also presents a set of challenges. Excess gel left near the access site risks accidental injection of the gel into the vein during insertion. Inadequate removal of gel can lead to loss of dressing integrity thus requiring more frequent dressing changes. Both of these issues increase staff time and supply costs.
The American College of Emergency Physicians, the Association for Vascular Access, the American Institute of Ultrasound in Medicine, and other organizations recommend using transducer covers when contact with blood is expected.5-7 The type of covers recommended include commercially-available probe covers or transparent film dressings (eg, Tegaderm) applied to the transducer. These organizations also recommend the use of single-use sterile gel packets for UGPIV procedures to reduce the potential for contamination. Probes should also be cleaned before and after use with chemical disinfectants/wipes or soap and water utilizing a small brush, if needed, for crevices and areas of angulation.
The cost associated with each UGPIV insertion can be as much $45, when considering provider time, angiocatheter cost, IV supplies, gel, probe cover, and type of adhesive film.8 However, the placement of peripheral IV catheters is not currently reimbursed by Medicare, underscoring the need to keep the associated costs low. A review of supplies shows that sterile probe covers cost between $5 to $10, single-use sterile ultrasound gel packets cost between $0.85 and $1.20, and adhesive films cost between $0.20 and $3.15 each.
While the cost of protection with covers and single-use sterile gel packets (compared to non-sterile gel) can be significant given the number of UGPIVs placed, these measures are essential to minimize patient risk from contamination because an even greater cost is associated with negative outcomes that interfere with patient safety. Nearly 10% of hospitalized patients in the United States acquire a healthcare-associated infection as a result of poor aseptic techniques, adding $4.5 billion in additional annual healthcare costs.9 Appropriate aseptic technique can be further accomplished by utilizing some of the following new products to successfully perform an UGPIV.
Parker labs introduced the UltraDrape an affordable, sterile dressing that acts as a barrier against contamination. Since a probe cover is not required, gel is placed on the top surface of the dressing, separating the probe from the sterile gel-free puncture site. This top layer is later removed and the remaining adhesive layer below acts to secure the IV reducing clean up time, contamination, and mess associated with excess gel. However, this product requires that you view and mark where you will be inserting the IV before placing the UltraDrape down since it can't be moved once you set it down. Views of the vessel on the machine are comparable to using tegaderm and it costs $2.50 per dressing.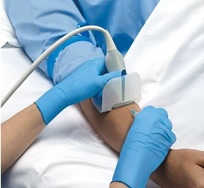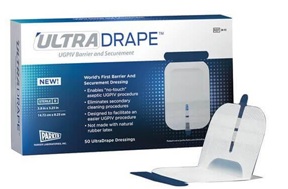 The next product, by SHEATHES, is an antiviral, non-sterile adhesive probe cover costing approximately $1.85 per cover. It does not require the use of gel on the interface between the surface of the probe and the cover, but still requires sterile gel on the surface of the skin. The adhesive surface does not leave a sticky residue and is stated to cause no damage to the rubber surface of the probe cover. Also, there is no risk of air bubbles which can cause artifact and distort the image. The entire cover is tested for leaks and has small enough pores that prevent infections by pathogens up to 20 nm small. There are options for just the adhesive patch, an 8 inch cover ($1.30 each) and longer sterile central line style adhesive probe covers ($7 to $10). Each of these have a three-year shelf life. Of note, you may need more than one size as the adhesive surface varies. The view of the vessel is good but you may need to turn gain down a bit more than when you use tegaderm or glove.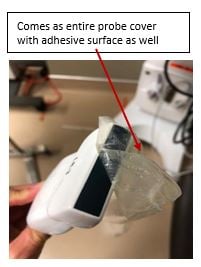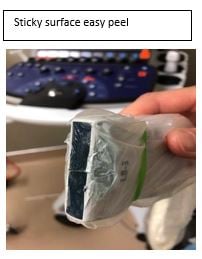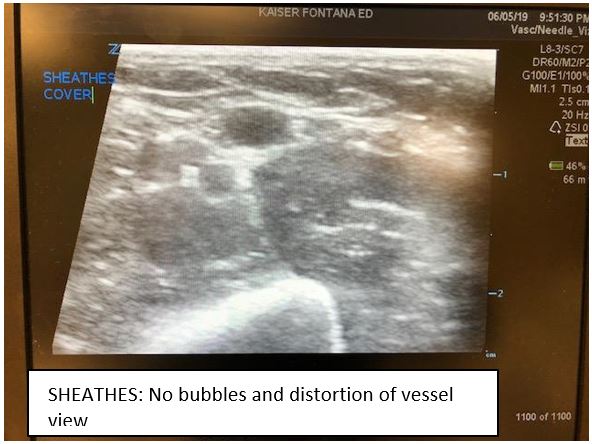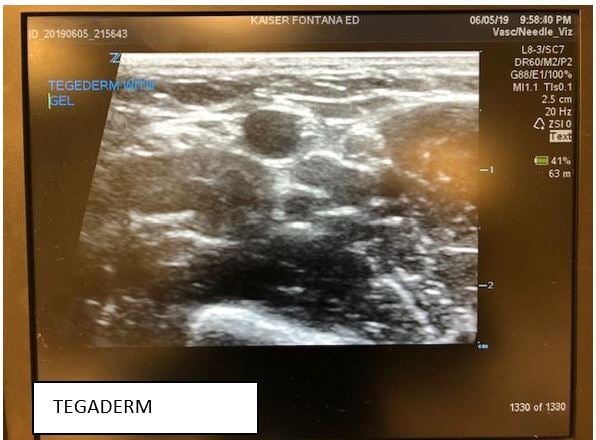 Cone Instrument and Safer Sonic are all full-length sterile probe covers. One difference between the two is that Safer Sonic's cover already has sterile gel inside the cover, requiring only sterile gel on outside surface, while Cone Instrument does not. There are no adhesive surfaces to damage the rubber surface of the probe, provides adequate views of the vessel, and delivers a contamination free environment. However, they are both pricier than the prior covers.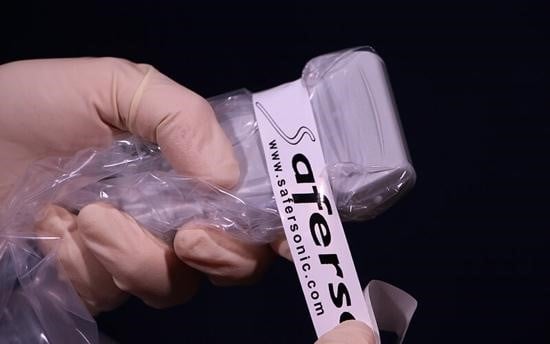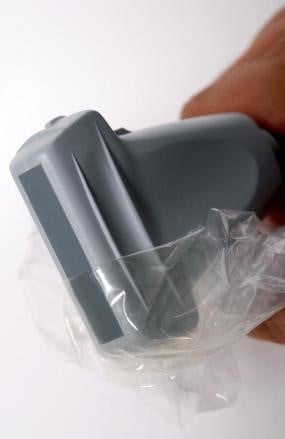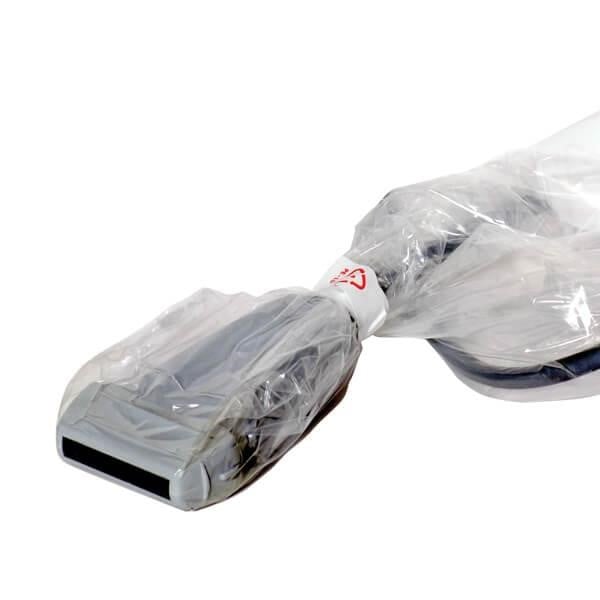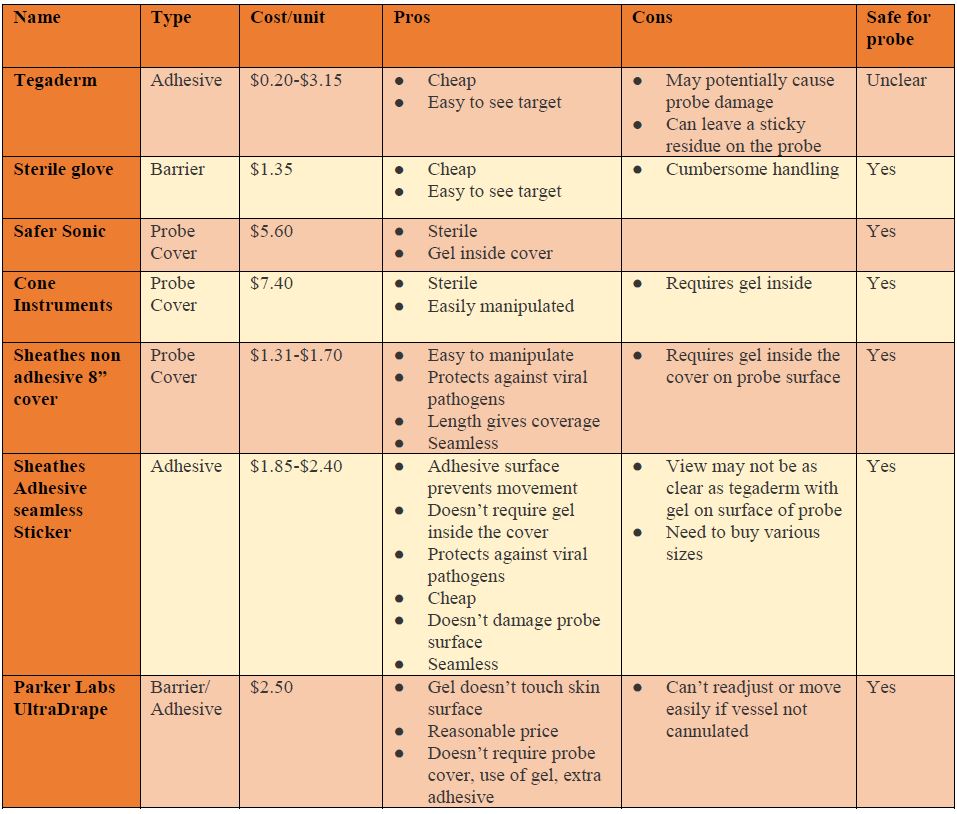 References:
Gottlieb M, Sundaram T, Holladay D, et al. Ultrasound-guided peripheral intravenous line placement: A narrative review of evidence-based best practices. West J Emerg Med. 2017;18(6):1047-54.
Adhikari S, Blaivas M, Morrison D, et al. Comparison of infection rates among ultrasound-guided versus traditionally placed peripheral intravenous lines. J Ultrasound Med. 2010;29(5):741-7.
Sykes A, Appleby M, Perry J, et al. An investigation of the microbiological contamination of ultrasound equipment. Brit J Infection. 2006;7(4):16-20.
Ohara T, Itoh Y, Itoh K. Ultrasound instruments as possible vectors of staphylococcal infection. J Hosp Infection. 1998;40:73-7.
American College of Emergency Physicians. Guideline for Ultrasound Transducer Cleaning and Disinfection [policy statement]. 2018.
Association for Vascular Access Guidance Document: Transducer Disinfection for Assessment and Insertion of Peripheral and Central Catheters for Vascular Access Teams and Clinicians. 2018.
American Institute of Ultrasound in Medicine. Guidelines for Cleaning and Preparing External- and Internal-Use Ultrasound Transducers Between Patients, Safe Handling, and Use of Ultrasound Coupling Gel.
Stone P, Meyer B, Aucoin J. Ultrasound-guided peripheral IV access: Guidelines for practice. American Nurse Today. 2013.
Koff MD, Loftus RW, Burchman CC, et al. Reduction in intraoperative bacterial contamination of peripheral intravenous tubing through the use of a novel device. Anesthesiology. 2009;110:978-85.
Natwalee Kittisarapong, DO
Kaiser Permanente Fontana Medical Center