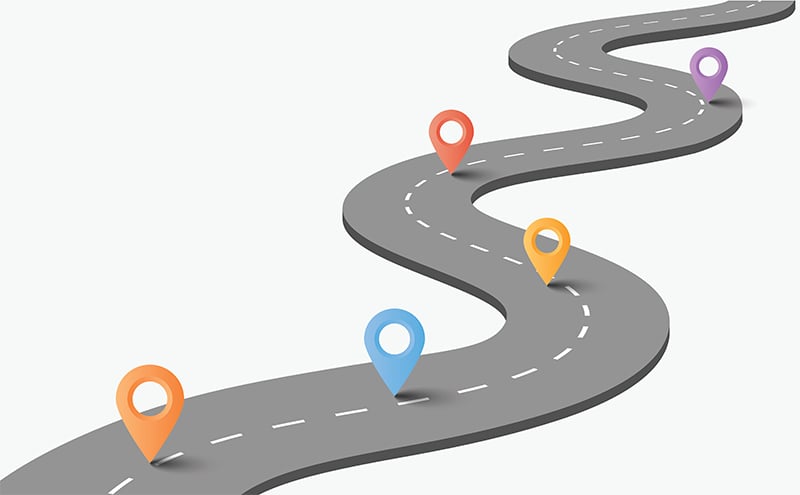 What's with the Milestones Shake Up?
EUS Section Resident Education Subcommittee
Over the last several decades, competency-based medical education has largely replaced the traditional models of time-based, teacher-centered education. In alignment with this transition, the Accreditation Council for Graduate Medical Education (ACGME) in 1999 developed six core competencies. These competencies are: patient care, medical knowledge, system-based practice, practice-based learning and improvement, professionalism and interpersonal and communication skills. Since 2013, specialty and subspecialty specific milestones have been used in the evaluation of fellows and residents, and this has generated substantial medical education research related to the advantages and challenges of implementing and operationalizing these outlined Milestones. Recognizing that Milestone development would be an iterative process, the "Milestones 2.0" process has been underway with significant revisions to the original milestones by a number of specialties, including Emergency Medicine.
In 2012, the ACGME in partnership with the American Board of Emergency Medicine (ABEM) published the Emergency Medicine milestones. This was designed to be a framework to guide Emergency Medicine programs in semi-annual evaluations of their resident physicians. The guidelines outline a set of competencies felt to be important specifically to the specialty of Emergency Medicine and are meant to apply to all residents trained by an ACGME-accredited residency program. The goal of the Milestones is to outline roughly the expected progression of a physician within the practice of Emergency Medicine from entry into residency to graduation to independent practice.
The original milestones subdivided the six core competencies into a total of 23 subcompetencies. Within each subcompetency, developmental progression is described as specific milestones subdivided by numbered levels from 1 to 5 (Figure 1). Consistent with the principles of competency-based medical education, these levels do not correspond to the number of years of graduate medical education but rather a progression through residency with the expectation that some residents may progress quicker than others through the milestones. A Level 1 milestone is that expected of an incoming resident, a level 4 is an expected target of graduating residents, and a level 5 is expected of those several years into independent practice. Level 5 milestones are not expected of the average resident but can be seen in a few exceptional residents.

Figure 1. Example of the Basic Anatomy of a Milestone.
Source: Edgar L et al. The Milestones Guidebook: Version 2020. Accreditation Council for Graduate Medical Education. 2020. http://www.acgme.org/portals/0/milestonesguidebook.pdf (Page 9, Figure 1b)
Last month, the proposed ACGME Emergency Medicine Milestones 2.0 was made public, and the ACGME sent out a survey requesting public comment. In the original milestones, the Patient Care subcompetency 12 (PC12) defined the expected progression in skill level for emergency ultrasound. In response to the original PC12, a consensus paper was published in 2016 outlining recommendations for revision of PC12 as determined by a task force representing the American College of Emergency Physicians Ultrasound Section, the Council of Emergency Medicine Residency Directors, and the Academy of Emergency Ultrasound of the Society for Academic Emergency Medicine.
In Milestones 2.0, a total of 21 subcompetencies were outlined (Table 1). The ultrasound subcompetency PC12 was omitted in this revision. In response, ultrasound leaders representing SCUF, AAEM, ACEP and SAEM organized a task force to respond and request that POCUS be included in the EM Milestones 2.0—either as its own standalone subcompetency and/or that POCUS be explicitly worded into the milestones of the Patient Care 1 (Emergency Stabilization), Patient Care 3 (Diagnostic Imaging) and Patient Care 8 (General Approach to Procedures) subcompetencies, and the accompanying Supplemental Guide. These proposed revisions can be found here.
The ultrasound community understands that POCUS training is essential and critical to the care of patients and that it is fundamental to emergency medicine. The training mandates an investment of resources, including faculty with designated expertise. The de-emphasis of POCUS sends a message that this training is not valued and removal of PC12 eliminates a tool that standardized POCUS competency nationwide. In a time when there is already variation in proficiency amongst residency programs, this move by the ACGME will only further widen this gap. So, what's with the Milestones shake up? We are not sure. The ACGME has yet to provide an explanation for this removal. As a community, we must advocate for the adoption of competency-based POCUS standards including a return of some form of the POCUS subcompetency.
Table 1. Comparison of original milestones to the proposed Milestones 2.0.
2012 Milestones

2020 Milestones 2.0

Patient Care:

PC1: Emergency Stabilization
PC2: Performance of Focused History and Physical Exam
PC3: Diagnostic Studies
PC4: Diagnosis
PC5: Pharmacotherapy
PC6: Observation and Reassessment
PC7: Disposition
PC8: Multi-tasking (Task-switching)
PC9: General Approach to Procedures
PC10: Airway Management
PC11: Anesthesia and Acute Pain Management
PC12: Other Diagnostic and Therapeutic Procedures: Goal-directed Focused Ultrasound (Diagnostic/Procedural)
PC13: Other Diagnostic and Therapeutic Procedures: Wound Management
PC14: Other Diagnostic and Therapeutic Procedures: Vascular Access

Patient Care:

PC1: Emergency Stabilization
PC2: Performance of a Focused History and Physical Exam
PC3: Diagnostic Studies
PC4: Diagnosis
PC5: Pharmacotherapy
PC6: Reassessment and Disposition
PC7: Multi-Tasking (Task-Switching)
PC8: General Approach to Procedures

Medical Knowledge (MK)

Medical Knowledge

MK1: Scientific Knowledge
MK2: Treatment and Clinical Reasoning

System Based Practice

SBP1: Patient Safety
SBP2: Systems-based Management
SBP3: Technology

System Based Practice

SBP1: Patient Safety and Quality Improvement
SBP2: System Navigation for Patient Centered Care
SBP3: Physician Role in Health Care Systems

Practice-Based Learning and Improvement (PBLI)

Practice-Based Learning and Improvement

PBLI1: Evidence-Based and Informed Practice
PBLI2: Reflective Practice and Commitment to Personal Growth

Professionalism

PROF1: Professional values
PROF2: Accountability

Professionalism

PROF1: Professional Behavior and Ethical Principles
PROF2: Accountability / Conscientiousness
PROF3: Self-Awareness and Well-Being

Interpersonal and Communication Skills

ICS1: Patient Centered Communication
ICS2: Team Management

Interpersonal and Communication Skills

ICS1: Patient- and Family-Centered Communication
ICS2: Interprofessional and Team Communication
ICS3: Communication within Health Care Systems
References
Edgar L et al. The Milestones Guidebook: Version 2020. Accreditation Council for Graduate Medical Education. 2020. http://www.acgme.org/portals/0/milestonesguidebook.pdf
Edgar, L et al. Milestones 2.0: A Step Forward. J Grad Med Educ. 2018;10(3):367-9.
Nelson, M et al. Goal-directed Focused Ultrasound Milestones Revised: A Multiorganizational Consensus. Acad Emerg Med. 2016;23(11):1274-9.
The Emergency Medicine Milestone Project. Accreditation Council for Graduate Medical Education. Dec 2012. https://www.acgme.org/Portals/0/PDFs/Milestones/EmergencyMedicineMilestones.pdf
Emergency Medicine Milestones. Accreditation Council for Graduate Medical Education. November 2020. https://www.acgme.org/Portals/0/PDFs/Milestones/EmergencyMedicineMilestones2.0Draft.pdf
Supplemental Guide: Emergency Medicine. Accreditation Council for Graduate Medical Education. November 2020. https://www.acgme.org/Portals/0/PDFs/Milestones/EmergencyMedicineSupplementalGuideDraft.pdf
E. Liang Liu, MD
US Clerkship Director and Assistant Professor of Emergency Medicine at Emory University School of Medicine in Atlanta, GA
Stephen Alerhand, MD
Co-Director, Division of Emergency Ultrasound and Assistant Professor of Emergency Medicine at Rutgers New Jersey Medical School in Newark, NJ