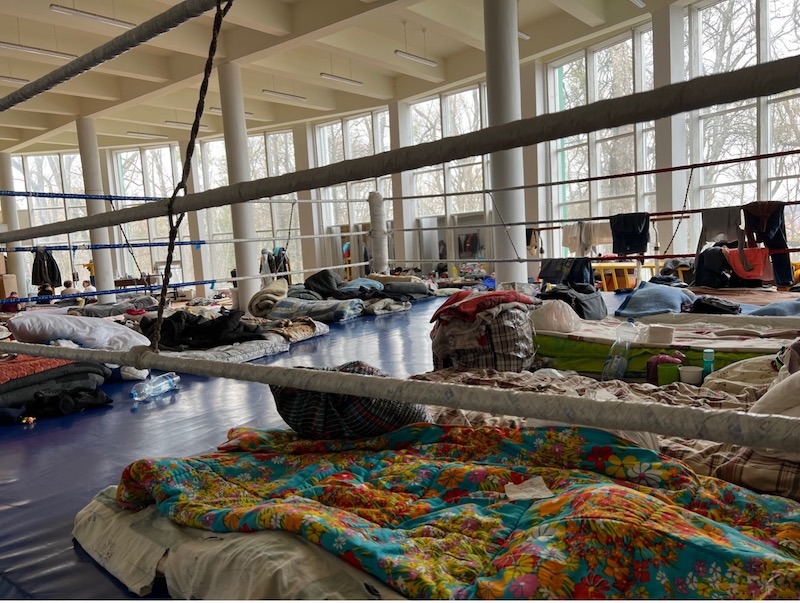 Using a Wilderness Medicine Skillset in Ukraine
by David S. Young, MD, MS, FAWM, DiMM
Chair-Elect, ACEP Section of Wilderness Medicine
I recently had the opportunity to serve the people of Ukraine as the country endures over 2 months of military attack. Over 12 million people have been displaced from their homes. Many evacuated with very little notice and with whatever they could pack in a suitcase. Millions are finding shelter in the western part of Ukraine which has significantly less risk of missile strikes and, as of yet, no physical Russian military presence.
I deployed with Team Rubicon, a veteran-lead disaster response organization. Because of safety measures, we were restricted to moving no further than the east side of Western Ukraine. As a WHO certified Emergency Medicine Team (EMT) Type 1, our team was specialized as a mobile medical unit. We moved from shelter to shelter delivering care to internally displaced people (IDPs). While most cases involved viral syndromes, GI distress, and acute on chronic musculoskeletal ailments, many people were in need of sorting out their next steps in their general medical care. Occasionally, we also provided medical training to both medical professionals and the broader community.
I've been fortunate to have education in global disaster response and international emergency aid. Proper global health training is indispensable when delivering care in humanitarian crises. However, I also believe that my background in wilderness medicine contributed to the success of our team in Ukraine. At its foundation, the field of wilderness medicine teaches providers to be capable in resource limited settings with minimal diagnostic and treatment options, as in the shelters of Ukraine. The clinical acumen I've developed while practicing wilderness medicine helped to determine dispositions and recognize the need for referral and higher levels of care. The situation was inherently stressful and intense; understanding psychological first aid benefited both the patients we saw as well as our own team. The overlap of wilderness and tactical medicine helped prepare me to provide education comprising blast injury, chemical warfare, field hemostasis, and trauma care.
Ultimately, wilderness medicine training provides learners a skillset based on flexibility and improvisation. I believe this is inherently useful for any provider looking to serve in humanitarian crises or disaster response. I'm grateful for all those who have given me the opportunity to learn these skills. I'm also grateful for the opportunity to serve on this EMT 1 and each of my colleagues, who I am honored to have worked alongside.
To learn more about Team Rubicon or to donate, check out teamrubiconusa.org.
Sources:
How many Ukrainians have fled their homes and where have they gone? BBC News. 5/2022.
EMT Classification. WHO. 5/2022.
Understanding Psychological First Aid. American Psychological Association. 5/2022.