TikTok Nutmeg Challenge Leads To Intoxication
Background
Nutmeg (Myristica fragrans), a household spice, has been reported as the cause of accidental, intentional, or suicidal overdosing for 400 years.1-3 Recently, social media such as TikTok contributed to the emergency of Nutmeg poisoning as a part of the 'Nutmeg Challenge.' A 14-year-old female presented to the emergency department with severe agitation after ingesting three tablespoons (approximately 21 g) of nutmeg to achieve a natural high as part of the challenge.4
Chemistry
Nutmeg has three types of oil: volatile (essential), fixed (fatty), and fiber. The essential oil contains monoterpenes, eugenol, and toluene, as well as 4–12% myristicin.1 Myristicin, the primary psychoactive component of nutmeg, is metabolized into 3-methoxy -4,5 methylenedioxyamphetamine (MMDA) and structurally related to 3,4 methylenedioxymethamphetamine (MDMA), also known as ecstasy (E) or molly.5 It is also reported to have more hallucinogenic effects than mescaline.6 Other components of myristicin (linalool, safrole, isoeugenol, and eugenol) are structurally like serotonin agonists and has weak monoamine oxidase inhibitor properties that may explain the cardiovascular response.6,7 The serotonergic and GABAergic activity have been connected to the anxiogenic effect experienced in the feeling of impending doom.8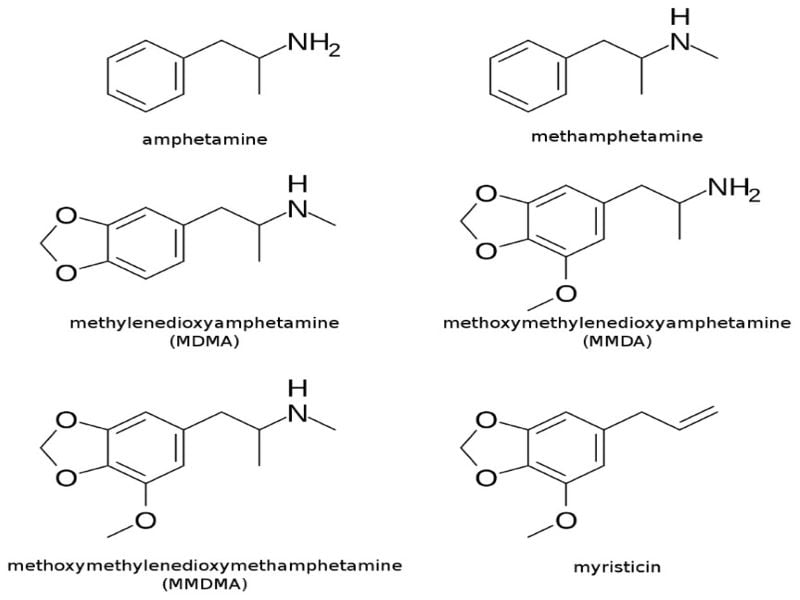 A nutmeg seed (or a tablespoon of ground nutmeg) weighs about 7 g.2 Nutmeg is commonly consumed in recreational dosages ranging from 5–30 g, with less than 10 g causing little harm.1 Gastrointestinal symptoms (nausea, vomiting, abdominal pain) are the most common acute intoxication, including mouth dryness and pupil involvement (mydriasis or myosis).6 Severe intoxication can cause seizure, hallucination, confusion, tachycardia, and hemodynamic instability.2,6,9 In one case, 14 g of nutmeg caused flushing, a sensation of impending doom, and dry mouth that persisted for up to 60 hours; in another case, 28 g of nutmeg caused tachycardia, miosis, paranoia, and hallucinations that lasted for 18 hours.2,3 Symptoms usually appear one to seven hours after ingestion and resolve within a day or two.6
Management
Sjolhom et al. reported cases that have been referred to intensive care units,9 however, treatment is primarily supportive and may include cardiorespiratory monitoring for at least eight hours following intake. The patient requires continuous reassurance in light of the prevailing sentiments of anxiety, fear, and imminent disaster. Benzodiazepines can be used for sedation to help with relaxation and alleviate the amphetamine-like effects. The use of charcoal to reduce systemic absorption is contentious, as is the use of emesis induction.2
Conclusion
Nutmeg, commonly used in cooking, has toxicity with high doses and should be considered for inappropriate ingestion by recreational substance abusers. The toxidrome is non-specific and involves multiple organ systems.
Reference
Barceloux DG. Nutmeg (Myristica fragrans Houtt.). Dis Mon. 2009; 55(6):373–379
Abernethy MK, Becker LB. Acute nutmeg intoxication. Am J Emerg Med. 1992;10(5):429–430
Payne RB. Nutmeg intoxication. N Engl J Med. 1963;269:36–39.
Atherton RR. The 'Nutmeg Challenge': a dangerous social media trend [published online ahead of print, 2020 Jul 3]. Arch Dis Child. 2020; archdischild-2020-319407. doi:10.1136/archdischild-2020-319407.
Ehrenpreis JE, DesLauriers C, Lank P, Armstrong PK, Leikin JB. Nutmeg poisonings: a retrospective review of 10 years experience from the Illinois Poison Center, 2001-2011. J Med Toxicol. 2014;10(2):148-151. doi:10.1007/s13181-013-0379-7
Stein U, Greyer H, Hentschel H (April 2001). "Nutmeg (myristicin) poisoning--report on a fatal case and a series of cases recorded by a poison information centre". Forensic Science Int. 118(1):87–90. doi:10.1016/s0379-0738(00)00369-8. PMID 11343860.
Truitt EB Jr. The pharmacology of myristicin and nutmeg. Psychopharmacol Bull 1967;4(3):14.
Sonavane GS, Sarveiya VP, Kasture VS, et al. Anxiogenic activity of Myristica fragrans seeds. Pharmacol Biochem Behav 2002;71(1-2):239–244.
Sjöholm A, Lindberg A, Personne M. Acute nutmeg intoxication. J Intern Med. 1998;243(4):329-331.
Liga Yusvirazi, MD