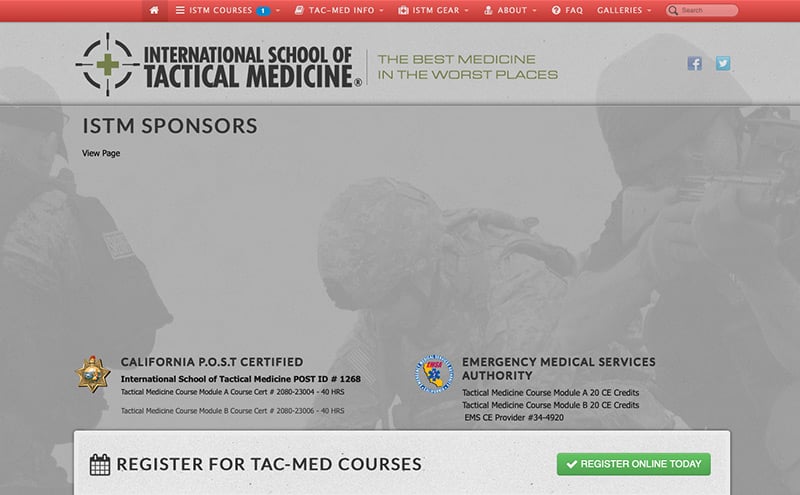 Tactical Medicine Training Program Highlight
International School of Tactical Medicine
Our mission and objective is to teach our students the fundamentals of tactical operations in conjunction with the integration and application of operational emergency medicine. With this body of knowledge and skills, graduates will be able to effectively integrate with a tactical team as a tactically safe provider. What you will learn during the training could save your life or the lives of others.
The International School of Tactical Medicine courses are conducted at the Northern California Regional Public Safety Authority (NCRPSTA) in Sacramento, California. We offer a dynamic and complete Tactical Medicine educational training program. Since the inception of the program in 1996 students have attended from over 1000 different fire, EMS, and Law Enforcement agencies.
Clients include many federal, state, and local Law Enforcement, Fire Department and EMS agencies. Our clients also include many agencies from California, the United States, Europe and around the world.
The ISTM faculty is comprised of physicians and law-enforcement professionals. All physicians are residency trained in their specialty, published authors, hold faculty appointments at teaching hospitals and medical schools. In addition, they are tactically trained and serve as tactical medical providers on SWAT teams. The law-enforcement faculty are experienced law enforcement officers that are firearms as well as tactical instructors.
Our training facility in Sacramento provides unlimited logistical support of all courses with classrooms, range facilities and unique locations for scenario training. The Tactical Medicine Course is approved by the California Commission on Peace Officers Standard and Training (POST), California Emergency Medical Services Authority (EMSA) and the US Department of Homeland Security (DHS)
Our tactical medicine training program offers a 2-week 80 hours plus comprehensive didactic tactical medicine curriculum, which uniquely integrates both medical and tactical education, hands on training, firearms instruction and personalized attention. Learning the concepts of tactical medicine is enhanced by "force on force" scenario-based teaching. To ensure the maximum learning benefit both modules should be taken consecutively.
For more information visit the school website.