Law Enforcement Officer Line of Duty Deaths
January to April 2021
U.S. Law Enforcement is a dangerous job. Unexpectedly, an infectious disease, COVID-19 is one of the newest threats to officers. The number of U.S. law enforcement, line of duty deaths (LODD) in 2020, and so far in 2021, is dramatically higher than years prior because of this disease. There were 120 total LODDs in the first third of 2021. 120 deaths is nearly the same number of officer deaths than would be seen in an entire year in the past. (figure 1). One death of an officer that spends his or her life protecting citizens is too many.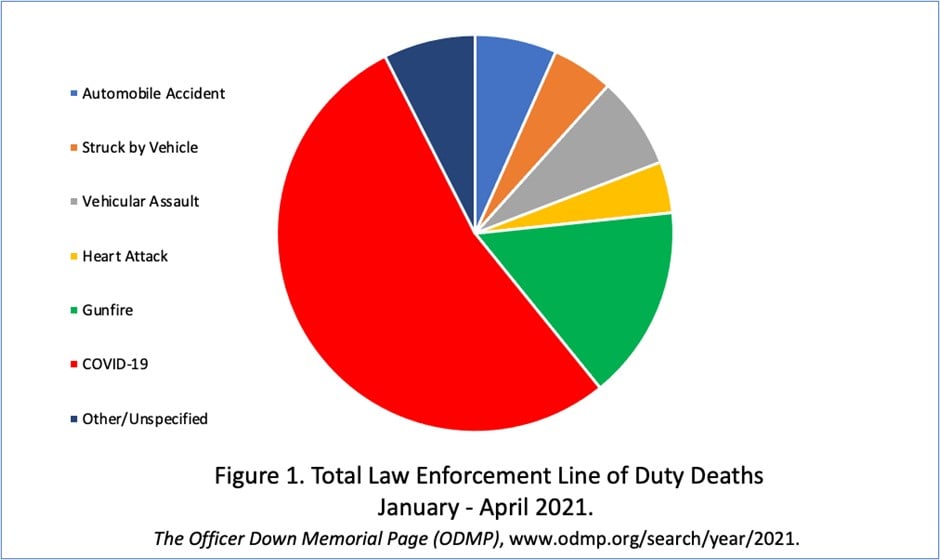 COVID-19 is responsible for this significant uptick in officer deaths both in 2020 and the first third of 2021. This virus has impacted our world beyond belief; yet many are not aware of the effect it had on the people who spend their lives protecting us. Sixty-four out of one hundred and twenty, 53% of LODDs in 2021 are due to COVID-19. Like health care workers, law enforcement officers for the most part are not able to stay home. LEO COVID-19 exposures occurred from contact with the public, inmates and department spread. However, with increased vaccination among LEO and the public, lower COVID-19 numbers in the community, as well as department protocols and infectious disease precautions such as mask wearing and social distancing, the number of law enforcement officers dying from COVID-19 is decreasing. Figure 2 shows the drastic decline in COVID-19 officer deaths from January to April. 34 officers died from COVID-19 in January. By April, the number had decreased to five. Five too many, but a decrease, and a hopeful improvement.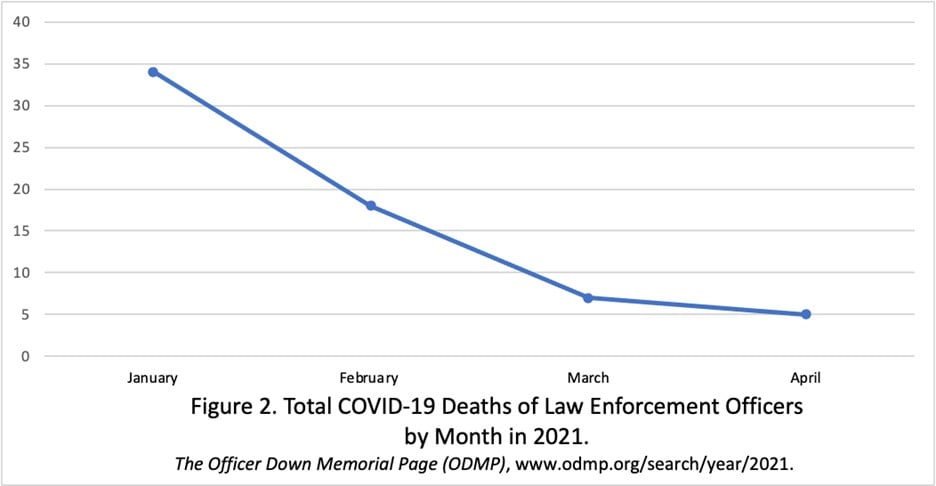 Advanced age is a risk factor for death from COVID-19. Figure 3 shows the ages of officers who died from COVID-19 in 2021. Nearly 72% of officer deaths from COVID-19 were in the age range of 50-65. As the age increments increase, the absolute number of deaths trend downward. This is likely because of fewer officers in this age group. The 56-60 year-old age range suffered the largest number of deaths at 18% of the total COVID-19 deaths. Clearly, along with lives, experience and agency leadership was lost to this disease.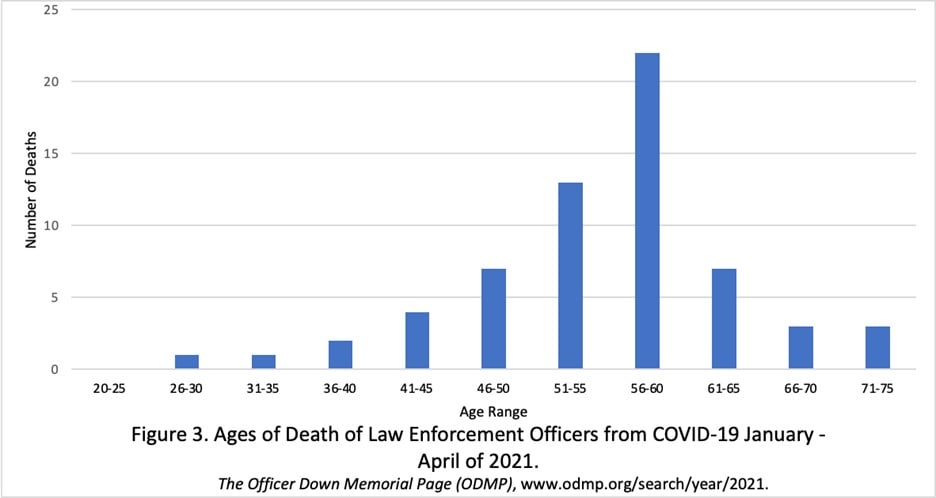 With the pandemic appearing to weaken in the United States, we anticipate the number of LODDs from COVID-19 will continue to decline. However, infectious disease pandemics have been and continue to be a major homeland security concern. As TEMS providers, we work to reduce the number of law enforcement officer deaths. Lessons learned from this pandemic will serve us and our law enforcement partners in the future.
Reference:
The Officer Down Memorial Page (ODMP) - Accessed 05/01/2021.
Willie Kimler MD Candidate (2024)
Joan C. Edwards School of Medicine