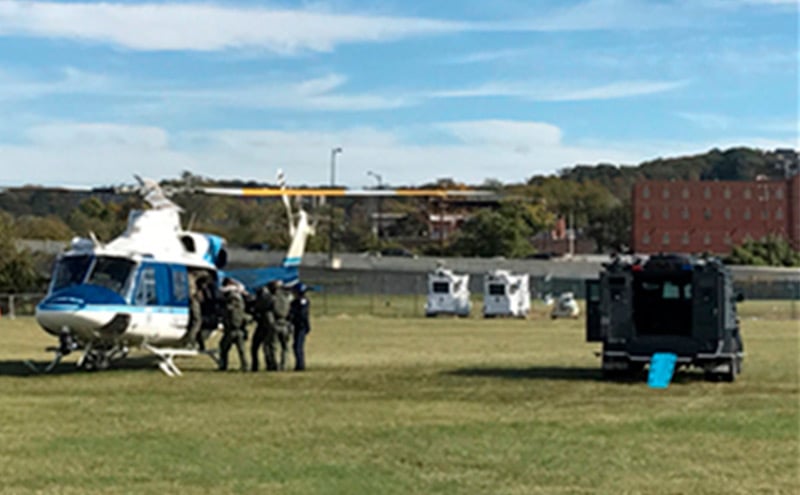 Training Programs
This training involves an ACEP-sponsored CONTOMS course, where the U.S. Park Police helicopter is interfacing with the CONTOMS students, who have taken a casualty from the armored vehicle and, under the careful direction of a flight crew member, are now loading the casualty into the helicopter. Many key factors need to be taken into consideration when calling for and interacting with an air medical helicopter and crew. Training is key. Photo by ACEP EMS Rick Murray, EMT-P.
Counter Narcotics and Terrorism Operational Medical Support (CONTOMS)
The COUNTER NARCOTICS AND TERRORISM OPERATIONAL MEDICAL SUPPORT (CONTOMS) Program was started in 1990 to meet the need for specialized medical training to support law enforcement special operations. EMT-Tactical (EMT-T), the cornerstone of the program, is a 1-week, 56-hour continuing education module for medical personnel supporting special response teams.
The goal of the CONTOMS Program is to offer a nationally standardized curriculum, certification process, and quality improvement procedure to meet the needs of those EMTs, paramedics, and physicians who operate as part of a law enforcement team. Additionally, the Program tracks data to ensure that the educational efforts are evidence-based, so that it meets the dynamic needs of the law enforcement and EMS communities. Finally, the program faculty is available for consultation to Federal, State, and local agencies to help meet immediate requirements, solve urgent problems, or conduct needs assessments.

EMT-T Course
Pre-requisites and Requirements:
Agency Sponsorship: All candidates must provide a signed letter of sponsorship on official agency letterhead from a bona fide law enforcement agency, public service agency, or military command. The content of the letter should attest to the candidate's affiliation with the agency in the provision of medical support for a specialized team and the need for this training in the furtherance of that agency's mission.
Required Items: The uniform of the day will be the tactical uniform of your department. If you do not have a department-issued uniform, then you should wear standard black or camouflage BDU fatigues. Tactical boots, portable hydration system, sun block, and rain gear are essential items.
Medical Certification: Current medical license certification (as an EMT-B, EMT-P, RN, MD, etc.) is required for participation in this class. Please bring your current medical license with you for verification during registration on the first day of the class.
Medical Directors Course
The Medical Director's Course is an eight-hour course designed for physicians and others who provide medical control for pre-hospital personnel operating with tactical law enforcement teams. This course details the rationale and scientific basis for modified standards and scope of practice in the tactical environment - Taken from home website.
Featured Program/Team
Johns Hopkins Tactical Medicine Fellowship
Baltimore, MA
Program Director: Nelson Tang MD, FACEP
Associate Director: Nathan Woltman, MD
Duration: 24 months
The goal of the Tactical Medicine fellowship is to uniquely prepare academic emergency physicians for leadership, field support and medical direction of law enforcement special operations and tactical medicine programs.
The main components of this fellowship include:
Mentorship in the medical direction of special operations medical programs and applying fundamental tenets of prehospital emergency care
Direct-field experience with local, state and federal law enforcement tactical, protective, special event, international and remote consultation programs
Escalating medical control responsibilities for operational medicine programs
Potential areas of focus include:
The education and training of law enforcement medical providers
Continuous quality improvement of care rendered in the tactical environment
Administrative and developmental aspects of tactical and operational medicine programs
Academic research in the field of law enforcement medicine
Prerequisites:
Board Prepared or Certified in Emergency Medicine
Ability to pass a criminal background investigation and be eligible to obtain security clearance(s)
Possess the necessary psychomotor skills and ability to function in austere environments
Demonstrated interest in prehospital emergency care and/or tactical medicine strongly preferred