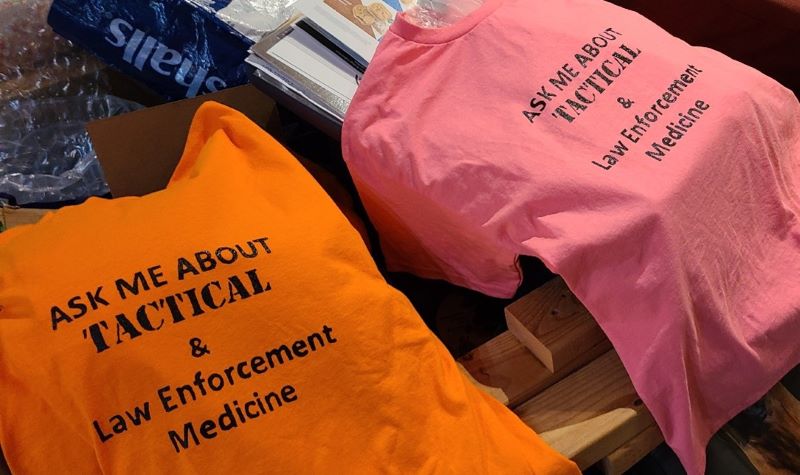 Starting a Tactical and Law-Enforcement SAEM Interest Group
Florian F Schmitzberger, MD, MS
Jeremy D. Ackerman, MD, PhD, FACEP
Surely, nobody receiving this newsletter needs to be convinced of the mission of our ACEP group, on tactical and law-enforcement medicine. Having a community of clinicians that dedicate time, expertise and at time risk their own safety for the goal of advancing medicine in the setting of law-enforcement- and military medicine can be hugely valuable. Speaking as one voice on important medical topics to clinicians, pre-hospital providers and operators, providing resources and training are some of the essential tasks we have seen this group undertake.
Given the success of this group and its wide reach, we did notice that we are at times missing some audiences. For instance, while presenting at the Special Operations Medical Scientific Assembly (SOMSA) and at the Society for Academic Emergency Medicine (SAEM) meetings, we've been approached with questions on finding like-minded physicians who work in the tactical and law-enforcement realm. While we happily refer those interested to this group, we have noticed that due to often non-overlapping memberships in professional societies, some physicians in this space seek community, but do not have the appropriate venue. Thus, the idea was born to start an SAEM interest group, to bridge the two professional societies.
In laying the groundwork for a SAEM Interest Group we did not want to splinter the community further or duplicate work. SAEM gravitates towards a more academic and educational focus, and it was felt this, in addition to the opportunities to reach medical students, residents, and fellows earlier in their careers, would provide a net benefit without taking away from the ACEP TaLEM Section. Planning early on ensuring joint discussions, joint strategic planning and joint statements will be key. We would love to hear more on this in response to this newsletter and hope to inspire good discussion.
Starting the group consists of two important tasks. First, we must define the core mission of the group. The current draft appears in the box below. We believe these items speak to the core of both SAEM's mission and the needs of the TaLEM community. Secondly, we need to have 75 current SAEM members who have expressed interest in the formation of this interest group. SAEM Interest Groups carry no additional costs for members. At SAEM2023 in May we recruited SAEM members (Dr. Ackerman made t-shirts) and we have nearly reached this goal. We plan to have the inaugural meeting of the SAEM TaLEM Interest Group Meeting in Phoenix during SAEM 2024.
Perhaps more importantly, however, is to define the core mission of the group, something we have attempted. Provide guidance on medically supporting tactical operations to improve the safety of all involved parties.
If you are a SAEM member and are interested in supporting this effort, please complete this form or reach out to us directly.
We are always open to feedback and thoughts. Please reach out to us if you have questions, comments, or if you would like to help lead this new interest group.
Provide guidance on supporting law enforcement to better serve their populations.
Develop guidelines regarding education of residents about tactical and law enforcement medicine.
Encourage cross collaboration with other relevant organizations, including ACEP's TEMS section.
Grow interest and involvement in tactical and law enforcement medicine among SAEM members.