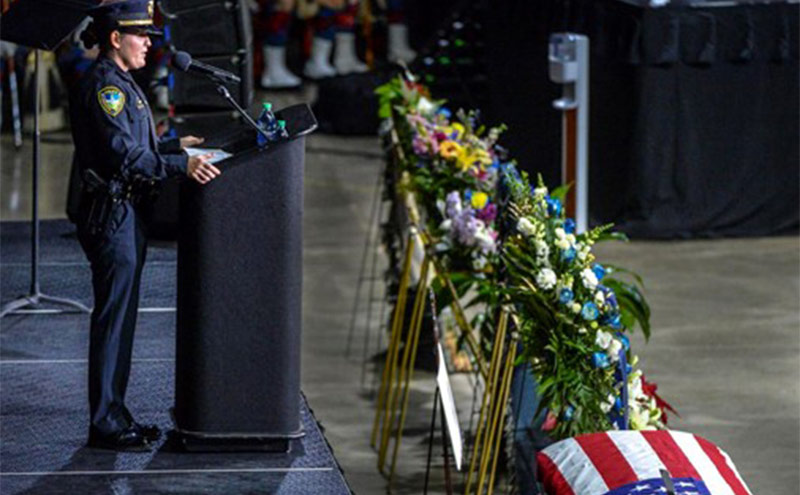 In Memoriam
Officer Cassie Johnson, Charleston Police Department, West Virginia
EOW (End of Watch): December 3, 2020
Officer Cassie Johnson was sworn in as an officer January 2019.
On December 1, 2020 Officer Johnson was responding to a parking complaint when the suspect (with a history of violence and prior incarcerations, out on parole) fired a bullet that struck Officer Johnson in the neck. She bravely defended herself and returned fire, striking the suspect multiple times and ending the fight, but unfortunately, her neck wound proved to be fatal two days later. In a final act of heroism, she donated her organs before passing away. Charleston Police Chief Tyke Hunt, opening Johnson's funeral service, said the fallen officer had a "perfect blend of a warrior's mindset and a shepherd's heart." She was caring, but she was tough.
She was 28 years old.
Annually in the USA, many law enforcement officers are killed in the line of duty, while performing "the job". Just ONE is too many. In the last 10 years, almost 200 officers have died annually in the line of duty. When these tragedies occur in our communities or to someone we know personally, they can be that much more difficult. Dr. Wong, editor of this newsletter, lives in West Virginia. She knows personally many first responders who knew Officer Johnson, Johnson's fellow officers and family.
On sad occasions such as this, it is with respect that we take a moment, perhaps in silence, perhaps in community with fellow first responders, and we support family, send prayers, and do what we can to ease the pain. We need to remember the ultimate price that is sometimes paid by the brave and dedicated women and men in uniform. For those of us in tactical medicine, it is an honor and a privilege to provide medical support for the shepherds of our communities. Very likely each of us has lost dear friends and loved ones in the line of duty. We offer our sincerest condolences and prayers for this fine young officer and all fallen officers, for her family and friends, and for her brothers and sisters in Blue who carry on.