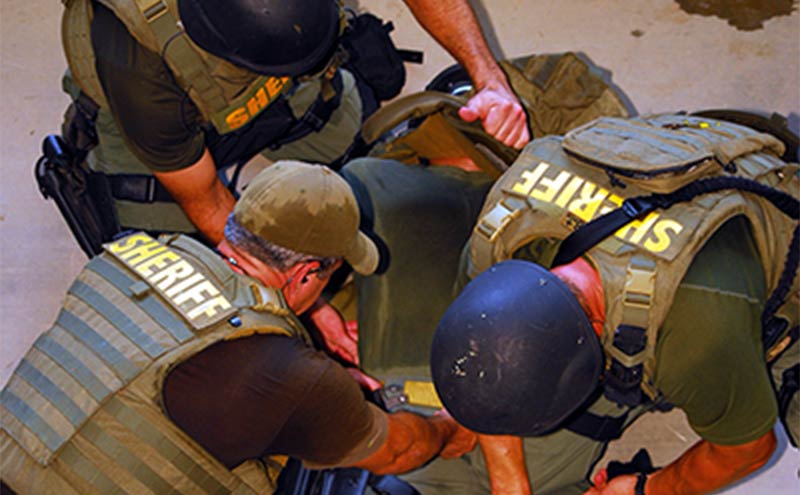 STORM Training Program - Featured Program
Training Program
The Specialized Tactics for Operational Rescue and Medicine (STORM) family of training courses use science, competency and evidence-based standards for Tactical Emergency Medical Support (TEMS) methodology as its foundation. The courses are based on the 17 critical competency domains and learning objectives for TEMS training established by the National TEMS Council (NTEMSC). The NTEMSC is a national body of tactical medicine subject matter experts representing dozens of law enforcement, fire, and EMS agencies at the federal, state, and local level.
History
The Center of Operational Medicine (COM) within the Department of Emergency Medicine and Hospitalist Services at the Medical College of Georgia at Augusta University has a long history of providing medical training and operational support to law enforcement and the Department of Defense. Many of our faculty, residents, and prehospital personnel/instructors have extensive tactical medicine experience, including service as sworn law enforcement officers, SWAT medics and physicians, Special Forces, and special mission unit operators.
Featured Program/Team
Operational and Disaster Medicine fellowship at Carolinas Medical Center in Charlotte, NC
Program Director: David W. Callaway MD, FACEP, MPA
Current Fellow: Keegan Bradley MD
Usually 1 fellow per year
Duration: 12-24 months with optional tracts (ODM, ODM+EMS, ODM+MPH)
SAEM approved Disaster Medicine Fellowship
The Operational and Disaster Medicine program at Carolinas Medical Center (CMC) in Charlotte, NC, offers both breadth and depth of experience. Fellows participate in: Self-directed learning, focused didactics, intense simulation, experiential learning, operational on the job training.
Fellows will be integrated and expected to deploy with Carolinas MED-1. This mobile treatment facility is designed to respond to all hazards, and the fellow will serve as assistant medical director for MED-1.
The ODM fellowship has particularly strong ties to the national and international tactical emergency medical services (TEMS) communities with faculty representation on the committee for tactical emergency casualty care (C-TECC), the committee on tactical combat casualty care (CoTCCC), the National TEMS Council, and the Defense Health Board Subcommittee on Trauma and Injury. Fellows have the opportunity to become TECC and TCCC instructors and support local TEMS operations.
MEDIC has developed a tactical medical support unit that provides medical coverage for the Charlotte-Mecklenburg police special weapons and tactics team (SWAT) and the Charlotte FBI SWAT teams. The tactical medics and medical director participate in all drills and training exercises and respond with the team whenever a deployment occurs. A dedicated tactical EMS SUV has been integrated and contains all equipment and supplies necessary for tactical deployments. Additional opportunities for the tactical paramedics include deployments with the Charlotte-Mecklenburg police field force and the aviation unit in which short hauls, rescues, and rappelling are all incorporated into the scope of practice. Upon approval from MEDIC, the ODM fellow may provide educational and occasional operational support to the CMPD TEMS team.
Keegan Bradley MD, EMT-T
Co-Editor