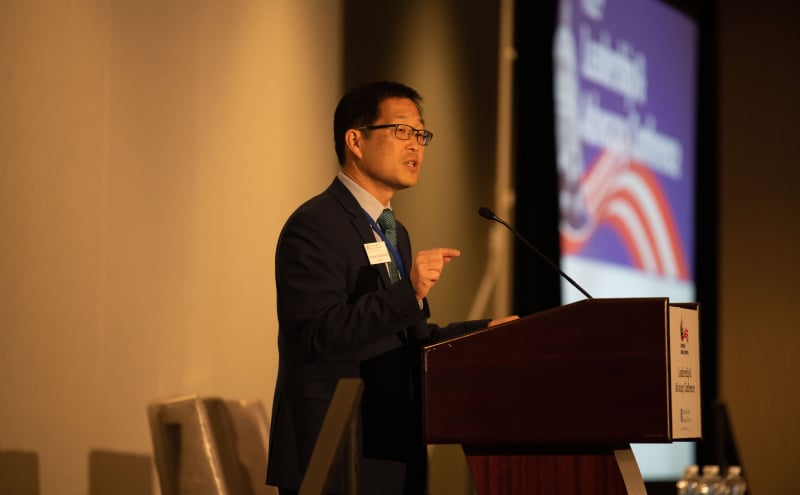 The Policy Perspective Interview at LAC 2023 with ACEP President Dr. Chris Kang and ACEP EMPHMP Section Chair, Dr. Jeff Wisniowski
JW: What was your first LAC like, and what made you come back?
CK: My first LAC was at the encouragement of my local ACEP chapter. They said, "If you want to become involved, part of it is better understanding the issues and part of it is becoming a better spokesperson and advocate". It was a wonderful experience. I came here, saw the education aspect, saw the issues in greater depth and then somewhere along the way within six hours I found myself sitting with several past presidents and council speakers, and they are talking to me as if I am just another one of their friends. The proximity is fantastic. I fell in love with it and that's why I have been coming back ever since. It is a chance to be in a more cozy environment to connect, talk, meet and work with people that you love to be around.
JW: When do you think the EM physician makes the transition from clinician to advocate?
CK: In my personal opinion, what I would ask is that every emergency physician feel empowered to get more involved at any level. You lead your teams on shifts. If you need to talk to your director, if you need to serve on a hospital committee, if there is an issue that is affecting the way you deliver patient care or your satisfaction to your workplace - whether it is safety, resources etc., you are an advocate for that topic. I think it is critical to know how to learn and how to be a better advocate for issues. If you can do that at the local level and then at the national level, all the better.
JW: ACEP has set its policy agenda and priorities for 2023. What are some issues that may require patience and a long term vision?
CK: I think when we talk about specific issues, it is important to get people to be aware that sometimes excerpts of a certain issue is not black and white; there is nuance. This helps us to understand where and when you can be a more effective advocate. Is this a one-time, short-term thing here? Or is this a longer-term process where getting recognition of the issue can start to make progress? Then we can have more discussion, which can result in actual legislation and change. The second thing is by getting more of our members to feel empowered and comfortable talking about complex issues but distilling it down and speaking up the people who can make those decisions. It is important that our members feel they are effecting actual change themselves.
JW: For example, at this conference we have talked about burnout, workplace violence and boarding. What are some concrete examples of short term and long-term wins ACEP has had?
CK: I think the most immediate short-term goal is that people have acknowledged burnout has happened, [but] sometimes we can be in denial. For everybody, it is a different reason, but we know it is multifactorial.
When you look at the total numbers, sometimes it is because of administrative requirements, other times it is not enough support. It could be working conditions such as violence, sometimes it is the questions of "where and why do I do something when I don't get respect anymore or have autonomy over what I do?". Whether it is a lack of nursing, or we are boarding patients - then I have to go see patients in the waiting room. Recognizing this is a huge issue here and respecting it. It is not a sign of weakness to say that we are burned out, but now with multiple factors, how do we actually advocate for change? This is where more members getting more involved and speaking up is critical.
At every workplace and with every physician it is going to be a little different. Maybe it is security, maybe boarding is at a high degree, maybe it is scope of practice. What is key is when you can pinpoint it, you can have that conversation and hopefully then make things better.
For the longer term, with the legislation, we know the boarding issue cannot continue. It is going to last for years, but if we don't start moving in the right trajectory: first and foremost, what does that do for our patients, second for our teams, and third what does it do for us?
I was very cautious to use the word "moral injury" when we submitted the letter to The White House in November because I want to be very cautious of fad words. When you look at the definition, we are supposed to rapidly see, evaluate, and disposition patients. Now, I cannot do that - length of stays are going up, left without being seen rates are high, door to doctor time is long. I can evaluate them, but I have to wait longer for studies. Knowing a patient is supposed to get admitted, but I have no beds, so they have to wait. What does that do to our sense of identity as emergency medicine physicians? We are seeing patients in the waiting room. There is a vulnerability and a liability, there is an amount of privacy and patient care quality that gets affected, but we are taking that on ourselves because of our sense of duty to the patient.
JW: What is your favorite procedure or skill that an EM physician does?
CK: I still like airway and still enjoy airway! I know there is a whole bunch of nuances of adjuncts etc., but somewhere along the way, the basic concept of, "I can be prepared for this, and I can be prepared for contingency actions, let me focus on this one issue and let me get this stabilized", because that is the foundation for the rest of the patient evaluation and care.
JW: What is the last book read or gifted?
CK: I asked our Board of Directors to read a book once I became president. I will ask everyone else to read it because I think it is a sign of the times. I don't like to give reading assignments, especially books these days. Give me something that is a two-minute read or ten-minute read.
The book is called High Conflict by Amanda Ripley. It is about conversation and the way people are acting today; where today, winning the argument is more important than what you are debating or why you are having the discussion in the first place.
It is time for us to remember that we are people; there are some things we all want or some things that we disagree on. We should be talking with each other and not at each other. Somewhere along the way things get very heated; I have a certain boiling point, I am going to speak even louder or more vehemently, or I am not going to even listen to you anymore. This is versus, "Let me hear what you are saying, and if you are willing to exchange and reciprocate we are actually going to find out most of the time we are not at that bad of a disagreement, or we do disagree but at least I understand your perspective." If we can do that more as a country, as a community and as well as a specialty, I think some of the infighting we're having and some of the divisiveness will actually improve. I think because of COVID, social media, and current politics, we are really yelling at each other instead of talking to each other. As emergency medicine physicians we are good at working with people – we work with our consultants, our teammates etc. On shift, you say, "I understand your perspective, can you listen to mine? Okay, now what is right for the patient?" We have that skillset, we just don't always remember it because at times it can be glossed over.
You may find the Amazon link to the book, here. Dr. Kang has been very vocal in his support for the ACEP sections, if you have something you would like to discuss or an item you think ACEP needs to be involved with, reach out to us here.