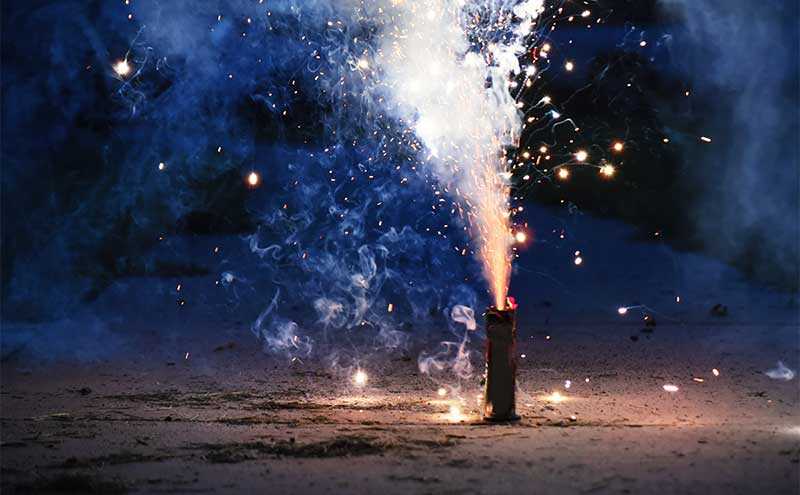 Firecracker and Blast Injuries
As a child, my father told me a story about his neighbor who had a mishap with a firecracker and blew off the second through fourth digits. He would then hold out his thumb and pinky and wave to me. This scared me to such an extent that I still have never lit a firecracker, even during my less frontal lobe-oriented teen years. I now think that this story was a fabrication—but it is not that far off from its realistic basis.
Fireworks are most popular during the month surrounding July 4th in the US. These colorful combustibles have been around in the US since July 4th, 1777, and we spend more than $700 million dollars per year on them. There are many varieties and categories from novelty and daytime fireworks (both generally have smaller explosions) to the larger aerial fireworks and a host of nuanced state laws which allow for an all, some, or none approach to sales.
Although young adults 20–24 have the highest rate of injury, children younger than 15 accounted for 31% of injuries (CPSC Fireworks Report 2016). Even those assumed-to-be-safe sparklers had 900 associated injuries as they burn at temperatures greater than 1800 degrees Fahrenheit. The parts of the body most often affected were hands and fingers (an estimated 33 percent); head, face, and ears (an estimated 20 percent); legs (an estimated 18 percent); eyes (an estimated 9 percent); and arms (an estimated 8 percent). Sixty-nine percent of the emergency department-treated injuries were burns. Burns were the most common injury to all parts of the body, except the eyes, where contusions, lacerations, and foreign bodies in the eyes occurred more frequently.
A meta-analysis of ocular firework injuries noted that the majority of injuries occurred in males (75%), under the age of 30 (67%), and that 47% of these cases were in bystanders. The extent of injury ranged from mild and temporary to severe ocular trauma (18.2%) and enucleation (3.9%). Severe vision loss was identified in 16.4%. One of the major conclusions of this study was noting that countries with more restrictive fireworks laws show an 87% lower trauma incidence rate. Likewise, allowing heavier-class fireworks is associated with increased numbers of severe trauma.
Of all the children with fireworks-related injuries, 91.6% were treated and released from the hospital ED, 5.3% were admitted, 2.3% were transferred to another institution, and 0.8% resulted in other/unknown dispositions. Hospitalization was required for 14.4% of the children with illegal fireworks injuries, 5.3% of those with aerial device injuries, and 5.2% of those with firecracker injuries. Although the rate and the severity of injury have been on the decline since the latter part of the twentieth century, there remains a significant problem.
It is safe to say that fireworks and other combustibles are not that safe. The American Academy of Pediatrics has, in the past, lobbied for greater regulation of sales of fireworks to the general public. As well, they have counseled families to attend public firework displays put on by professionals and with appropriate distance and barriers in place for safety. As an ED physician, be aware of the injury patterns and attempt anticipatory guidance on safe summer practices any chance that presents itself.
References:
American Academy of Pediatrics, Committee on Injury and Poison Prevention. Fireworks-related injuries to children. Pediatrics.2001;108 :190– 191
Berger LR, Kalishman S, Rivara FP. Injuries from fireworks. Pediatrics 1985; 75:877–82.
McFarland LV, Harris JR, Kobayashi JM, et al. Risk factors for fireworks-related injury in Washington State. JAMA 1984; 251:3251–4
Wisse RPL, Bijlsma WR, Stilma JS. Ocular firework trauma: a systematic review on incidence, severity, outcome and prevention. British Journal of Ophthalmology 2010; 94:1586-1591.
Witsaman, RJ, Comstock, DR, Smith, GA. Pediatric Fireworks-Related Injuries in the United States: 1990-2003. Pediatrics 2006; 118 (1) 296-303
Jonathan Eisenberg, MD