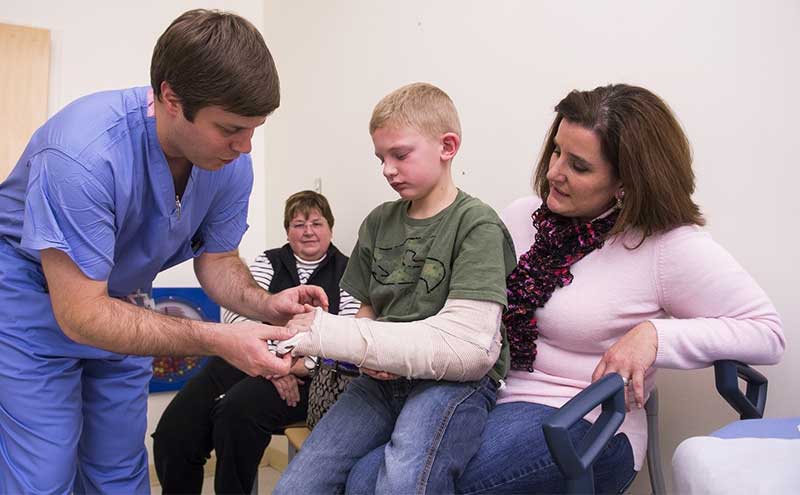 Breaking News: Handling Pediatric Orthopedic Trauma
I had the opportunity to sit down with Dr. Jill Flanagan, a pediatric orthopedist in Atlanta, to gather her expert opinion on how to handle common issues that present themselves while on shift in the ED. Dr. Flanagan completed her medical school and orthopedic residency at George Washington University School of Medicine, followed by training with the Children's Orthopedics of Atlanta fellowship program.
Dr. Griffiths: A common complaint we have with many of our college members is the lack of pediatric orthopedic availability on-site combined with the closest pediatric specialist being quite a good distance away from the referring facility. What kinds of fractures can be splinted and addressed at a later time versus those which absolutely need to be transferred that day/night (besides ones that are open or grossly displaced)?
Dr. Flanagan: Firstly, calling the site to which a child might be transferred and discussing the case with the on-call orthopedist is a good first step. For reference though, fractures such as lateral condyle or forearm fractures can wait up to a couple of days, particularly as it will allow time for the swelling to go down.
Injuries that need more immediate attention include, but are not limited to, supracondylar, displaced growth plate, femur and tibia fractures.
Dr. Griffiths: Emergency physicians are quite familiar with the various splints that need to be applied but occasionally run across issues such as children developing ulcers, particularly in the lower extremity splints. How do we best prevent the ulcers?
Dr. Flanagan: I find most emergency departments are using prefabricated splints since it is easy to put on but the downside is that it doesn't mold as well as plaster. Issues with ulcers in the lower extremity splints don't occur because they are walking on it but because of the poor molding that is inherent with the prefabricated splints. While putting on the splint, one could put in additional padding using either Reston foam or 3 extra layers of padding around the heel. One pro-tip is to have them "float their heel" when they go home. By applying pillows under the leg and allowing the heel to hang free, it decreases the pressure.
Dr. Griffiths: What are some things that you wished referring hospitals would do differently prior to transfer of the patient? I know for me, when I take a transfer call I'm always cognizant of whether the patient has received adequate pain control in the referring department and ensuring there is a plan for pain control en route.
Dr. Flanagan: Good question, and I do have a few things that I hear consistently that could be improved.
Not sending a de-identified x-ray to the orthopedist (via secured text message or email). It's so much easier to understand the situation and construct a plan when the orthopedist can see the image
For femur fractures—not getting a foley catheter. These patients end up retaining so much urine because they don't want to use the urinal or bed pan because that causes so much pain
Antibiotics not being given within 3 hours for open fractures (especially forearms, which tend to be missed). This has been found to be more important than the time to the OR.
Dr. Griffiths: What are some good resources for non-orthopedists to reference? I know of orthobullets.com. Are there any other good ones we should keep in mind?
Dr. Flanagan: Absolutely. I would say:
Orthoinfo.org (from the American Academy of Orthopedic Surgeons)
Orthokids.com (from the Pediatric Orthopedic Society of North America)
Wheeless' Textbook of Orthopedics (wheelessonline.com)
Mark Griffiths, MD, FAAP, FACEP