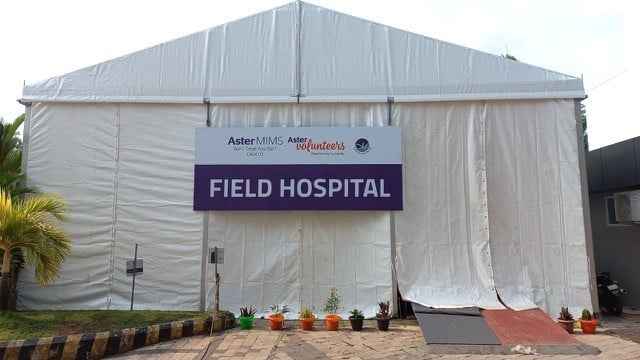 Aster MIMS Calicut: A Southern India Hospital's Investment Helps Turn the Tide
As the world watched aghast at the heart-breaking scenes in India emerging from parts of Delhi and Maharashtra for the past two months, it is clear that aspects of the Indian health system have broken down. There have been at least 29,000,000 confirmed cases of coronavirus in India according to the Ministry of Health and Welfare and, as of June 17th, the official death count stands at 381,903, which experts believe is a gross underestimation. While every one of these deaths is a tragedy, there are also stories of lives being saved as some hospitals have successfully and rapidly surged their capacity many fold to meet the demands of this crisis. These stories also need to be told. By recognizing, examining, and amplifying the ways in which ordinary doctors, nurses and healthcare workers have risen to the challenge in this time of crisis, India and the world, can learn lessons from this tragedy, and perhaps avoid repeating it in the future.
One such example can be found in the city of Kozhikode in the southern Indian state of Kerala, which last month became an epicenter of coronavirus cases that defied the media headlines. As of late May, Kerala had reported 2,263,959 cases of COVID19, that is 6,777 cases per 100,000 population, making it one of the most severely hit states in India. Yet the death rate in Kerala never crossed 21 per 100,000, far fewer than compared with the 134 death per 100,000 in Delhi. This relative success has been in no small part due to the efforts of Kozhikode frontline emergency care providers.
At the peak in May, the Emergency Department (ED) at Aster MIMS Calicut Hospital in Kozhikode, provided care for 150 patients a day, almost all of whom were sick with COVID-19. At the time, the city was tracking around 5,000 cases per day and steadily increasing. A quarter of these patients were stable enough to be sent home with home based care, including pulse-oximetry monitoring and virtual visits with a physician-nurse team. The other 75% required admission, most of whom needed ICU level of care for concentrated oxygen support.
Normally, a 30 bed ED staffed by 5 consultants and 12 residents the MIMS ED had to rapidly increase their capacity to manage the surge. By converting low acuity treatment areas, waiting rooms, and even the hospital prayer room into additional bed space, the MIMS ED team was able to add 75 additional beds, 45 of which are equipped for ICU level care. In addition to expanding bed capacity within the hospital, the MIMS ED team is also creating new treatment areas outside of the hospital. Last month, Aster MIMS Calicut built a field hospital in a nearby parking lot to expand treatment areas for COVID positive patients. Build in just one day, the field hospital was filled to capacity a day later.
The team have been able to respond to the surge in demand by increasing their staffing, hiring 8 additional consultants and recruiting 80 new nurses to match the increasing demand without the hospital keeling over and without the need to turn anyone needing lifesaving treatment away.
A response of this magnitude and sophistication has not come overnight, but instead through purposeful and dedicated commitment to the strengthening of emergency services under the tireless leadership by Dr. Venugopalan.
An anesthesiologist by training, Dr. Venu realized that there was unfilled gap in trained emergency care providers, and lives were being lost due to the lack of timely care. So 14 years ago Dr. Venu, in partnership with George Washington University, started with a humble endeavor to train 2 specialist in emergency medicine in his small hospital in his home town of Kozhikode. Fast-forward 14 years and the program is now home to a 3 year emergency medicine residency that staff ED's at 4 different hospitals in Kerala, and has trained over 200 emergency physicians, 1125 paramedics, and 325 EMT's.
His reach does not stop at the hospital doors, but includes prehospital care systems development, bystander CPR training, and disaster preparedness. It is this vision, experience, and preparation that has made him and his team more prepared for the COVID crisis they are facing today.
As COVID cases and deaths across India have begun to decline, and local lockdown measures are slowly lifted, the ED team at MIMS Calicuit quietly continue to implement creative solutions and improve patient care. Given the importance of oxygen in treating COVID-19, and fears of widespread shortages across India during the worst of the surge, judicious use of oxygen became essential. Utilizing their years of experience, they were quickly able to adapt local protocols and incorporate simple effective measures such as awake proning for inpatients and at home, and setting thresholds for oxygen use. MIMS ICUs have also implemented novel treatment approaches including music therapy for ICU patients to improve patient comfort and decrease incidents of delirium. During the worst of the second wave, MIMS-Calicut was reporting less than 5% delirium rates among ICU patients.
Though the second wave of the COVID pandemic in India has begun to recede, as of mid-June India is still reporting around 70,000 new cases per day. In the wake of a faltering vaccination campaign, and numerous political and religious gatherings, the possibility of an impending third wave looms heavy on the minds of India's healthcare workers. In the meantime, frontline providers like Dr. Venu and the ED team at MIMS-Calicut continue to stand guard, devising innovative solutions, and providing life-saving care to the people of India.
Kevin Davey, MD - Assistant Professor, George Washington University
Katherine Douglass, MD, MPH - Associate Professor, George Washington University
Shweta Gidwani, FRCEM - Consultant Westminster Chelsea NHS Trust, Adjunct Assistant Professor, George Washington University
The piece was written based off interviews with several of our partners in Kerala, most notably Dr. Venu who is featured.