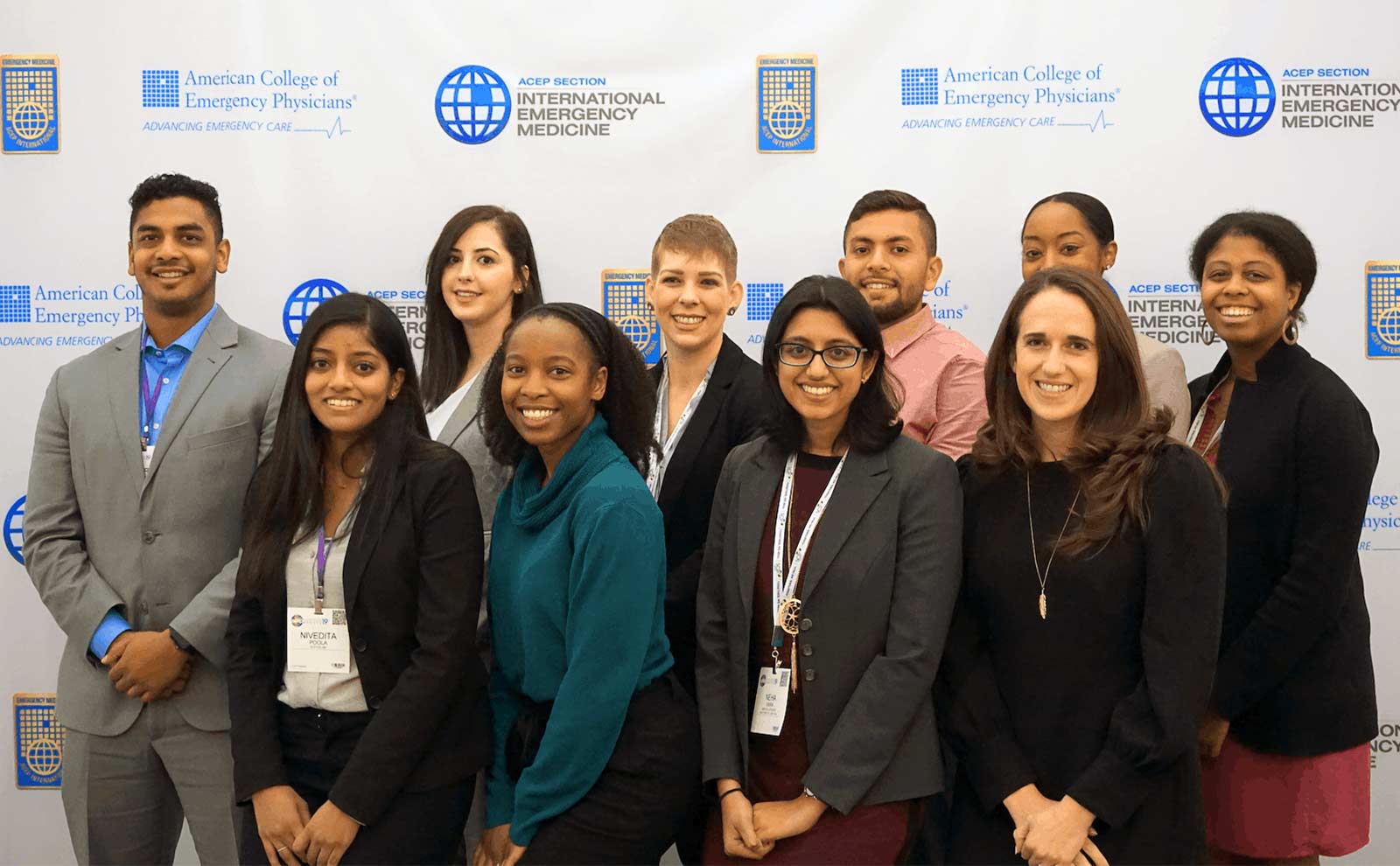 Ambassador Mentorship Program
Background
The specialty of emergency medicine does not exist or is in early stages of development in many countries around the world. The ACEP International Ambassador Program consists of emergency medicine physicians practicing in the United States who represent ACEP and help promote the development of emergency medical care and emergency medicine as a specialty in countries where they have significant professional interests and connections. Currently, the Ambassador Program has Ambassadors to more than 80 countries around the world. The International Ambassador Conference convenes the ACEP International Ambassadors yearly to give updates on the countries they represent and to work on initiatives that promote their common goals. One of these initiatives is the Ambassador Mentorship Program. This mentorship program emerged from EMRA's student members' desire for mentorship in global emergency medicine. During the ACEP International Ambassador Conference in 2017, EMRA proposed a mentorship program matching International ACEP Ambassadors with medical students interested in global emergency medicine.
Goals
To match EMRA medical student members interested in global emergency medicine with ACEP International Ambassador Mentors.
To familiarize students with the current state of emergency medicine in different countries around the world.
Through participation in projects of the ACEP International Program, to educate students about professionalism, leadership, and teamwork.
To provide an overview of global emergency medicine work including research, education, development, humanitarian work, and ethical-implications.
To provide mentees with a network of contacts in global emergency medicine they can use to discuss their professional interests.
Mentors Are Expected To
If possible, attend the ACEP International Ambassador Conference on October 27th, 2019, including the AMP Orientation in the morning and working groups in the afternoon.
Have a monthly check-in via email, phone or videoconference with mentee, to discuss progress of academic project and ACEP Ambassador Program Work.
Supervise mentee's journal club preparation. Mentee will be in charge of leading one journal club with fellow mentees. A topic in global EM will be assigned by the program director. The mentor will review the mentee's article selection and discussion points prior to journal club.
If available*, assist in an academic global emergency medicine project and assist the mentee in developing their final presentation prior by going over content and reviewing slides prior to presentation.
Be interested, enthusiastic and committed to the success of their mentee.
Be available to offer mentee advice related to a career in global emergency medicine.
Fill out six month and final mentee and program evaluations.
*See "Academic Project and Capstone Presentation" below for further information
Mentees Are Expected to
Attend the ACEP International Ambassador Conference on October 27th, 2019 in Denver, CO including the AMP Orientation and working groups in the afternoon. Unfortunately, there is no funding through ACEP or EMRA for this program and all costs associated with travel to ACEP are the responsibility of the student. Additionally, EMRA and ACEP are not responsible for travel security, costs, and liability that may result from connections and relationships through the program. It is not necessary for mentee to register for the overall ACEP Conference to attend the Ambassador Meeting. Associated costs may include travel, lodging, and meals, among others.
Have a monthly check-in via email, phone or video conference with mentor, to discuss progress of academic project and ACEP Ambassador Program Work.
Participate in all journal clubs via videoconference throughout the year.
Choose articles, prepare discussion points, and lead one of the journal clubs on pre-assigned global emergency medicine topic.
Participate in a global emergency medicine academic project* or literature review for capstone presentation during the International Ambassador Conference in 2019.
Work 1-2 hours per week on ACEP Ambassador program projects assigned by the program leadership including but not limited to membership data management, website maintenance/development, report and proposal writing, and research.
Fill out six month and final mentor and program evaluations.
*See "Academic Project and Capstone Presentation" below for further information
Mentor-Mentee Assignments
Each Mentee will be assigned one Ambassador Mentor. Efforts will be made to assign the mentee to a mentor from one of the mentee's countries of interests as expressed on the mentee's application. However, if the ambassadors from those countries are not available as mentors, an ambassador from another country interested in being a mentor will be assigned at the discretion of the AMP directors. Students applying to be mentees in the program must be willing to have a mentor who is not from one of their countries of interest. In the event an Ambassador leaves the program, or is unable to continue being a mentor, the mentee will be reassigned to another Ambassador mentor at the discretion of the AMP leadership.
In the event of an insurmountable personality incompatibility between the mentor and mentee as perceived by either the mentor or mentee then the AMP leadership should be informed by either or both parties to request reassignment. This should be a rare occurrence.
Recruitment Timeline
Student application deadline July 15,2019
Ambassador Conference Attendance 2019
The Ambassador Mentor should make an effort to attend at least the afternoon AMP orientation session and the Ambassador Conference Breakout Sessions in the afternoon with their mentee. Mentor and Mentee should exchange contact info and set up a time to talk in the next week or two to decide on academic project for the year and decide how to best keep in touch during the rest of the year.
Academic Project and Capstone Presentation
The goal of the academic project is to expose mentees to academic work in global emergency medicine, so they can gain skills they can apply to future projects. The mentee should spend 1-2 hours per week working on the project throughout the year on average. The academic project may be selected through 1 of 3 avenues
Option 1: Help create/update country report: Mentor provides contacts, mentee conducts phone/skype interviews and drafts country report with advising of mentor.
Option 2: Write a three page article on a global EM topic agreed upon by the mentor and mentee and approved by AMP committee. AMP Committee will review paper and provide feedback.
Option 3: An activity or project that exposes the mentee to global EM, to be approved by the AMP committee. Examples: work on research or implementation project, field visits, proposal writing, grant writing.
The mentor and mentee should decide on an academic project and inform the AMP director by November 15th, 2019. The academic project should be academically rigorous and of quality equivalent to an abstract presentation at a scientific conference. However, acceptance of an abstract at a conference or a publication is not required. The mentee will present her or his work at the following International Ambassador Conference in 2019, during a 10min Capstone Presentation. The mentor will check on progress of the project throughout the year, provide guidance and review slides and provide feedback prior to Capstone Presentation.
Journal Club and Group Check-ins
Each mentee will lead one journal club throughout the year. There will be 5-6 journal clubs throughout the year. All mentees should participate in all journal clubs. Each mentee is only allowed to miss one journal club during the year and should let the journal club leader in advance. The journal club will be published in November 2019 with dates, leader and topic assignments. The mentee will select two recent or landmark scientific articles and get them approved by her or his mentor and the AMP director 1 month in advance and send them to all other mentees 2 weeks in advance. Journal club will be conducted via Skype for 1 hour and all participants need to have read the articles in advance. At the end of journal club, one of the members of the program's leadership will have an informal check in with the group to receive feedback and address any issues with the program.
Ambassador Program Work
The mentee will help advance work related to the administration and projects of the Ambassador program, updating databases, proofreading, creating reports, outreach and other administrative tasks. The mentee's work should average 1-2 hours per week (some weeks more some weeks less). This work will be assigned by AMP Directors and should be completed in a timely fashion.
Assessment
Mentor and mentees will fill out assessments of the program and their mentor/mentee at the beginning, middle and end of the program. Mentors and mentees should contact the AMP directors with any concerns about the mentor-mentee relationship throughout the year. AMP directors will review assessments and feedback and feedback from participants in order to improve future iterations of the program.