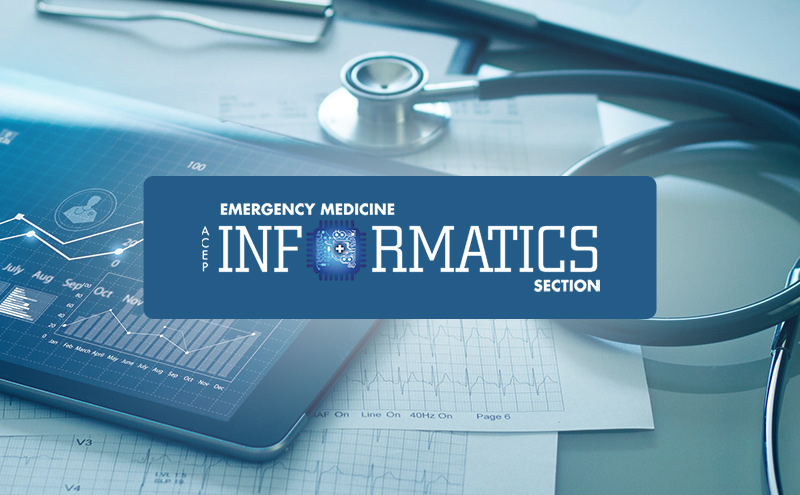 SEMI Updates from the Chair
The Annual Meeting of the Section for Emergency Medicine Informatics at the 2020 American College of Emergency Medicine's Scientific Assembly was unconventional, but it is the hope of the section leadership that it did not waver from the quality and educational value our membership has grown to expect. We heard the annual ACEP board report from Dr. Jon Mark Hirshon and a committee update from Dr. Nick Genes, immediate past Chair of SEMI and the Chair of the HIT Committee. Dr. John Manning, our Council Representative, presented summaries of the council meeting that included resolutions pertaining to our section's interests. These contained resolutions that 1) impact counting informatics fellowship training time towards FACEP status, 2) address systemic racism with a focus on standards for social determinants of health, and 3) guide the decoupling of clinical documentation from billing and regulatory requirements, to name a few.
We then enjoyed an educational talk from Dr. Chris Alban from Epic who discussed the 21st Century Cures Act and its impact on emergency medicine informatics. This was followed by our elections. Dr. Carrie Baker, current Secretary/Newsletter editor has been selected as Chair-elect and will become Chair of the section at ACEP2021. Dr. Indira Gowda has been elected the new Secretary and Newsletter editor. Dr. Mark Baker was elected Section Councilor and Dr. Zack Jarou was chosen as his alternate.
Finally, the Section sponsored a panel discussion entitled: "What Did We Do Right/Wrong – The Future of Emergency Medicine Driven by the Technology of the Pandemic". The discussion was moderated by own Dr. Todd Taylor and featured dialog and comments from a number of leaders in HIT including Dr. John Handler, Dr. Brian Fengler, Dr. Mike Gillam, and Dr. Vern Smith. Discussion topics included: 1) what existing technology aided in our response to the pandemic, 2) what technology failed us, 3) what political hurdles will impact HIT, 4) how contact tracing and surveillance and be improved, and 5) other future impacts the pandemic had on emergency medicine.
I hope the members of the section found this year's unconventional meeting informative and interesting. Emergency Medicine informaticists have been an important part of the recent response to the pandemic, despite many of us suffering from reduced hours, difficult working conditions, and illness afflicting our patients and sometimes even ourselves and loved ones. I truly hope this meeting brought some sense of normalcy to your year. I look forward to a brighter future, and the chance to see you all in person at ACEP21. Recordings of the Section meeting and panel discussion will be made available on the Section website.