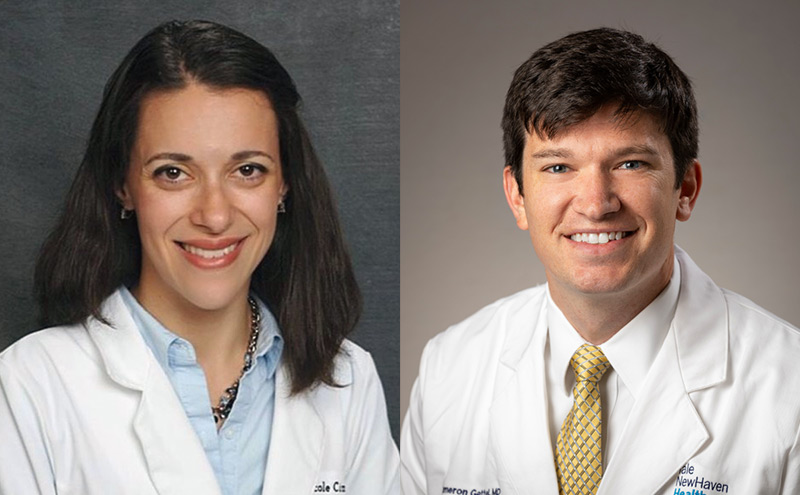 Feature Piece
Geriatric Experts: Nicole Cimino-Fiallos, MD, FACEP; Cameron Gettel, MD
Nicole Cimino-Fiallos, MD, FACEP is a lifelong Marylander working in Western Maryland at Meritus Medical Center. She graduated residency from the University of Maryland Emergency Medicine program in 2017. Dr. Fiallos developed her interest in the emergency care of older adults during her senior project in residency, which focused on elder abuse. Nicole and her husband are celebrating their 10th wedding anniversary this year and have two little girls.
Nicole joined Meritus Medical Center one year ago and sought to re-create the geriatric ED experience that was so successful at her previous site. While not every emergency department can afford the expense and time required for the physical construction of a geriatric emergency department, any emergency department can create a better experience for older adults by making small changes. Nicole mentioned they've worked hard to develop protocols focused on the improvement of their geriatric experience in the department, including universal dysphagia screening and a more formalized process to establish patient's end-of-life wishes and appointed medical decision-maker. They dedicate time each month to provide education for nurses and clinicians to highlight unique clinical challenges seen in this patient population.
Nicole is currently a GEDA reviewer and has completed a handful of Level 3 application reviews. When reviewing other sites for the Geriatric ED accreditation, Nicole is impressed by how customized the applications are to each site and the patients the site serves. She notes that each site finds a unique way to address the specific challenges that they experience when caring for their older adults. No two applications are the same; that is the beauty of the GEDA program. Nicole also admires the creativity of sites who use their EMRs to help them solve problems in their geriatric emergency departments. "Too often, our EMRs bog us down, but the EMRs of these sites now use embedded screening tools and AI to identify patients that would benefit from additional resources and specialized care" stated Nicole.
Cameron Gettel, MD is currently an Instructor in the Department of Emergency Medicine at the Yale School of Medicine and a postdoctoral fellow in the National Clinician Scholars Program. Dr. Gettel's early career work centered around care transitions in the geriatric population, fall prevention, and Medicare policy evaluations. He and his wife, Alicia, are keeping busy with their 16-month-old daughter, Aviana.
Yale New Haven Health System EDs are currently not yet GED accredited. Working with Dr. Ula Hwang, Cameron's goal is to engage team members to attain GED Level 3 at all sites by focusing on delirium/dementia screening protocols or goals-of-care discussions.
Relevant to his immediate future goals for GED accreditation, a recent review that he conducted sought to implement an innovative two-stage delirium screen conducted by the triage nurse for all adults 65 years or older. If delirium is identified through the 4AT screen, the patient is flagged and subsequent actions include:
Non-benzodiazepine geriatric-preferred option made available for agitation if needed,
SBAR handoff of positive delirium results and recommendations for an inpatient screen if the patient is admitted,
Outpatient geriatric clinic follow-up considered and 48-hour patient callback if the patient is discharged.