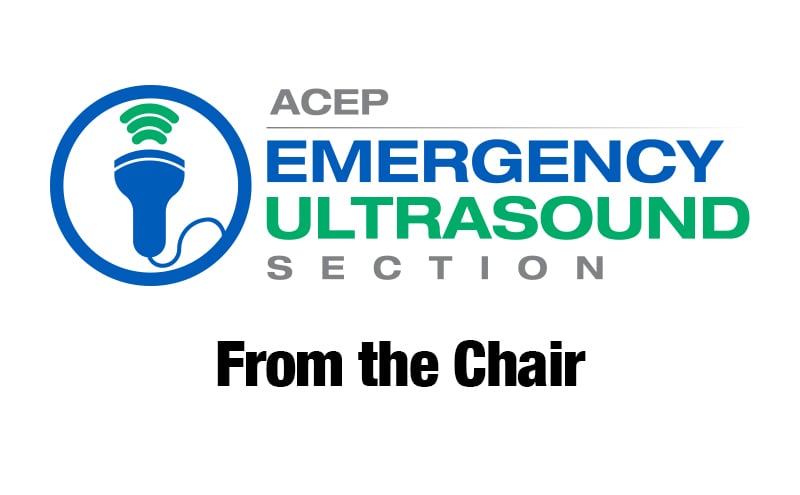 Chair's Letter
Michael Gottlieb, MD, FACEP
ACEP EUS Chair
Associate Professor of Emergency Medicine
Director, Emergency Ultrasound Division
Program Director, Clinical Ultrasound Fellowship
Department of Emergency Medicine
Rush University Medical Center
Spring is beginning soon (and eventually the weather will catch up). This is the season of growth as we see flowers bloom and leaves growing on trees. For senior residents and fellows who are nearing the last few months of training, this is the best time to ask those complex questions, try out the more advanced ultrasound techniques, and (hopefully) begin closing out your research projects. For faculty remaining as lifelong learners in an ever-expanding field of ultrasound, we must continue to grow our knowledge, expand our approaches, and conduct and analyze the new research challenging and advancing approaches we learned in our training.
In this issue, we will be covering a wide breadth of important topics in ultrasound, ranging from clinical applications to research, leadership, artificial intelligence, and more. We start off with John Kendall and Melissa Barton, who share updates on the 2022 AEMUS examination statistics and some lessons learned. Then, Stephen Alerhand and Nova Panebianco discuss the Critical Care Echo examination and the role for Emergency Physicians (as well as the limited time left to do so outside of Critical Care Fellowship). From here, we then have an excellent primer on diastology from Natalie Truong, Zan Jafry, and Lindsay Taylor, featuring the brand new diastology cards from the ACEP EUS Critical Care Subcommittee.
Need some articles to improve your next journal club or just trying to figure out the next articles you should read, look no further. Di Coneybeare, Alexis Salerno, and Judy Lin describe the Literature Canon project from the ACEP EUS Fellow Education Subcommittee.
We are also very excited to share a new feature in the newsletter – ask the experts! In this issue, we have our first round from several leading experts in the field. Hamid Shokoohi shares pearls for being prolific in POCUS research. Then, Chris Fox enters the "Sono Hot Seat" to discuss being a leader in emergency medicine, followed by Mike Blaivas on clinical innovations and artificial intelligence. These are must-reads from leaders in the field distilling decades of expertise into key insights and pearls.
Finally, we have updates and highlights from four of our many amazing subcommittees. Zan Jafry, Bob Stenberg, and Lindsay Taylor write about the Critical Care Subcommittee (don't forget to check out their amazing pocket cards if you have not already!). Then, Lindsay Tilt and Matthew Kusulas share the abundance of new resources from the Pediatric Subcommittee. Tiffany Fong, Trent She, and Liang Liu highlight their crowdsourced POCUS question bank, ultrasound speakers matrix, and ultrasound fellowship application tool kit – three great resources for residents and faculty alike! Finally, Joseph Pare and Frances Russell summarize their many initiatives, including the ACEP EUS Research Subcommittee webinars, recommendations for ultrasound research reporting, and the SAEM AEUS collaborative ultrasound research resource.
Spring is a great reminder that there is always more to learn and hopefully this issue will help us all grow a bit more in our expertise within ultrasound in the clinical, educational, research, and leadership realms.