The Game Plan
Every emergency physician is familiar with the high gear mode that one automatically flies into when that true emergency shows up in the department. The heart rate may go up, reflexes quicken, or one might paradoxically shift into a calm autopilot mode. Everyone handles these emergency pressures in their own way, but everyone has their game plan. The problem with disasters is that they take us out of our usual routine emergency response mode. Disasters are generally rare in their occurrence and while we all prepare for these events, we do not have the same number of experiences to fall back upon when providing care under these circumstances. Also, the usual infrastructure that supports emergency response frequently is thrown into a state of disorder. When speaking with individuals about their disaster experiences I am always impressed with the flexibility and creativity used to overcome obstacles to the delivery of care. I am convinced that this open-mindedness during catastrophes helps individual medical responders and health systems adapt in these very difficult circumstances.
EM Physicians Can Succeed When Their Game Plan is Disrupted
Like a great quarterback that can make a touchdown out of a broken play, EM physicians can succeed when their game plan is disrupted. Sharing difficulties encountered during disasters can help others add to their own repertoire of planning and "back up plays" during disaster response. With this idea in mind, I will share some observations. While these situations occurred at the scene, all translate into the hospital ED settings as well.
Even before getting the call, it behooves one to get the "go bag" truly ready. This means not scrambling around replacing previously used equipment when the disaster call goes out. Gathering supplies in a haste results in lost time that can be used preparing for other less predictable parts of the disaster. Since you cannot haul everything, streamline your mobile supplies. If you need to leave your emergency department to treat patients in another location or if you must evacuate your emergency department, what can you reasonably take with you to do the most good? If you have any heads-up time, quickly organize your thoughts about what problems you expect to encounter, how you will respond, and your expected back up plan. Get your entire team on the same page so you are working in concert with each other and not as separate entities.
Forge a Path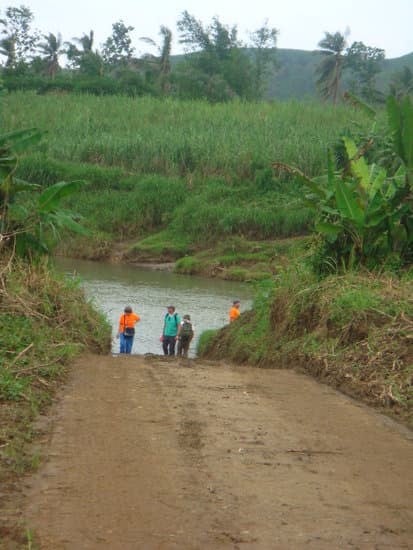 Typhoon Haiyan:- The Road to Nowhere
Getting to and from a disaster site can be extremely difficult and at sometimes dangerous. This dilemma can prevent patients from reaching a hospital, emergency personnel from getting to a base of operation, or medical facilities from evacuating. Healthcare facilities, fire departments, and law enforcement should pre-plan for primary and alternative pathways of travel. During a disaster it is necessary to identify transportation hazards such as downed limbs, downed power lines, chemical spills, gas leaks, among others. While personnel should block hazardous roadways, a defined pathway should be secured for emergency vehicle traffic to safely pass unimpeded. Inevitably uninjured citizens who are not involved in emergency care migrate to the area to check on relatives or loved ones. A separate thoroughfare for these individuals should be identified as well as a reunification site if indicated. Establishing similar access to helipads and airports is essential. In addition, alternative aerial take-off and landing options must be designated during disaster planning.
First responders may make decisions based upon several factors that that are not apparent once the patient reaches definitive care. Trust they have provided excellent care.
It seems that no matter how much planning goes into communications, there is always some sort of glitch. Creating multiple back up plans and practicing them is helpful. When using shared communication lines, limiting time to essential concise communications will allow EMS, fire, and law enforcement to more efficiently control the scene.
When the smoke has cleared, take the time to honestly debrief and form constructive suggestions that will help you get through the next event. Sharing the tips and tricks you picked up along the way, is generally received with great appreciation and advances emergency preparedness.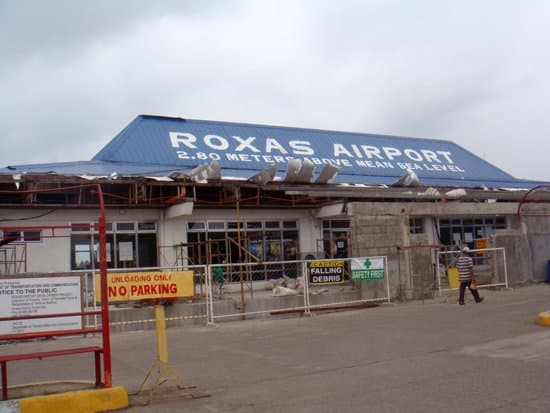 Roxas Airport, Philippines, Destroyed during Typhoon Haiyan 6,340 total fatalities
Collaborating with other disciplines and respecting their contributions goes a long way toward helping you troubleshoot issues you may encounter. Owning your own role in the emergency response is great but recognizing the expertise that other professions bring to the table benefits both you and your patients. First responders are extremely helpful in identifying resources and prove to be excellent in triage and providing care under adverse conditions
"I always tried to turn every disaster into an opportunity" by John D. Rockefeller
Lillian Lockwood, MD, FACEP