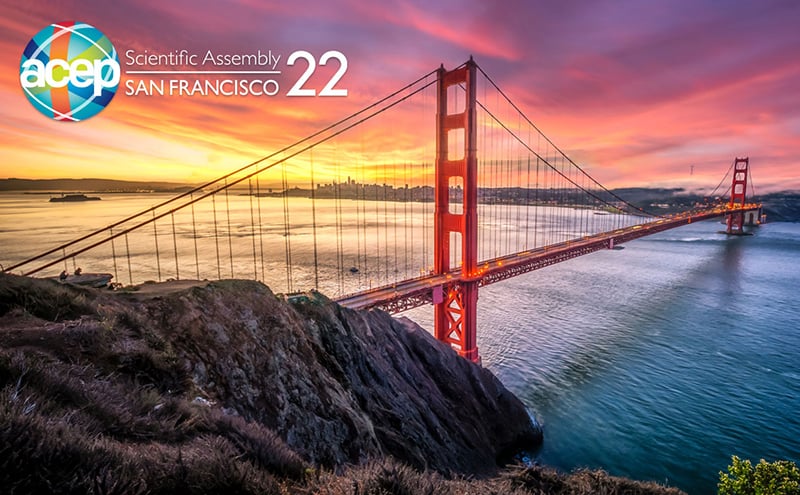 What You Need to Know for AAWEP's Section Meeting at ACEP22
We look forward to seeing you in San Francisco for ACEP22! Not only is the education going to be excellent, but the opportunities to see your friends and colleagues at AAWEP will make it that much greater. Join us for meets, greets, sweets, and treats at ACEP22! Desserts, soda, and coffee will be available, along with an impressive selection of AAWEP "swag." Here is what you need to know for the AAWEP Section meeting at ACEP22:
AAWEP Meeting Details:
Saturday, October 1st from 1:00–3:00 pm PST at the Hilton Union Square Hotel in Yosemite C Ballroom.
Special thanks to Envision for sponsoring the refreshments at our Section meeting in San Francisco!
2022 AAWEP Award Recipients:
2022 AAWEP Outstanding Emergency Department Director
2022 AAWEP Outstanding Mentor

Annalee M. Baker, MD, FACEP
2022 AAWEP Rising Star Award

2022 AAWEP Resident Rocks It! Award
It's Not Too Late to Register!
If you haven't already registered for ACEP22, it's not too late to join in the fun! Go here to register today.
Other Things to Do in San Francisco:
When you're not attending educational sessions or visiting the exhibit hall, you can have some fun as a tourist in San Francisco. There's so much to see, eat, and experience all within a stone's throw of the meeting. For example:
You could go explore Fisherman's Wharf or sample some chocolate at Ghirardelli Square.
You could see the sea lions, have a sourdough bread bowl with chowder at Boudin's, try Trish's Mini Donuts, or have a coffee and cookie at Biscoff Coffee Corner all at Pier 39.
You could walk down Lombard Street (or up – but that's a trek), which is famous for being a steep, crooked, downhill street and is also home to one of San Francisco's most famous haunted houses and Scottie's house from Hitchcock's Vertigo.
You could go to SF's MOMA, Palace of Fine Arts, Cartoon Art Museum, Asian Art Museum, Cable Car Museum, or SS Jeremiah O'Brien Army Museum (on a military ship, which is pretty cool).
You could take your kids to the Exploratorium (which is also interesting as an adult) and explore the wonders of science and the world around you or go to the Aquarium of the Bay and explore the marine life.
You could take a walk around Marina Green, Crissy Field, the Presidio (go see the Yoda Fountain!), or Golden Gate Park.
If you're more adventurous, you could drive across the Golden Gate Bridge and visit Sausalito, a cute little town on the coast to have lunch or dinner one day.
There are also any number of beaches to take your shoes off and sink your feet in the sand or the water (beware, it's cold!).
If you're still not convinced, check out this video.