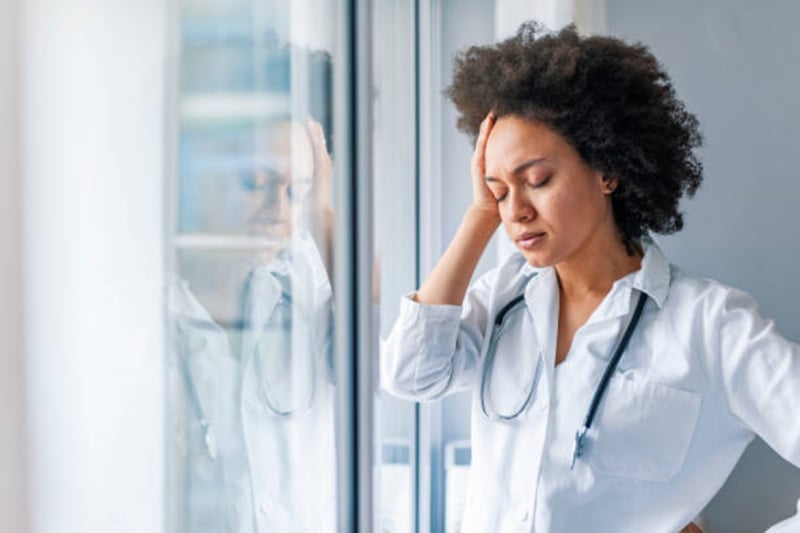 Making Change with RANGE
What drew me to the field of emergency medicine was a desire to solve problems - to help in tangible, practical ways. Sometimes the problems are simple to solve: suturing a laceration, splinting a broken bone. Others are harder to solve; lack of access to healthcare, lack of stable housing, gun violence. Despite the enormity of those problems, we strive to help each patient we encounter - to solve the problems we can within the emergency departments while advocating for bigger solutions beyond the bedside. For many of us in EM, this opportunity to help and advocate for our patients gives perspective and meaning to our demanding shifts and the time spent away from family. However, sometimes the problems seem to get bigger and harder to solve and it can take a toll; we all are acutely aware of how the pandemic has exacerbated many problems into full-blown crises and it is causing many of us to constantly reevaluate our careers and personal lives to make these hard times more bearable.
One of the biggest problems that many female physicians are faced with is how to meet both the demands of a career and the demands of our family. Women physicians share on social media their struggles with gender bias, getting paid leave, finding childcare, and hitting professional walls. Even before COVID-19, women faced a lack of sponsorship, bias in evaluations and promotions, disparities in grant funding and publications, and a disproportionate burden of childcare and domestic responsibilities. Whether it's called the glass ceiling, the leaky pipeline, or the broken rung, it is recognized that systemic barriers exist preventing women from moving up in their careers. The pandemic further exacerbated these pre-existing issues. This time though, all parents across the nation – male or female, of all careers – were affected by changes in routines, school closures, and loss of childcare all while still trying to get their work done. It felt like there was an opportunity for change and people were finally paying attention. However, as we've come out of the pandemic and 'returned to normal,' we unfortunately as a society have also returned to the norm of ignoring these issues and leaving women once again feeling like they're struggling alone in trying to #MakeWorkWork for themselves and their families. This, along with recent loss of reproductive rights protection nationally has left many women feeling angry, discouraged, and as though they're being pushed back into regressive gender roles that will hinder their fiscal and professional progress. Things seemed to have gone from bad to worse in this post pandemic era. So, what can be done? Can we solve these problems?
I was one of those physician women who really struggled with integrating work with personal life after I had kids. Add professional burnout and then trauma from the pandemic and I became one of the many healthcare workers who've all but walked away from clinical work. For a long time, my choices felt like a failure and a cop out. But ultimately, I wanted others to succeed where perhaps I've failed, so I started to reframe these changes as a chance to become a problem solver once again. Fortunately, I had the support of another EM physician mom who is a total rockstar - Frosso Adamakos - to help make RANGE happen.
The Research and Advocacy in Gender Equity (RANGE) Foundation was created with the goal of continuing these important conversations, increasing awareness, and finding ways to help women and working parents have better work/life integration as well as overcome biases related to gender and caregiving that negatively impact their careers. RANGE is a 501c3 nonprofit organization with the mission of funding research projects that help us better understand how gender equity issues affect our society as well as fund development and educational projects that create solutions to address those issues. While the problems with gender inequity may feel that much harder, if not impossible, to solve right now, there are people out there tackling the larger issues in small yet practical ways that need help and support. Please read on to learn more about how we strive to make that happen:
What does RANGE do?
Fund research projects studying gender equity issues
Fund educational and professional development programs that decrease disparities and improve retention and promotion rates for women
Increase knowledge and awareness of gender equity issues so that the public better understands how gender biases can affect everyone
Advocate for laws and policies that support creating gender equity such as paid leave, subsidizing childcare, reproductive choice, and flexible working conditions
How can you get involved?
Donate: Your donations go directly into creating grants to support these projects. We aim to keep our overhead small to make sure that the majority of our funding goes towards our mission. Our grants, even if small, can help. Our organization's focus on supporting and amplifying problem solvers already out there with grant money is a unique and impactful way to make change and create a more equitable society over time.
Grants: We are looking for volunteers to join our grants committee to help us evaluate applications and decide on recipients. For more information please visit our website
Advocacy: Interested in policy and enjoy writing? We're looking for people to contribute articles about gender equity issues, related legislation and policy issues, and help keep us on top of what's happening at the state and federal level. If you're interested in learning more-contact advocacy@rangefoundation.org
To learn more, please visit our website: www.rangefoundation.org
Help us support a RANGE of solutions to advance gender equity
We are excited to announce that thanks to our generous donors we are now able to help fund two projects in the coming year:
Reigniting the flame: Combating Burnout in Women in Academic Emergency Medicine
Dr Kavita Gandhi, Dr Riham Alwan, and Dr Kayla Enriquez from UCSF Department of Emergency Medicine
UCSF Department of Emergency Medicine's Women's Council has developed a 5-year plan based on data from an annual provider job satisfaction survey (Net Promoter). Women-identifying faculty relayed ways to increase support in their work community and combat burnout. The plan includes:
Increasing support for lactating faculty
Working with schedulers to support women returning from child-bearing leave to ease them back into their clinical workload
Designing a longitudinal mentoring program to help our junior and mid-career faculty members navigate promotion, get compensation for unpaid work, and focus their energy at work on desired interests in line with career goals
Hosting quarterly event and an annual retreat for our women faculty to hold space for wellness, promotion and community building
These interventions will be evaluated in a validated job satisfaction survey tool as well as with a statistical analysis of discrepancies in leadership, promotion, compensation, and protected time and amongst our women and men faculty.
Childcare Needs Assessment in Philadelphia Academic Medical Centers
Dr Jeanette Mladenovica and Dr Katie Wagner from GEMS Alliance
GEMS Alliance has identified four critical gaps that must be bridged in order to achieve equity for women in academic medicine and science. One of these gaps is the need for childcare. The decades of education, training, and junior faculty for women in medicine spans their childbearing years. Lack of childcare that is flexible, easily accessible for a physician's/scientist's unique needs, and affordable for their stage of career contributes to stress and burnout; delays childbearing and dissuades some from certain career aspirations. Importantly, data suggest this lack of support also impacts an individual's career trajectory at a time when career establishment is critical, and decisions concerning future careers are often determined. Individual institutions are dissuaded from these specific physician programs because of their cost, the risk of childcare that is assumed by an institution, and the need to include all employees in any program they might develop (which often limits access and flexibility). GEMS seeks to develop a new model of support for women in medicine who bear and/or care for children and funding would go towards a needs assessment questionnaire with a group of women faculty leaders in graduate medical education in the Philadelphia area. This survey is meant to be administered to students, residents, and faculty of the five medical schools in Philadelphia, PA in order to better understand the needs and issues of a diverse group of stakeholders in order to create a functional and financially sound model of childcare for graduate students, residents and faculty alike.
Lauren K. Shawn, MD