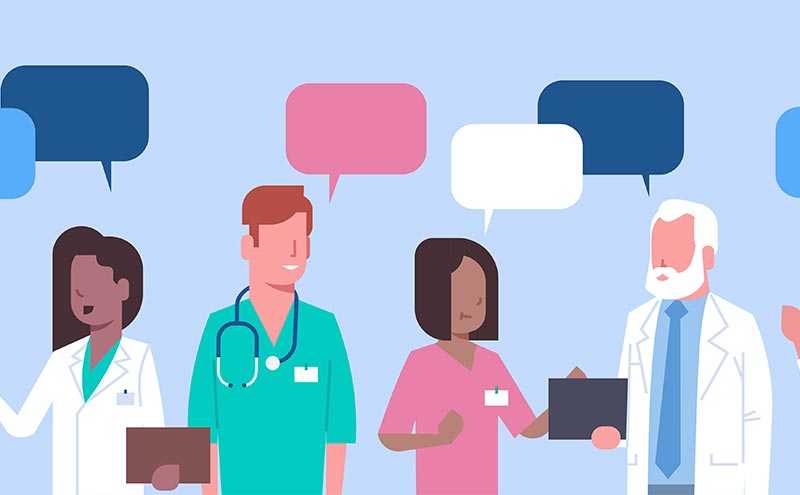 Navigating the Workplace with Advanced Practice Providers
We decided that the best way to fully understand this topic was to interview some of the people who work in our hospital. Special thanks to our lawyer (John Campano), Nurse Practitioners (Mariolina Bartolomeo, Erica Henry, Sharon LoPuzzo), and Physician Assistants (Stacy Abrams, Matt Wieland, Gibbi George) and EM MD/former PA (Ellen Sano) for their input.
Q: What terminology should I to use to refer to my NP and/or PA colleagues?
A: We were advised that our NP and PA colleagues universally dislike the terms "midlevel provider" and "physician extender." They would prefer to be referred to as either simply NP/PA or APP (Advanced Practice Practitioner). They feel that the term "midlevel" somehow suggests that their care is at a lower level or that the team is made up of higher and lower levels of care. Also the term "physician extender" is very misleading to refer to NPs in the currently 23 states in which NPs are permitted to practice independently from any collaborating physician (Learn More). One of our NPs felt that "physician extender" made it sound like they were only on the team to do scut work or help get things the doctor couldn't reach. Some use the term "Advance Practice Registered Nurse" or APRN to refer to any nurse who has Master's level education or beyond. This would include NPs and other types of nurses as well.
PA colleagues would like to clarify their name. PA stands for "Physician Assistant" and not "Physician's Assistant." The latter implies that they are an assistant and not valued for the care they provide to patients. There is some talk about changing the name to "Physician Associate," although that has not been made official. Physician Assistants are happy to be called "PA" or "Physician Assistant," just drop the 's' after Physician.
Q: What are the similarities and differences between the training of an NP and PA?
A: NP school is taught using a nursing model whereas PA school is taught using a medical model. Nursing model refers to a way of teaching that takes a holistic approach and emphasizes the impact of diagnosis, testing, and treatment on the patient whereas the medical model tends to focus more on diagnosis, testing, and treatment.
NP training involves earning a Master's degree (typically 2 years) after the 4 years of training to earn a Bachelor's in Science of Nursing. There are some NPs who get a doctoral degree although this is not currently required. There are many areas of population focus that an NP must select from before entering school. These include pediatric, adult, family practice, and acute care to name a few. During school, the NP completes both class room time and clinical rotations. Licensing boards in each state license NPs. A minimum of 500 clinical hours supervised by a faculty member is required to take the most common nationally recognized certification exams. Some NP areas of expertise, such as neonatal, require up to 1000 clinical hours.
PAs are educated at the Master's degree level, requiring a Bachelor's degree and completion of courses in basic and behavioral sciences as prerequisites. Often, particularly in the past, incoming PA students bring with them an average of more than 3,000 hours of direct patient contact experience, having worked as paramedics, athletic trainers, or medical assistants, and even foreign medical graduate physicians. PA programs are approximately 27 months (three academic years) and include classroom instruction and more than 2,000 hours of clinical rotations.
Q: What are some of the differences between APP training and MD training?
A: Comparatively, APPs do not require a residency. New graduates of NP/PA school are able to obtain a license and work almost immediately, within months of graduation. PAs are not bound to a speciality, they may choose one after graduation and switch to another as they gain experience in the workforce.
While PA school involves classroom time and clinical rotations, one of our colleagues who was a PA before going to medical school noted that medical school contained more time spent on basis sciences. Our former PA, currently MD colleague shared that no matter which type of schooling a provider starts with, the most important learning is on the job after one enters the work force.
Q: What advice do you have from a medical-legal aspect for physicians who see patients with NPs or PAs?
A: It is important to know your state's laws regarding what type of supervision is required for NPs and PAs. In some states, they need to have a physician collaborator who is available to answer questions but does not have to see patients with them in real time. It is also critical that you are familiar with your own hospital policy regarding the supervision of APPs. For example, if your hospital policy mandates that you personally see and write a note on all APP cases and you do not do so on a case that ends up in court, your failure to follow your own institution's guidelines could be used against you. It is important (as with all of your charts) that your documentation accurately reflects the actual care that was provided to the patient. For example, if you saw a patient in person with an NP or PA, you should write a brief note to document that encounter. Similarly, if the APP discussed the case with you or did not discuss it with you but you were available for questions, this should be reflected in the chart.
ACEP advises that when it comes to medical-legal risk of patients seen by an APP "the real and substantial risk (to the physician) comes from the ill-advised and not infrequent practice of blindly cosigning charts that may not maintain the critical consistency in illustrating a presentation that supports the prescribed therapy and disposition." It is important that physicians conscientiously review APP charts prior to signing and address concerns as close as possible to real time (Learn More).
Q: Does ACEP have any recommendations about the use of APPs?
A: ACEP has a policy statement titled "Guidelines Regarding the Role of Physician Assistants and Advanced Practice Registered Nurses in the Emergency Department" (Learn More). This document gives ACEP's views on topics such as scope of practice, supervision, performance improvement and ongoing evaluation of APPs. ACEP also has an information paper titled "Advanced Practice Providers Medical-Legal Issues" for your review.
Q: Do our APP colleagues have any advice, pet peeves or other suggestions for us?
A: The recurring themes were heard from our APP colleagues were about terminology (see question 1 above) and respect. Most of them had experienced being talked down to or disrespected by a physician colleague due to not knowing something the physician thought they should know. One shared that morale is better and the team functions better when NPs and PAs are given a chance to share what they do and don't know and practice at the top of their license. APPs want to be considered colleagues given their training and experience and not just "the help." For APPs, the opportunity to practice at the top of their license includes performing advanced procedures and managing a variety of patients under the supervision of a physician.
Lorna Breen, MD
Assistant Professor of Clinical Medicine
Medical Director Allen Hospital Emergency Department
New York Presbyterian Hospital-Columbia University
Joyce S. Kuo, MD
Assistant Professor of Clinical Medicine
Medical Director of EM Physician Assistants at CUMC/Allen Hospital
Department of Emergency Medicine
New York Presbyterian Hospital-Columbia University