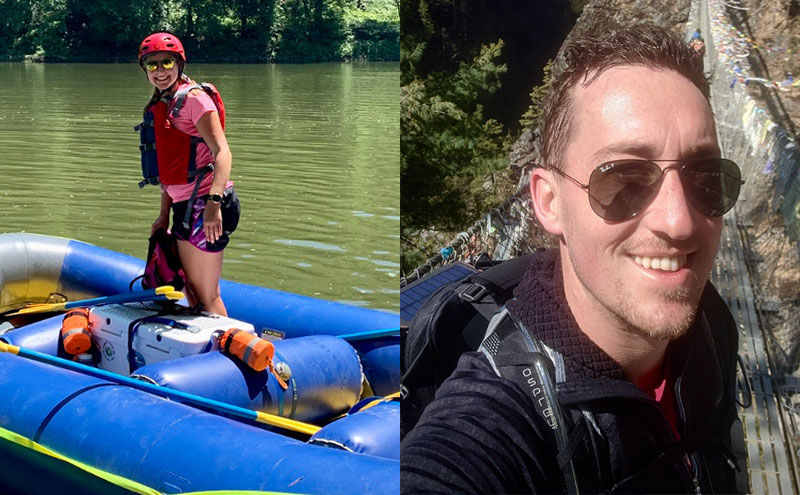 Fellow's Corner
Featuring Aubri Charnigo, MD and Brian Strickland, MD
Aubri Charnigo is the current wilderness medicine fellow at the Medical College of Georgia (MCG) at Augusta University. She grew up in Reading, Pennsylvania, and completed her bachelor's degree at Washington & Lee University (Lexington, VA) where she also learned how to backpack, camp and bird-watch. She completed her medical degree at Vanderbilt University where she was the co-president of the student wilderness medical society for 3 years. She completed her emergency medicine residency at The Ohio State University before returning to the South for fellowship.
The 2020-2021 wilderness fellowship year has presented extra challenges due to coronavirus, however, in the first 3 months of the fellowship, Aubri has been able to attend the Wilderness Medical Society virtual summer conference and take swift water rescue skills and instructor courses. She recently helped teach a hybrid version of AWLS involving both virtual and small group in-person outdoor learning sessions. She helped lead the MCG emergency medicine resident wilderness day in September, which was well-enjoyed by all the residents and faculty involved! She is currently preparing for the DiMM, which will also be taught in a modified virtual and small group format, as well as working towards her FAWM. Aubri's interests include mountain medicine, race medicine, global health & medical education. In her free time, Aubri enjoys running, climbing, hiking and spending time with family & friends.

Brian Strickland is currently the Wilderness Medicine fellow at Massachusetts General Hospital, and prior to this completed his residency in Emergency Medicine at the University of Chicago. Although he grew up in Kansas, he has moved multiple times within the Western Hemisphere, living in Indiana, California, Peru, Illinois, and finally Massachusetts. This nomadic lifestyle exposed him to a diverse group of people, hobbies, and environments. As a result, he has become an enthusiastic traveler, scuba diver, skier, and motorcyclist, and has spent his additional free time focusing on community service. As he progressed through his medical education, Brian's prior experiences led to an interest in high altitude and dive medicine, as well as working with underserved populations in austere environments.
Brian was working with the Himalayan Rescue Association at the Pheriche aid post this past spring as a volunteer physician and researcher. When the COVID-19 pandemic forced the closure of the Khumbu Valley and Everest climbing season, he evacuated back to Boston in order to assist with the surge of patients presenting to Massachusetts General Hospital. During this time, he also coordinated a study investigating the effectiveness of inhalational nitric oxide in COVID-19 patients who presented to the emergency department with respiratory distress.
In the second half of his fellowship, Brian finished the requirements for the Diploma in Mountain Medicine, helped author a book on occupational dive safety, and worked at a small ED in Kotzebue, located in Alaska's Northwest Arctic Borough. He hopes to continue these projects for the remainder of the year, and plans to return to Nepal during the next climbing season in order to resume his research and volunteer work.