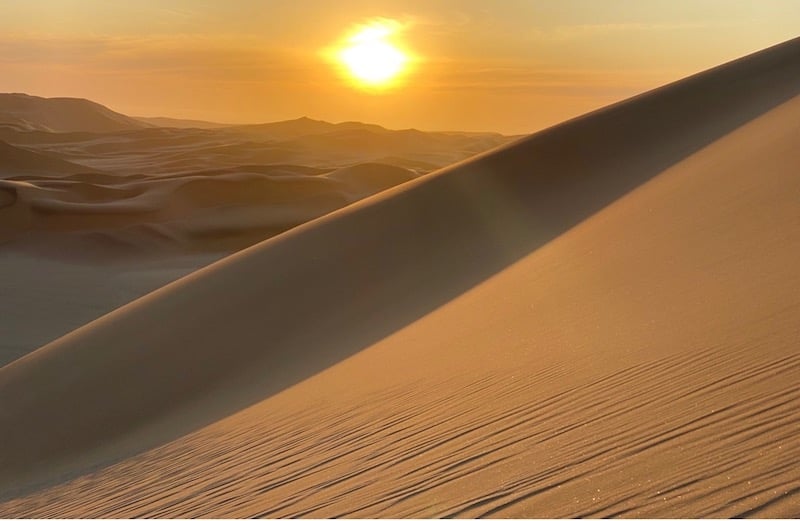 Escape to the Desert
by Patrick Burns, MD, FAWM, DiMM
Secretary/Newsletter Editor, ACEP Wilderness Medicine Section
I have just returned from the Namib Desert of Namibia after serving as medical director for RacingThePlanet's 250km self-supported ultramarathon. This stage race had competitors complete a daily marathon for 4 days before a double marathon on day 5/6 and ended with a 10km finish on day 7 all while carrying clothing, sleeping and safety gear as well as food to last them throughout the race. They are exposed to some of the harshest conditions complicated by exhaustion and battle their way through to the finish. It is a journey of grit, determination and self-reliance that can be both humbling and inspirational.
I planned to write about the preparation to provide expedition style medical care in Africa with people from over 25 countries. I planned on writing about our COVID protocols – vaccination requirements, testing requirements, timelines, contingency plans – of competitors, volunteers and local teams. I was going to wax poetic on hydration, sodium supplementation, exercise associated hyponatremia and heat stroke. I was going to write about delivering medical care in a tent - or about scorpions - or about the deadly puff adder that was in camp. I even considered writing about trephination techniques of subungual hematomas and ever-fascinating blister care (trust me, blisters at these races can be excruciating and race ending).
The more I tried to write, the more my words felt hollow. As I sat on the plane back to the US, all I could think about were the stories. Expedition length ultramarathons are about pushing limits: heat stress, physical stress, emotions and exhaustion. The race journeys are stories in and of themselves, but everybody comes to these events with their own motivations.
My thoughts kept shifting back to my friend returning from providing medical care in Ukraine to join us for the race. I kept reflecting on my senior resident who finally got to experience supporting this group of incredible humans. I thought of the first-time racer stepping out of his comfort zone to compete in his first stage race in his mid 60s. I thought of the racer struggling with breast cancer recovery, of the determination of a man attempting his first stage race after donating a kidney and of the joy in a father and son team supporting each other as they cross the finish line each day. I thought of the volunteer with a new lease on a healthier lifestyle after losing over 40 kg with the support of this community.
Not all adventures end in the way expected or hoped. With nearly a 25% attrition rate in this race, there was a great deal of heartache. I witnessed new competitors humbled by the difficulties of multiple days of competition alongside seasoned athletes bested by the scorching heat.
What continued to stand out was that last competitor across the finish line had the loudest cheers and supportive hugs from the crowd.
I treasure adventures into the Wilderness as a way to find solitude; a way to be alone with my thoughts and recenter. These journeys strip away most of the stressors of our interconnected interdependent human existence often leaving the most basic of tasks to complete: obtaining food, water and shelter. This simplification creates the space to explore my innermost thoughts – sometimes a scary place indeed. But somehow in the doldrums of duty and the exhaustion of last two years being separated from each other: physically distanced, socially distanced – It seems I had become emotionally distanced. In this race, the Wilderness of the desert reminded me of my humanity.
It also reminded me that sand dunes are epically hard to run in.