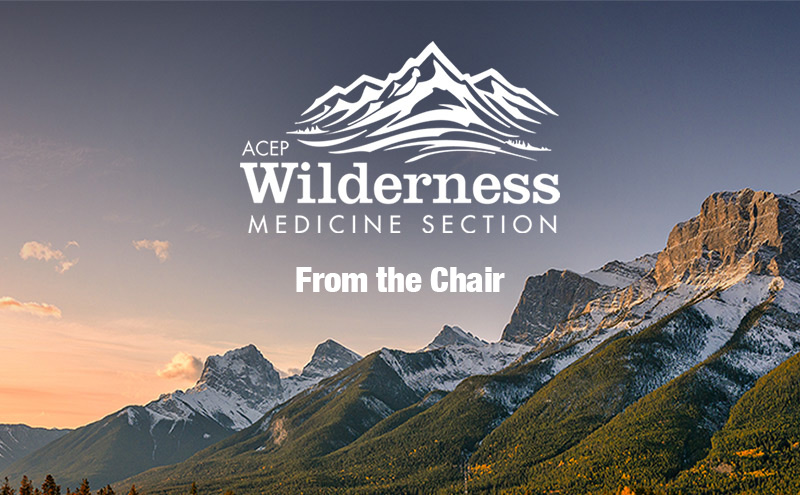 Letter from the Chair
Hello ACEP Wilderness Section! I hope everyone had a wonderful winter and spring and is enjoying the summer! It's been beautiful and not too hot so far this summer in the Sierras. The big winter snow is still melting and most of the peaks are still covered in the fun white stuff.
Sue Spano reported on the Fellowship Director's subcommittee and here are the following items they are working on:
Joining the match. Ultimately consensus from the group at this time is there is not a desire to change from the current system. This can perhaps be revisited in 5 years after continued growth of fellowship programs.
Creating a test bank. At this time the feeling is to create a location for a test bank and then will work on filling it. This has the potential to be a costly endeavor. There are options within ACEP to create a platform. Also, the hope is a joint partnership with the Wilderness Medical Society (WMS) with a central log on through ACEP as well. This is still in the works.
If anyone would like to help Dr. Spano on these projects, please reach out to her via our staff liaison.
Looking forward to ACEP19 in Denver! There is an exciting pre-conference activity happening so mark your calendars on Saturday October 26th from 12-4pm in Denver City Park! We are working with the Disaster Medicine Section on creating a fun, hands-on workshop. Registration is required for participants.
The complete list of section related activities is here:
ACEP X-TREME
A Wilderness and Disaster Section Pre-Conference
Saturday, October 26, 2019
12:00 PM – 4:00 PM
Denver City Park
$25 – Will be available via the ACEP19 registration form

Wilderness Medicine Fellowship Directors Meeting
Monday, October 28, 2019 (Day 2)
3:00 PM – 4:00 PM
Colorado Convention Center, Room 210

Wilderness Medicine Section Meeting and Reception
Monday, October 28, 2019 (Day 2)
4:30 PM – 7:00 PM
Colorado Convention Center, Room 201
Hope to see as many of you in Denver. Please keep adventuring and write some of your experiences up to share with the group on our future newsletters.
Emily Sagalyn, MD, MPH, FACEP, FAWM, DiMM