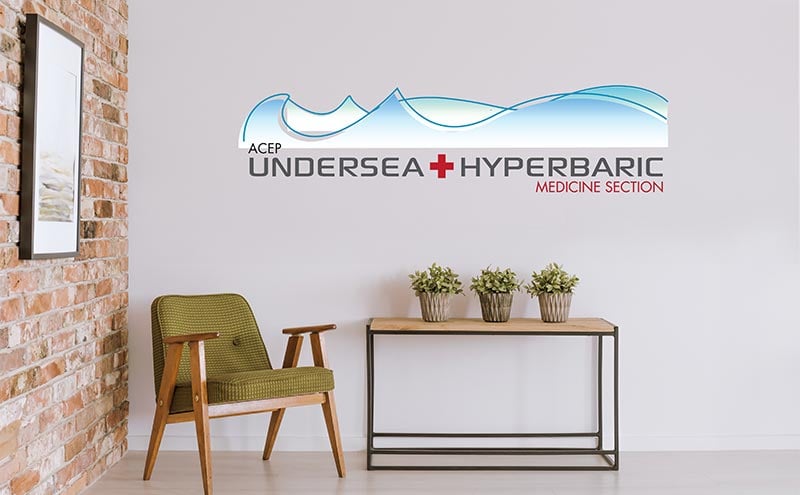 Chair's Corner
I wanted to bring the Undersea and Hyperbaric Medicine (UHM) Section membership up to date on everything that has been happening for the last several months with the section. When we met last fall at the 2019 Scientific Assembly, the world was obviously a very different place. At that time, there were several agenda items that section members and leaders felt were important to pursue for the section. The group tried very hard to address concerns of section members from all areas: from academic to private, from large groups to small. There were a number of areas that were common ground for our members, and we have prioritized those concerns.
First, national reimbursement is changing, and not for the better. Hyperbaric centers throughout the country have been forced to curtail hours and reduce or eliminate extended and/or 24 hour coverage. This reduction in coverage has resulted in untold thousands of patients having treatment for emergent hyperbaric indications delayed, or worse, denied. Conditions such as decompression illness, carbon monoxide poisoning, gas embolism, gas gangrene, threatened flaps and grafts, central retinal artery occlusion, etc. all come with a time constraint for effective treatment. Outside of these time windows, rates of favorable outcome are diminished or extremely unlikely. While the reasons for these changes are complex, they are not insurmountable. A few years ago, this section had a resolution passed through the ACEP Council to work with other national organizations to attempt to improve coverage, and it is time to act on that directive. In my estimation, there are three things we can focus on as a section to achieve this goal: improve education, contribute to policy, and advocate as a collective voice to the Centers for Medicare and Medicaid Services (CMS). Please allow me to elaborate.
Education remains the crux of what the section must promote. We must educate non-hyperbaric physicians that what we do works and has solid science and outcome studies to support it. Carbon monoxide poisoning is a classic example. A case of a single, poorly designed study, combined with physicians from other specialties who were unfamiliar with our established literature, resulted in a national policy that has been misinterpreted and used as justification to withhold reimbursement from centers throughout the country. Which of us (we are the only true experts) would withhold treatment from ourselves or loved ones if exposed and poisoned by carbon monoxide? We need to educate our colleagues, be represented on those position papers, and be represented in lectures provided on our subject matter. To address these concerns, section leadership contacted ACEP leadership about updating the ACEP carbon monoxide policy and continue to work with them, providing guidance for the literature and the evidence requested. This year, the section is introducing a resolution to the Council to encourage the Education Committee to select scientific assembly lecturers based on training and research publications. It is unthinkable to have someone who has nothing more than a recreational diving certification and standard emergency medicine (EM) training giving hyperbaric lectures, when many board certified and fellowship trained physicians who are well published are immediately available. This system should be applied across all subspecialties, so that ACEP Scientific Assembly attendees may benefit from the many true experts the college has to offer, getting the latest and most accurate training available at each and every lecture. Excellence tends to beget excellence, so I believe this is the first way to get the word out across the nation. This is a multipronged approach along with other professional organizations, newsletters, research, and training designed to improve the specialty.
As widespread education improves our colleagues' understanding of our specialty, we can move on to improve policy around our specialty. It is much easier to educate and provide evidence for hyperbaric treatment options than to simply engage in a "yes it does – no it doesn't" argument about the need for hyperbaric treatment. As we educate and advocate for policy change, we will be able to bring the ACEP clinical policy back in line with the accepted literature for the specialty. With the revision of the clinical policy, based on solid scientific evidence and rationale, we will be able to address national reimbursement. With reimbursement secure, we can collectively have the conversation about emergency hyperbaric availability needed for patient safety. Now, more than ever, we need to identify the barriers to success for section members nationwide and address those barriers as a collective, rather than wage hundreds of little battles. It has been an unexpectedly challenging year for us all, but it is critical that the section pull together now more than ever to help make up for that lost ground due to the pandemic. I can only offer that the section leadership is resolute in its desire to support the community in our common goal of providing the best patient care by keeping our specialty alive and at the forefront of research and advancement.
Richard Walker, III, MD, MS, FACEP