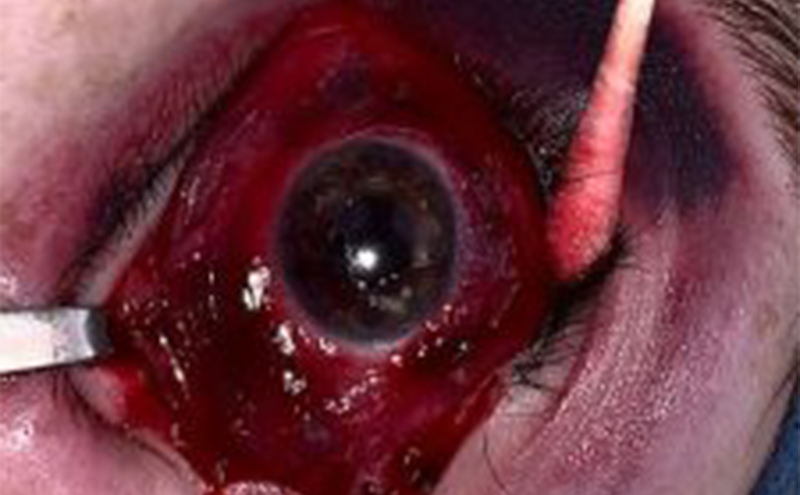 2020 3rd Place Emage Winner: Teenager With Swollen Eye
A 13-year-old-female with a past medical history of Crohn's disease, presented to the Pediatric Emergency Department (PED) with 8 hours of headache, left eye pain and periorbital swelling. She denied trauma or fevers.
Exam demonstrated left periorbital swelling with ecchymosis and tenderness to palpation. Swelling prevented assessment. Intraocular pressure (IOP) was unobtainable.
Emergent ophthalmology consult was obtained and a lateral canthotomy with cantholysis was performed in the PED. CT of the orbits showed left periorbital swelling with diffuse enlargement of the recti muscles. Diagnosis was determined to be most consistent with orbital compartment syndrome (OCS) secondary to orbital inflammatory pseudotumor (OIP) as a complication of IBD.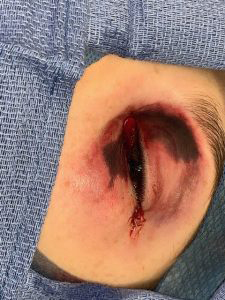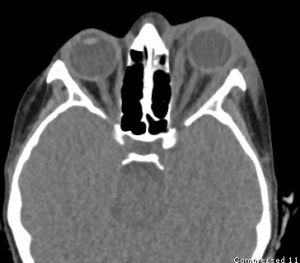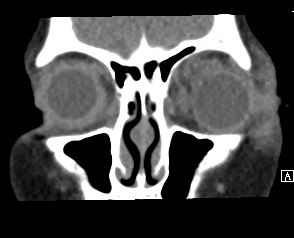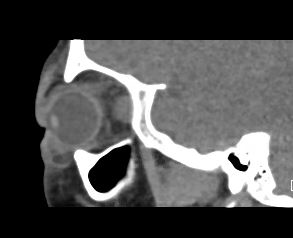 Conclusion
Lateral canthotomy with cantholysis is a rare,1 yet critical vision-preserving procedure. Reports detailing its use in PEDs are quite infrequent.2,3 The primary indication for lateral canthotomy, OCS, is most often caused by orbital or ocular trauma, surgical complication, or retrobulbar fluid collection precipitating an acute rise in intra-orbital pressure. OIP is an exceedingly uncommon etiology of OCS.4 OIP typically manifests as a chronic process, is treated with corticosteroids, and is associated with systemic inflammation, post upper respiratory infection, viral, or strep infection,5 and various rheumatologic and autoimmune conditions. OCS identification is a critical skill, and despite the paucity of literature regarding its use in the pediatric emergency setting, lateral canthotomy should be considered an essential part of pediatric emergency medicine training.
References
Soare S, Foletti JM, Gallucci A, Collet C, Guyot L, Chossegros C. Update on orbital decompression as emergency treatment of traumatic blindness. Journal of cranio-maxillo-facial surgery : official publication of the European Association for Cranio-Maxillo-Facial Surgery. 2015;43(7):1000-1003.
Hamill EB, Weber AC, Patel KR, Yen MT. Bilateral Orbital Compartment Syndrome Preceding Cerebellar Herniation in Neuropsychiatric Systemic Lupus Erythematosus. Ophthalmic plastic and reconstructive surgery. 2019;35(3):e55-e57.
Malla G, Bhandari R, Gupta PP, Giri R. Penetrating orbit injury: challenge to emergency medicine. BMC research notes. 2013;6:493.
Tiong KI, Aziz S, Hazlita I. Orbital compartment syndrome in idiopathic orbital inflammatory disease: A case report. The Medical journal of Malaysia. 2015;70(5):316-317.
Rabina G, Leibovitch I, Abumanhal M, Rosenblatt A, Ben Cnaan R. Orbital Inflammatory Syndrome Post Group A Streptococcal Infection – Case Series and Review of Literature. Ocular immunology and inflammation. 2019;27(1):162-167.
Chloe Knudsen-Robbins
University of Pittsburgh Medical Center
Nelson Bansil
CHOC Children's