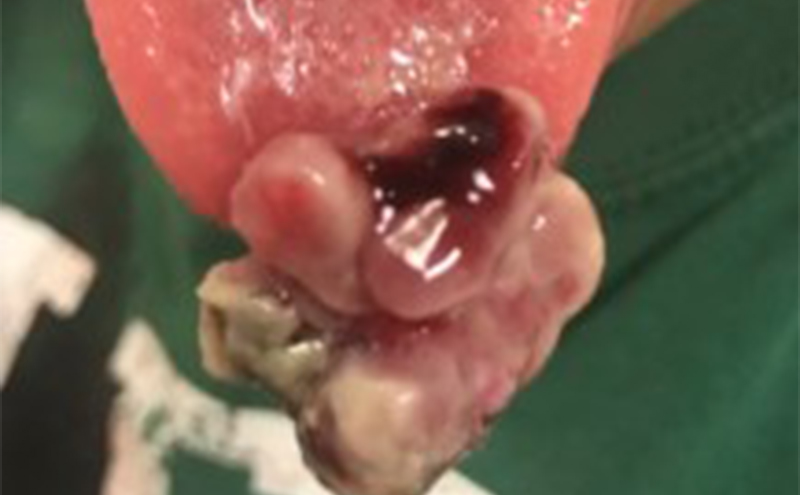 2020 2nd Place Emage Winner: What's on the Tip of the Tongue?
Case Presentation: Tongue Depressor
A 5-year-old male presented to the pediatric ED due to a growth on the tip of his tongue. The patient's mother was worried as the mass had been increasing in size and was bleeding, causing decreased oral intake. Further history revealed progressive tongue swelling and increasing growth of the mass over a three-month period. Upon further questioning, it was presumed that the mass formed after a traumatic injury where he bit his tongue. Prior to this visit he presented to three other EDs and was unable to receive a referral to Otolaryngology due to insurance issues.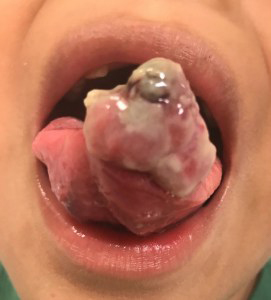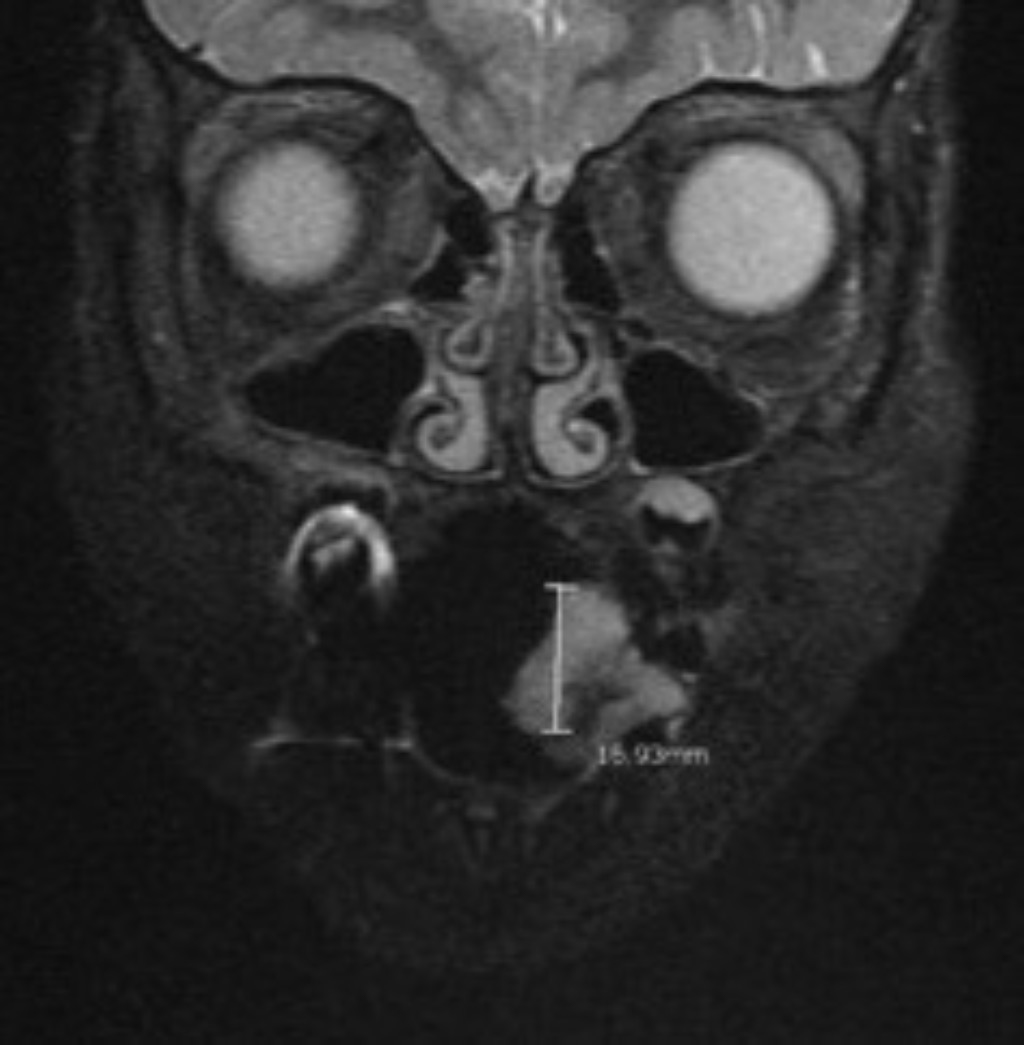 Images 1-2
On examination, the apex of the tongue appeared to have a 5 cm, multilobular mass with irregular borders and friable areas of bleeding and evidence of necrosis.
MRI was obtained to characterize the mass and revealed a solid-appearing, well-circumscribed and enhancing vascular lesion measuring approximately 1.1 x 2.0cm arising from the tip of the tongue without associated cervical lymphadenopathy.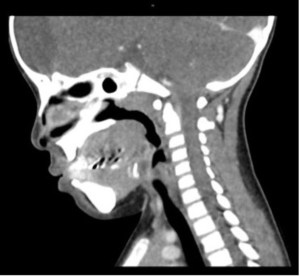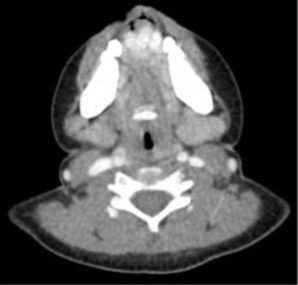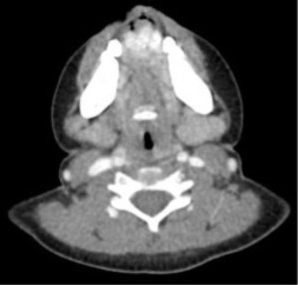 Images 3-5
Conclusion:
Pyogenic granuloma (PG) is a cause of oral cavity soft tissue swelling that likely results from irritation or trauma initiating an excessive tissue repair response.1 Types of trauma or irritation could be from a sharp cracked tooth edge, poor brushing technique, or biting the tip of the tongue, as in our case. PG most commonly occurs on the gingiva.1,2,3 Extragingival sites include the tongue, lip, buccal mucosa, hard palate, and the floor of the mouth. For most PG, the size of the lesion ranges between 0.5cm and 2cm, and they may grow at an alarming rate within days.4 A PG mass may have a pedunculated or sessile base and is usually non-tender, is prone to bleeding.2
The differential diagnosis of oral PGs include hemangioma, lymphangioma, peripheral giant cell granuloma, peripheral ossifying fibroma, conventional granulation tissue, malignancy, Kaposi's sarcoma, syphilis, and tubercular or traumatic ulcer.5 PG is managed by surgical excision and curettage of the adjacent area with topical timolol in small children.1 It has a strong tendency to recur (up to 15%) after simple excision if the associated irritant is not removed (ex. broken tooth edge, plaque or calculus).5
References:
Jafarzadeh, H., Sanatkhani, M., & Mohtasham, N. Oral pyogenic granuloma: a review. Journal of oral science. 2006;48(4):167-175.
Pagliai KA, Cohen BA. Pyogenic granuloma in children. Pediatric dermatology, 2004;21(1):10-13.
Parajuli R, Maharjan S. Unusual presentation of oral pyogenic granulomas: a review of two cases. Clinical case reports. 2018;6(4):690.
Wollina U, Langner D, França K, et al. Pyogenic Granuloma–a common benign vascular tumor with variable clinical presentation: new findings and treatment options. Open Access Macedonian Journal of Medical Sciences. 2017;5(4):423.
Plachouri KM, Georgiou S. Therapeutic approaches to pyogenic granuloma: an updated review. International journal of dermatology. 2019;58.6:642-648.
Adam Garibay, MD; Kelly Winters, MSN, RN, CPNP, CNS; Tabitha Cheng, MD; Supriya Sharma, MD; Manpreet Singh, MD, MBE
Pediatric Emergency Department, Department of Emergency Medicine, Harbor-UCLA Medical Center